Once Padme was finished with her job of being a mama to her eight puppies, which were rescued with her from Mississippi, she was ready to find a loving home through our Adoption Center. But little did she realize that her potential adopters was already part of the North Shore Animal League America family.
Right away, she caught the attention of Tom and Kathy Myatt, two of North Shore Animal League America's long-time dedicated volunteers. Tom assists with walking the dogs, who are waiting to find their loving homes on our Port Washington, NY campus, and Kathy donates her time helping with administrative tasks in Human Resources.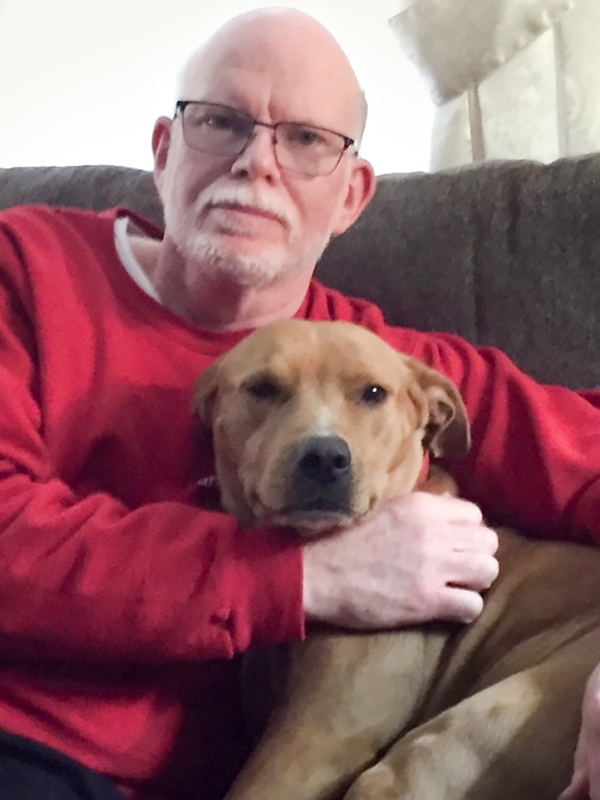 "She's doing great in our home. We've changed her name to Vixen," said Tom, Padme's new dad. "So Vixen and her new brother, Benjamin, are walking together nicely and getting along well. Today, we are going to have them play together off leash in the backyard for the first time."
Benjamin is an almost 10-year-old hound mix that the couple also adopted from Animal League America. Of course, they brought him several times to meet her, assisted by our Pet Behavior staff, to make sure it would be a good match. They seemed to hit it off quickly!
"Vixen imitates everything that her big brother, Benjamin, does," said Kathy. "He goes in front and prances on the walk and she does too. He sits to get a dog biscuit and she does too!" Kathy says she knows when it's time to be active and when it's time to be calm. "When she's out, she's on and she's active. She looks for squirrels and birds to chase," she laughs. "When she's inside, she snuggles with her blanket and bed."
Vixen greets Kathy and Tom with a wagging tail and kisses. She likes to be pet. The Myatts feel that Vixen completes their family again and thank Animal League America for "once again making another pup and her people very joyful!"