Daisy had struggled throughout all of her young life, which began in a puppy mill in the Midwest. She received poor quality food, wasn't given any medical care, drank only dirty water, and never saw the light of day.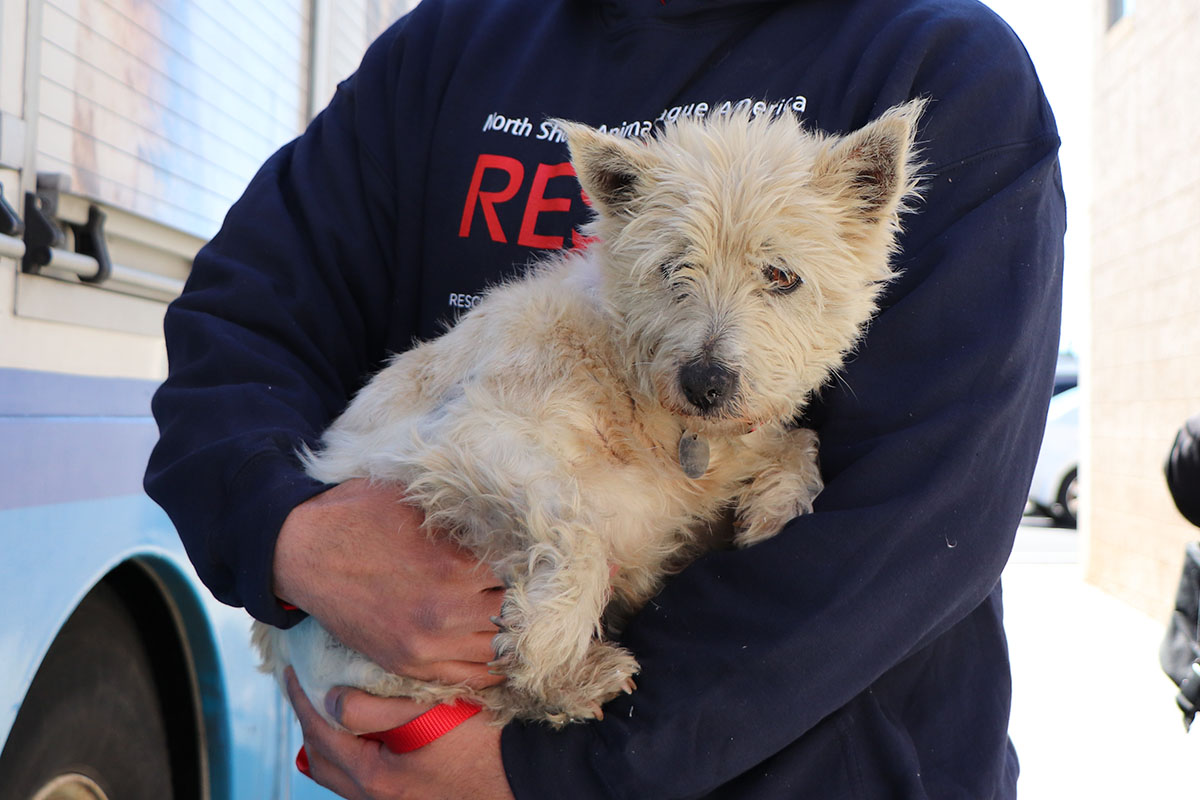 This sweet, quiet West Highland White Terrier came to our Port Washington, N.Y. campus on our Mobile Rescue Unit in late March. She was settled into the Lewyt's Ark, the building that is the first stop here for rescue pets. It's all hands on deck when a rescue arrives and the care begins immediately.
While making sure that all the dogs received food and water, the staff noticed that Daisy had blood in her stool. The medical department was notified right away and Daisy's biggest struggle yet began — this one would mean the difference between life and death for her.
Daisy found herself under the care of our veterinarians in the Pet Health Centers. She continued to bleed on and off. The doctors treated her with deworming and supportive medication plus a bland diet, but there was no change. In April, a colonoscopy was performed that revealed a mass inside her rectum. Tissues samples were obtained for biopsies.
When the results came back, it was very upsetting news. Daisy had rectal carcinoma, which is an aggressive type of cancer. This diagnosis was heartbreaking for the staff. They felt so bad that Daisy, who had been strong enough to make it through four years of horrible neglect and abuse in a puppy mill, now faced a battle with cancer.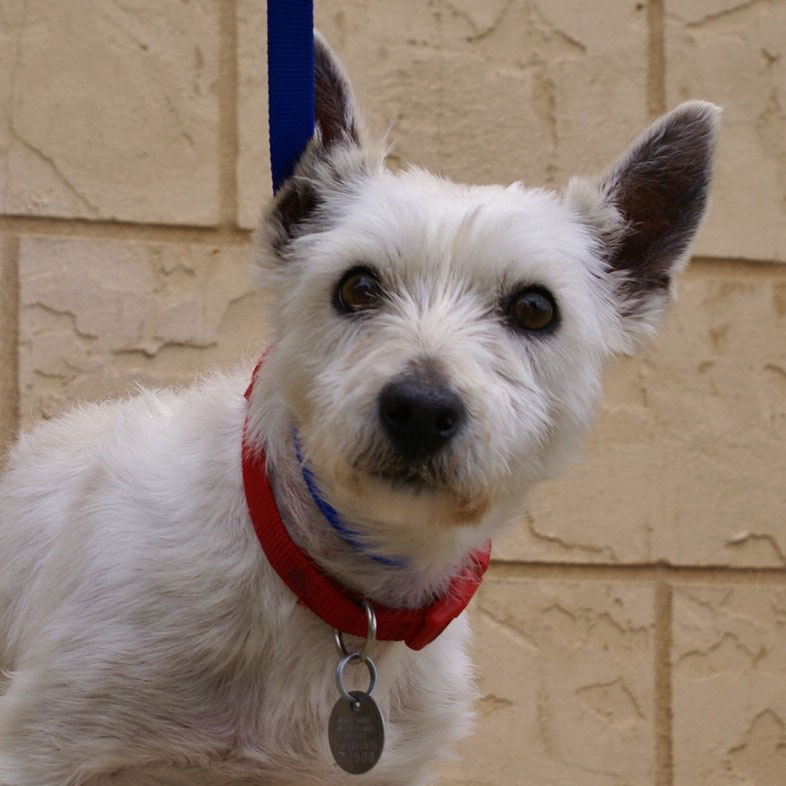 Everyone did breathe a sigh of relief that there was a silver lining — the results also showed that the cancer had not spread. "The decision was made to try to excise the cancer. This involved a radical procedure called a rectal pull-through," said Dr. Mark Verdino, Senior Vice President and Chief of Veterinary Staff at Animal League America. "Since we had never performed this procedure here, we needed to order special equipment."
The surgery was successful, but then Daisy developed a narrowing at the surgery site that needed to be treated with dilation, or stretching, for several weeks. Plus she started to have loose stool due to "short colon syndrome" and that had to be managed. This meant several dietary trials until they found the right food.
Why would Animal League America go the extra mile for one dog? It goes back to our no-kill mission — this organization is always going to do its very best to save animals' lives. Your support can make it happen every day.
Every step of the way, the surgery staff said that Daisy was amazingly cooperative — it was as if she knew they were trying to help her. She had an incredible will to get better and they strived to make her as comfortable as they could. Daisy had lived a life of neglect in a puppy mill through no fault of her own and, for the first time in her life, she was experiencing care and compassion.
"I think Daisy's prognosis is good. The biopsy indicated that it was an 'early cancer' and it appears to be completely excised," stated Dr. Verdino. "There is no evidence of metastasis — the cancer has not spread to lymph nodes or other organs. However, as most people know, you can never guarantee a cure with cancer."
Daisy is a lucky dog. Animal League America did not give up on her. We saved her once by rescuing her from a horrible life of neglect and abuse in a puppy mill and then she was saved a second time by our dedicated veterinary staff.
After almost seven months in the Pet Health Centers, Daisy has now moved to a foster care home. Here she will continue to recuperate and learn what it's like to live in a house as a pet. Everything will be new for her, but it's a safe place where she'll experience more love and she'll know that there's no longer any reason to be afraid.
Her foster mom, Anne Salvatore, experienced in working with puppy mill dogs, reports that Daisy has really come out of her shell in her home. It's incredible how much her personality is now shining through — when she gets very excited Anne sometimes finds her standing on top of a table! Daisy enjoys playing with toys, runs around the backyard, and even gives kisses to Anne and her daughter.
Daisy is feeling good and is able to be herself, maybe for the first time ever. She's the dog she was always meant to be! Time and again, we see that in a loving home environment, these neglected puppy mill dogs forgive and bounce back. Their resilience is inspiring!
Daisy's incredible journey, from the terrible conditions of a puppy mill through her battle with cancer, is almost complete. She'll be ready soon to start looking for that special someone who'll adopt her and give her a chance to be a pet and feel cherished and loved!