Since 1944, North Shore Animal League America has been synonymous with animal rescue. As the world's largest no-kill rescue and adoption organization, not only have we saved the lives of more than 1 million dogs, cats, puppies, and kittens, we have built a steadfast reputation that has continued to grow stronger as each decade passes.
The life-saving work we do here at our ever-expanding Port Washington, N.Y. facility takes a group effort from all areas of the organization. Whether it's working hands on with the hundreds of animals we house, or enhancing their lives in a variety of other ways, each and every person who works at Animal League America does so for the same reason – supporting the mission to rescue, nurture, and adopt homeless animals in need. One of those dedicated individuals is local resident, Manuel Aguirre, who began his journey as a wide-eyed 15-year-old kennel associate just trying to make some extra money doing something that would hold his interest. Fifteen years later, Manny, as he's known around campus, has become an essential part of the organization's daily operations.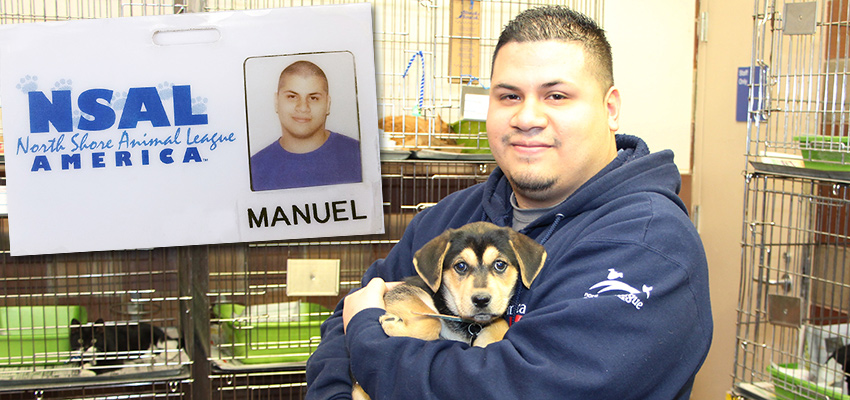 "Back when I was a sophomore at Port Washington High School, I was walking into town to get lunch with some friends and we came across a couple North Shore Animal League employees holding puppies and handing out job applications, so I took one," said Manny. "The next day I submitted the application and was interviewed on the spot. The day after I was told I was hired. It all happened so fast. At the time I never thought I'd still be here 15 years later, but the experiences through the years have molded me into the person I am today."
For more than seven years Manny worked part time in the shelter as a kennel associate, where his primary duties were assisting adopters in finding the animal that best fits their wants and needs, cleaning his assigned area, and making sure all of the animals were cared for as they waited to meet their perfect match. Four of those years, he would split his time between working at the shelter and attending the Katherine Gibbs School and Long Island University – C.W. Post, where he'd eventually earn his Bachelor's degree in Fine Arts. Although he developed a strong passion for working in animal welfare during his time as a kennel associate, he always knew his calling would be in an environment that would allow his creative abilities to shine bright. Little did he know, he'd one day have the opportunity to combine both of his passions into one, fulfilling career.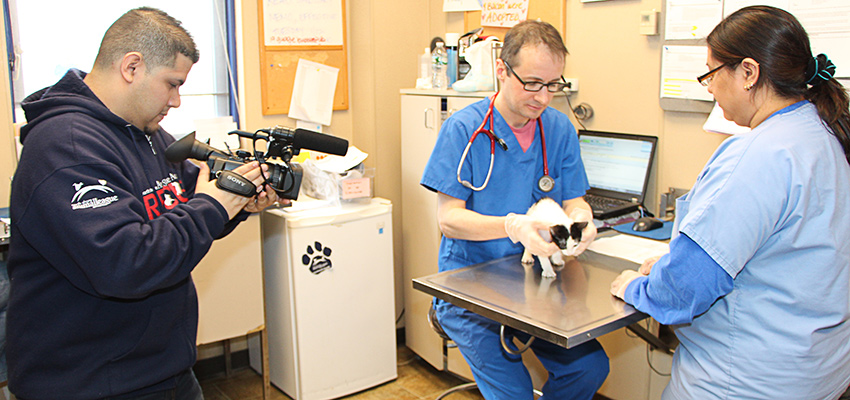 "Even though I'm not over at the shelter every day working with the adopter's directly to match them with the best pet, I can take pride in knowing that my artwork is still assisting in finding loving homes for our animals," said Manny, who was hired full time by Animal League America as a graphic designer in 2008. "Every day I come to work I'm reminded that I'm still saving lives even if it's in front of computer monitor or behind a camera."
Manny is part of a talented team that creates much of the artwork you see on our website, social media outlets, and printed materials. They also collaborate on all of the promotional materials you see emblazoned with Animal League America's logo, including our state-of-the-art Mobile Rescue and Adoption Units, the Rescue gear, and all of the banners and signage displayed at our many events. Recently, Manny was promoted to Coordinator of Graphic Design & Video Production. This position will allow him to continue to produce cutting edge graphic work, while also utilizing his skills to shoot, edit, and produce high end video for our website and social media outlets. Manager of Creatives and Graphics at Animal League America, Lisa Grippo, said Manny's experience working in the shelter combined with his unique creative style makes him an invaluable asset to the team.
"Manny has come a long way from his days working in the shelter, but that experience along with his sense of design has made for a winning combination. Over the years, I have seen his talents grow. Not just as a graphic designer, but also as a photographer and video/editor," said Lisa. "He works very hard and is dedicated to the mission. He'll do whatever it takes to get the job done, which makes him an invaluable asset to the team. I don't know what we'd do without him."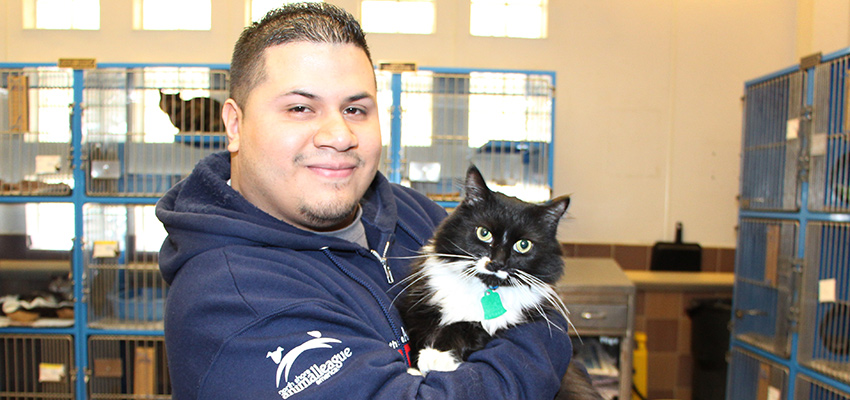 Although the crux of his work these days is done behind the scenes, Manny makes it a point never to stray too far from his roots as a kennel associate. At any time he can be found in the shelter snapping photos of our animals for their adoption profiles, in the Alex Lewyt Veterinary Medical Center recording video for an upcoming Help Me Heal Campaign, or even in the Adoption Center playing with the puppies and kittens when he needs a few minutes to recharge his batteries before starting a new project.
Regardless of what he's doing, the Port Washington kid working for his home town's most recognizable organization always makes it a point to remember where he came from.