Richard Leagh, Volunteer Since 2015 Finding the Love in Animal Rescue
Richard Leagh did not know just how life-changing volunteering at Animal League America would turn out to be. He not only found the perfect cat at Bianca's Furry Friends Feline Adoption Center, but he found his future wife — a fellow BFF volunteer — there as well!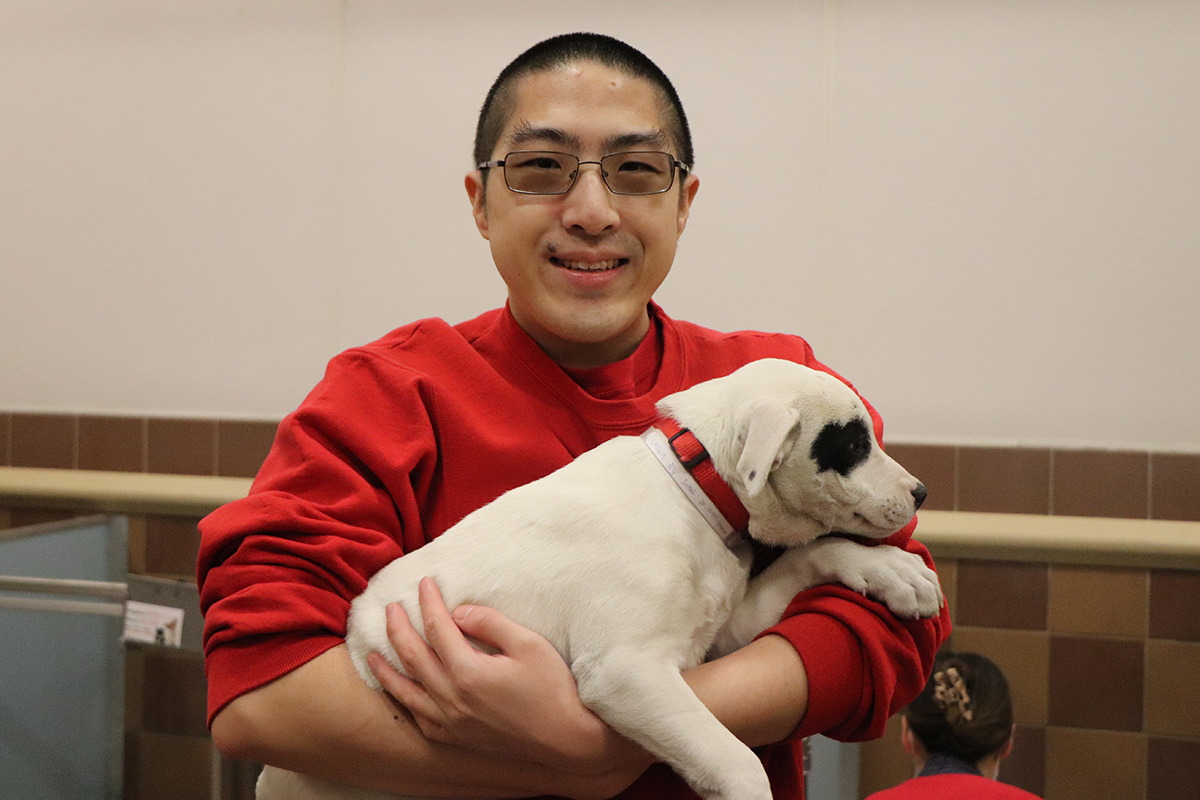 Having grown up with dogs his whole life, Richard has an innate love for animals, but as an adult living in an apartment, he could not have one of his own. When he happened to see that Animal League America was in need of volunteers in 2015, he jumped at the opportunity. Richard's first assignment was the puppy room and he was immediately hooked. Since then, he has given his time helping out in a variety of areas throughout the facility.
Part of his duties include advising prospective adopters. "I think that's one of my favorite things," Richard said. "We want every animal to find their home. Some people come in looking for a puppy, but they discover an older dog is the best fit. And some people come in looking for an older dog, and it turns out that what best meets their criteria is a cat."
Volunteering at Animal League America has been a real family affair for Richard. His wife, Alyssa, still volunteers at BFF, as does his father-in-law. And Richard's parents even adopted a dog who came in from a puppy mill rescue. "This one Pomeranian really attached to me and would not leave my arms," Richard said. "I couldn't bring her to my apartment, but my parents came to meet her and fell in love immediately. She is the best dog."
We are so appreciative of the enthusiasm Richard brings to caring for our animals. "When it's a busy Saturday afternoon and you're in a pinch, Richard is always there to help anyone in need," said Victoria Gravina, Animal League America Associate Director of Volunteers. "He supports managers, team leaders, and adopters effortlessly each and every shift. He also ensures that the puppy room and kennel are properly prepped and tended to. Saturdays would not be the same without him!"
As Richard has discovered, volunteering at Animal League America can enrich your life in a multitude of ways. Come join our amazing team of volunteers and see for yourself!   
April is Volunteer Appreciation Month
At North Shore Animal League America, we could not perform all of the hands-on work that we do without the help of our incredible team of dedicated volunteers.
If you'd like to learn more about the Volunteer Program and available opportunities, please visit animalleague.org/volunteer.