Alana Wolfson, VolunTEEN Since 2021 Making Connections Through Rescue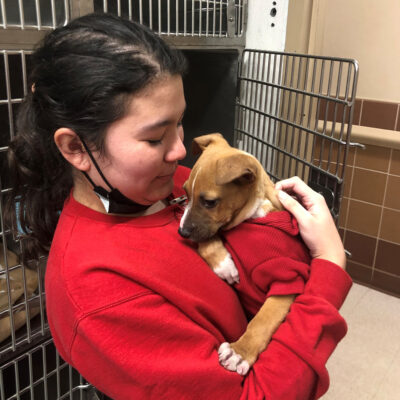 From early childhood days spent snuggling with her beloved stuffed animals, Alana knew one day she would spend her time around real ones as much as possible. When she was old enough to volunteer, choosing where to donate her time was easy. Alana was drawn to North Shore Animal League America because of our world-renowned reputation and no-kill mission, and she signed up to join the VolunTEEN program.
VolunTEENs (students ages 16-18) are asked to commit to a set day and shift of two hours each week for six months. The students are then placed into small teams of 3-5 individuals, which helps to enrich the experience for everyone involved. "Starting out in the program I was able to connect with a group of people that were my age," Alana said. "I've developed connections with the associates as well and have learned so much. I feel like I have gained a lot of mentors and friends through Animal League America."
Though Alana enjoys all the different areas of the organization, a favorite place to work is in the Pet Health Centers. She particularly appreciates the impact she can have helping the rescue animals who arrive needing medical care. "I really love helping them recover and making them feel comfortable," Alana said, "because you can see that they've been through a lot."
When it is time for our dogs and cats to find their new homes, Alana also likes building connections with adopters to bring the right match together. "I like helping create new families and getting to be a voice for the animals," she noted. "The feeling of matching a dog with a family that is head over heels for them is so fulfilling!"
Alana's passion and commitment have been a real benefit to Animal League America wherever she is assisting. As Senior Volunteer Coordinator Melissa Hargett stated: "Alana has been a great addition to our VolunTEEN program! When Alana is in for her shift, she is always keeping busy, from mentoring new teens to taking care of our animals and supporting our medical team. We appreciate all of Alana's hard work and dedication to our rescue pets!" We were so happy to hear that Alana's time at Animal League America informed her decision to pursue veterinary studies when she gets to college, helping save even more future dogs, cats, puppies and kittens in need!
April is Volunteer Appreciation Month
At North Shore Animal League America, we could not perform all of the hands-on work that we do without the help of our incredible team of dedicated volunteers.
If you'd like to learn more about the Volunteer Program and available opportunities, please visit animalleague.org/volunteer.