The Comfort Pet Hospice Care Program. at Animal League America provides the opportunity to foster animals who are approaching the end of their life, and offer them a home and love. Opening your heart to these dogs and cats is a profoundly meaningful and compassionate act; you give them the chance to experience comfort, security and affection in their remaining days.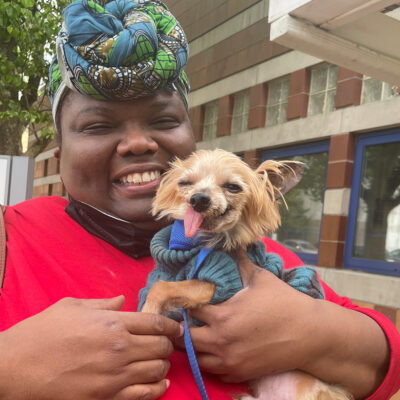 For Marsha and her sister Patrice, fostering has been an incredibly rewarding experience despite the challenges. When senior Yorkshire Terrier mix Derek first arrived to Animal League America, he was in rough shape. Marsha recalled, "He only weighed a bit over four pounds and his mouth was swollen and infected." Derek was suffering with severe jaw disease and lost all his teeth, but his spunky personality was definitely still intact, to the delight of his new family. As parents to a 17-year-old, special needs dog already, they felt they could give Derek the support he needed.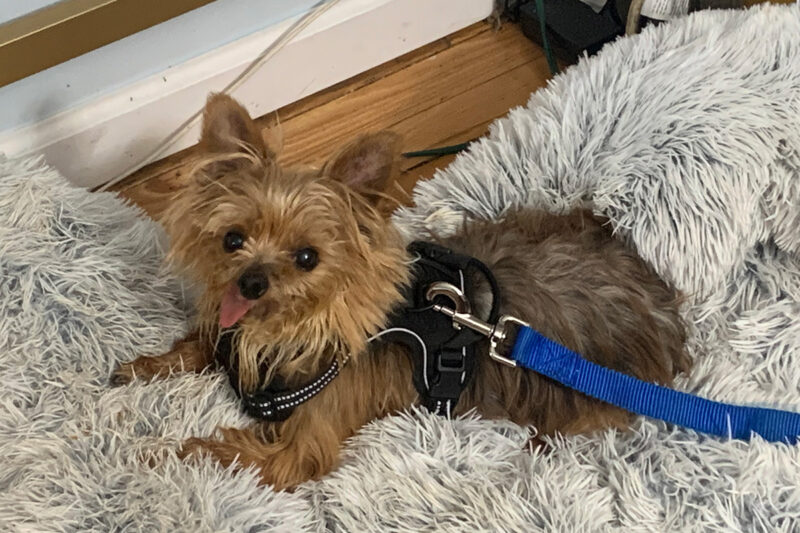 Due to his medical condition, Derek does require a higher level of care but his new parents take it in stride. "Because he doesn't have teeth, we have to put all his food in a blender," Marsha said. "And because his food is always mixed with water, he has to pee every two hours, but we see it as a chance for us to go outside and be with nature." It's that positive mindset that can see past the obstacles and appreciate all the gifts that Derek offers. "Derek is such a sweet boy and is happy all the time," Marsha said. "We call him Rocket because he's so fast! He's just a wonderful addition to our family!"
Many elderly or terminally ill animals face the possibility of spending their final days alone and without a home environment. By fostering them, we can provide them with a warm and nurturing atmosphere, and ensure that their final chapter is filled with care and compassion.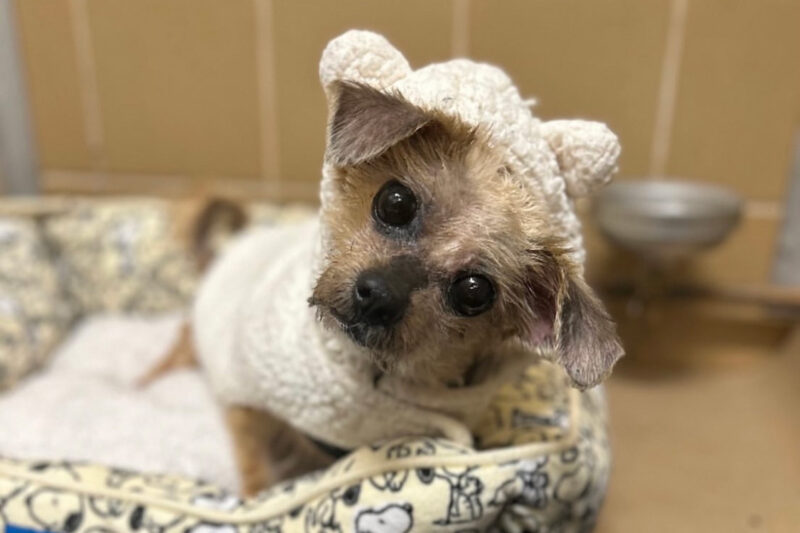 Sandra, a longtime employee of Animal League America, and her husband recently took in Pooch, a senior Yorkshire Terrier mix who had been found in a Brooklyn dumpster, callously abandoned. Given his severe heart condition, treatment options for Pooch are limited, but Sandra couldn't bear the thought of him not getting to experience a loving home. Now nicknamed Puccini, he's their third hospice foster. "Puccini began to let his personality shine after a week or two," Sandra said. "We learned he prefers to walk along the sidewalk instead of the grass, and we make sure he gets some time outdoors each day, no matter what the weather. Sometimes he'll stand still and just take in the blue sky and fresh air. Being a foster parent brings us the incredible satisfaction of giving an animal in need the love and quality of life they deserve."
Despite the limited time you may have with them when you take in a dog or cat from our Comfort Pet Hospice Care Program., the bond and connection that develop are deep and meaningful. These animals teach us invaluable lessons about resilience, acceptance and cherishing each moment. Please contact our Foster Care Team at [email protected] if you are interested in becoming a foster parent and making a difference in the life of a precious dog or cat in need.