After three years of waiting and postponements, sentencing was handed down in the animal abuse case of Ellie Knoller. Knoller had previously pled guilty to three counts of Aggravated Cruelty to Animals, after brutally beating to death two puppies he adopted (Tucker, from North Shore Animal League America, and Cooper, from a breeder) and causing permanent physical damage to a third, Bella (shown below), whom he also obtained from a breeder. Presiding Judge Teresa Corrigan called it the worst case of animal cruelty she has ever seen.
Photo: Nassau County DA/SPCA
For the many hearings throughout the legal process, North Shore Animal League America made its presence known, showing up at the courthouse in force with signs expressing their frustration and outrage. Animal League America leadership and staff submitted impact statements on behalf of the helpless victims and were in attendance for the sentencing. On October 26, 2022, Knoller was sentenced to a year in jail, (a year for each fatality, to be served concurrently) followed by five years of probation. Knoller must also undergo mental health treatment and is banned from owning an animal for 50 years. A dog parent herself, Judge Corrigan was particularly horrified by Knoller's actions, and expressed dismay that she was limited to the maximum sentence for this violation under New York State law. Judge Corrigan also stipulated that she would be overseeing his probation personally.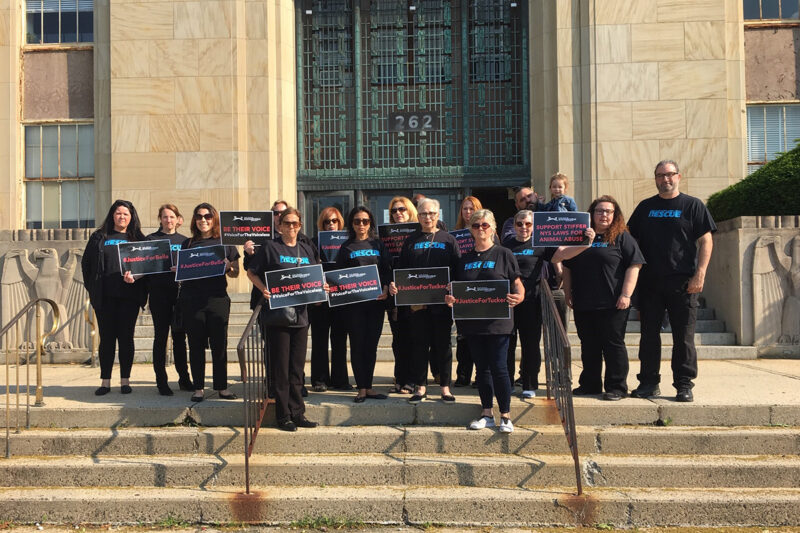 Animal abuse needs to be taken more seriously as a brutal crime, with punishments that uphold the value we place on animals in our society. In other states, there are much more substantial penalties for aggravated cruelty to animals, up to seven years in Massachusetts and Pennsylvania.
"We remain outraged and heartbroken by this senseless act of cruelty," said Diane Johnson, Animal League America Vice President of Shelter Operations. "It is hard to say that there is justice when two animals' lives were lost. Many of our rescue animals need and receive extensive medical care before we make them available for adoption. It is so painful to know that after all our efforts to preserve a life through rescue, that poor Tucker was murdered."
At least for the moment, Knoller thankfully is confined to a cage. Though Bella ended up having a leg amputated from her injuries, the resilient pup survived and was adopted into a nurturing family where she has all the safety and love she deserves.