The transformed dog park, now renamed the LaRocca Dog Park, is a busy place when canine adoptions are happening on North Shore Animal League America's Port Washington, N.Y. campus. Families looking to adopt a new dog can become better acquainted with the pet in this beautiful, quiet space.
The original dog park was donated 15 years ago by Karen and Don LaRocca in memory of their dog, "Rags." For 16 years, Karen was a valued volunteer who would always be found at Animal League America's adoption center on Saturday afternoons. She walked and socialized the adult dogs and visited with the adult cats too.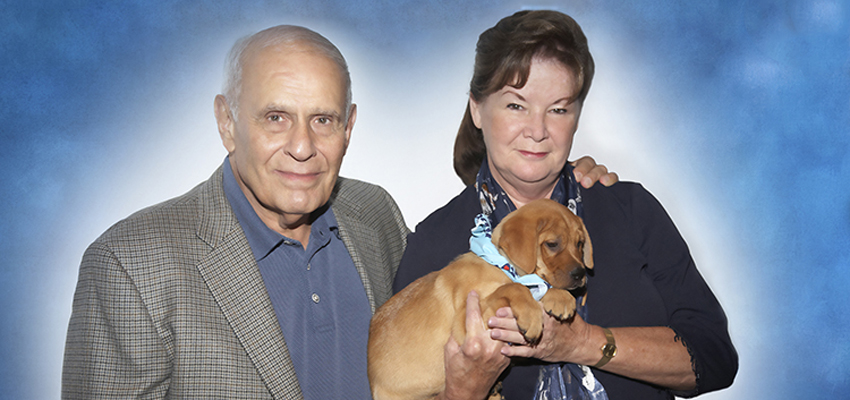 "She loved all animals, but her heart was with the adults. She asked what she could do to improve adoptions for the adult dogs. I told her a dog park," says Joanne Yohannan, Senior Vice President of Operations. "Now the legacy continues through Donny and Scott. They saw that the original park was getting older and needed work and they donated specifically to renovate the park."
The 3,500-square-foot, walled park has artificial turf, brick seating areas, and its own water source. The K-9 Turf looks green and lush and it's designed to withstand the rigors of being part of a dog run. The front of the park has lovely green plantings and there are more located towards the back of the area. It's the perfect place for adopters and their families to meet with a potential dog. It's also a great space for staff to conduct meet-and-greets between a family's dog and a dog they wish to adopt. It's so important to see if the two dogs have a similar energy level and if they interact and play well together. Every effort is made to make sure each dog is the right match for each family. There is also a smaller section that has a pebble substrate and two new benches.
Besides helping increase the number of adoptions of the adult dogs, parks are instrumental in both the physical and emotional wellbeing of the canines here at Animal League America. The staff needs to be sure that the dogs get outdoors and have enough exercise every day. The dogs are also put together into play groups so they can socialize and have fun. Staff members and volunteer dog walkers make sure the adults get out for housebreaking purposes and they each get some one-on-one time with a person.
The overwhelming generosity of the LaRocca family has also made possible the Karen and Don LaRocca Pet Wellness Center here at Animal League America. It's an amazing, state-of-the-art facility that allows Animal League America to continue to provide high-quality, affordable medical care to pets in our community and beyond. The center emphasizes preventative care and focuses on educating pet owners thereby increasing the wellbeing of pets and further advancing our no-kill mission.