As the Turks and Caicos Islands continue to rebuild from the recent deadly hurricanes that tore through the Caribbean, North Shore Animal League America is doing all it can to assist with relief efforts. Whether it's transporting food, water, and basic essentials to shelter partners in need, or providing man power to provide assistance in whatever way it's needed, we continue to do all we can in helping the people and animals of these areas get back on their feet.
Recently, we were contacted by Turks and Caicos Society for the Prevention of Cruelty to Animals (TCSPCA), one of our many international shelter partners. They asked if we could assist in relieving their foster parents who have been struggling with caring for an overabundance of animals since hurricanes Irma and Maria barreled through the area. Surviving without electricity and dwindling sustainable resources, the organization was forced to rely on dedicated foster families to care for many of their dogs, cats, puppies, and kittens until the power was restored. But those families quickly became overwhelmed by the influx of animals in need, so Animal League America's rescue team stepped in to help.
Please support our no-kill mission and our rescue relief efforts with a donation today.
"We have been in contact with several of our partner shelters and rescue groups down in the Caribbean Islands on a regular basis offering any type of assistance that we can. The Turks and Caicos SPCA reached out about 14 homeless dogs and puppies who would be transported via private plane by a gentleman who often travels back and forth from the United States. He was going to be stopping at a small airport in New Hampshire, so we arranged to pick them up there," said Animal League America Rescue Coordinator Karla Agostinello. "Ted [Moriates] (Animal League America Rescue Associate/Driver) and I prepared one of the Mobile Rescue Units and made the five-hour drive up there on Monday morning. It was a long day, but we returned later that evening with 13 happy puppies and Marley, a 4-year-old Potcake dog who was injured before the storms hit. We were told he was attacked by two other dogs and needed to be medically cared for while everything was happening."
After enduring the 1,500 mile flight from Turks and Caicos to Portsmouth International Airport at Pease in New Hampshire, these fortunate Mutt-i-grees were carefully unloaded from the plane by Karla and Ted and prepared for one final journey to the safety of our Port Washington, N.Y. campus. Once there, all of these dogs, including Marley, who has been recovering nicely from his injuries, will be examined by our veterinary staff and given adequate time to recover from their long journey. When they are old enough, the puppies will be spayed and neutered, and eventually placed up for adoption to find responsible loving homes – a cycle of life supported by our no-kill mission.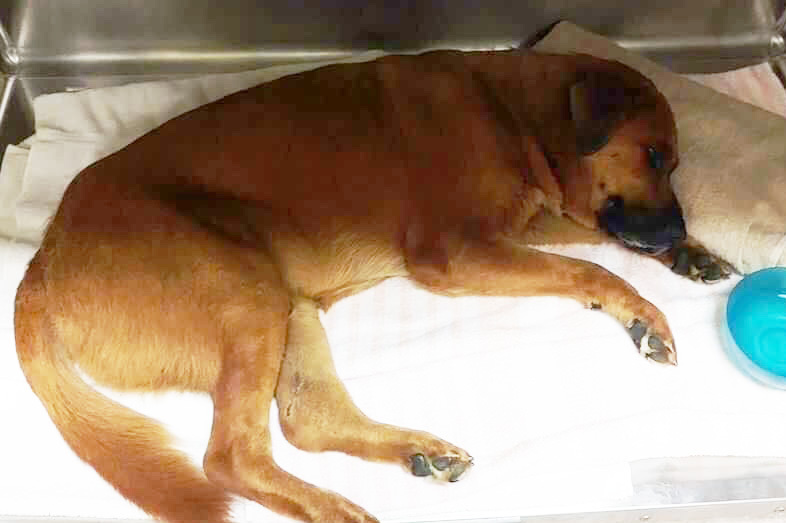 "Marley was found by someone who witnessed his brutal attack on the street. The good Samaritan took him to a nearby house and then people there rushed him to a local animal hospital. He was in really bad shape and they didn't think he was going to make it," Karla said. "Now that he's in our care, he will continue to be treated for his wounds as well as Heartworm disease. He's such a wonderful, sweet dog, I'm so thankful he's here and receiving the love and care he deserves. All 14 of these animals are in great hands!"