Warning: Some images may be graphic.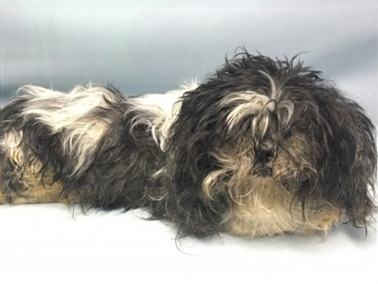 Heartbreaking.
There's simply no other way to describe Forest's condition when he first arrived at North Shore Animal League America. The 8-year-old Shih Tzu was found abandoned in a vacant parking lot struggling to survive. His black and white coat filthy and severely matted. His ears and skin badly infected. Both front legs mangled, the left also wounded due to the unkempt hair that wrapped itself so tightly around the limb it caused lack of blood flow. There's no telling how long this poor creature was left to suffer in this condition, but he'll never feel that pain again thanks to the high quality compassionate care he'll receive at our Pet Health Centers.
Thankfully, Forest was rushed to Animal Care Centers New York City by a Good Samaritan and then quickly transported to our veterinary hospital for the lifesaving care he so desperately needs. Doctor Mark Verdino, Animal League America's Senior Vice President and Chief of Veterinary Staff, was first to examine the embattled senior.
"Forest has significant injuries second to the matting and skin infections. He has severe orthopedic problems with both front limbs. On his left front paw he has a strangulation injury, which occurs when the hair gets wrapped up so tightly around the limb that it acts as a tourniquet. He also has a luxation (dislocation) of the elbow on that limb," he said. "On his right front paw, he has dislocations of the wrist and elbow. Both injuries seem to be congenital rather than traumatic because of callouses on the areas. These are indicative of him not walking normally on either front paw for a long period of time."
Further testing confirmed that Forest is also blind in both eyes and has dental disease. Doctor Verdino said he and his team will learn more about this resilient dog's condition once his is under anesthesia, but one thing is certain – Forest will have every opportunity to rebound from this tragedy thanks to the nurturing care he will receive at the world's largest no-kill rescue and adoption organization. His soiled coat will be carefully shaved and our team of compassionate groomers will ensure this little guy receives the full pampering experience. His wounds will be treated, teeth cleaned and extracted where necessary, and he will be sent to an orthopedic specialist for his legs once he is deemed healthy enough to be transported by our Rescue Team.
"All of his symptoms indicate that Forest was neglected, but he's here with us now and we will do everything in our power to give him a shot," Dr. Verdino said. "We're hopeful we can get him to a point where he has a good quality of life. As long as he's healthy and comfortable and happy, that's all we can ask for. Hopefully we can get him to that point and find him the right home."