UPDATE 9/14/2017: Last Friday, our Emergency Rescue Team returned from Texas with 30 homeless animals pulled from Dallas Animal Care Center to make room for all of the displaced dogs, cats, puppies, and kittens separated from their families during Hurricane Harvey.
Since their arrival, these new mutt-i-grees have been welcomed into our shelter family, and have benefited from all that the world's largest n-kill animal rescue and adoption organization can provide. Including a special photo shoot with one of our favorite volunteer photographers, Ellen Dunn. Below are just a few of our new furry friends just waiting to meet you at our Port Washington, NY Adoption Center.
Please support our no-kill mission and our rescue relief efforts with a donation today.
Last Wednesday the second of our two Mobile Rescue Units hit the road for the 1,670-mile journey to Houston to aid in the relief efforts of Hurricane Harvey. Filled to capacity with food, water, bedding, blankets and other items donated by our loyal social media followers and our corporate sponsors, our Emergency Rescue Team was able to be a shoulder to lean on in the wake of a tragedy for the people and animals of southeastern Texas.
Today, both of those Mobile Units arrived back our Port Washington, N.Y. campus carrying a different kind of invaluable cargo – 30 homeless animals pulled from Dallas Animal Care Center to make room for all of the displaced dogs, cats, puppies, and kittens separated from their families in the wake of the storm. Another 27 animals were transported via our units to Muddy Paws Rescue NYC, where they will be medically treated and eventually adopted into loving homes. All of these animals would have had nowhere to turn if not for your generosity.
Among the 30 animals brought back to Animal League America is a litter of six adorable six-week old Pit bull puppies, and two bonded cats surrendered by their owner just as our rescue team was preparing our units for departure.
"As we were finishing up the loading process and preparing to head back to New York, we noticed a man carrying two cats. He was struggling to walk, wearing no shoes, and he just looked like he was hurting. We immediately went over to take the cats from his arms and help in any way that we could. That's when he told us the heartbreaking story of his two adult cats, Joy and Joey," said Cindy Szczudlo, Animal League America Director of Rescue Services. "Joy is seven years old and Joey is nine. They are a bonded pair who have never been apart, so there was no question we were going to take them in and help give them the life they deserve."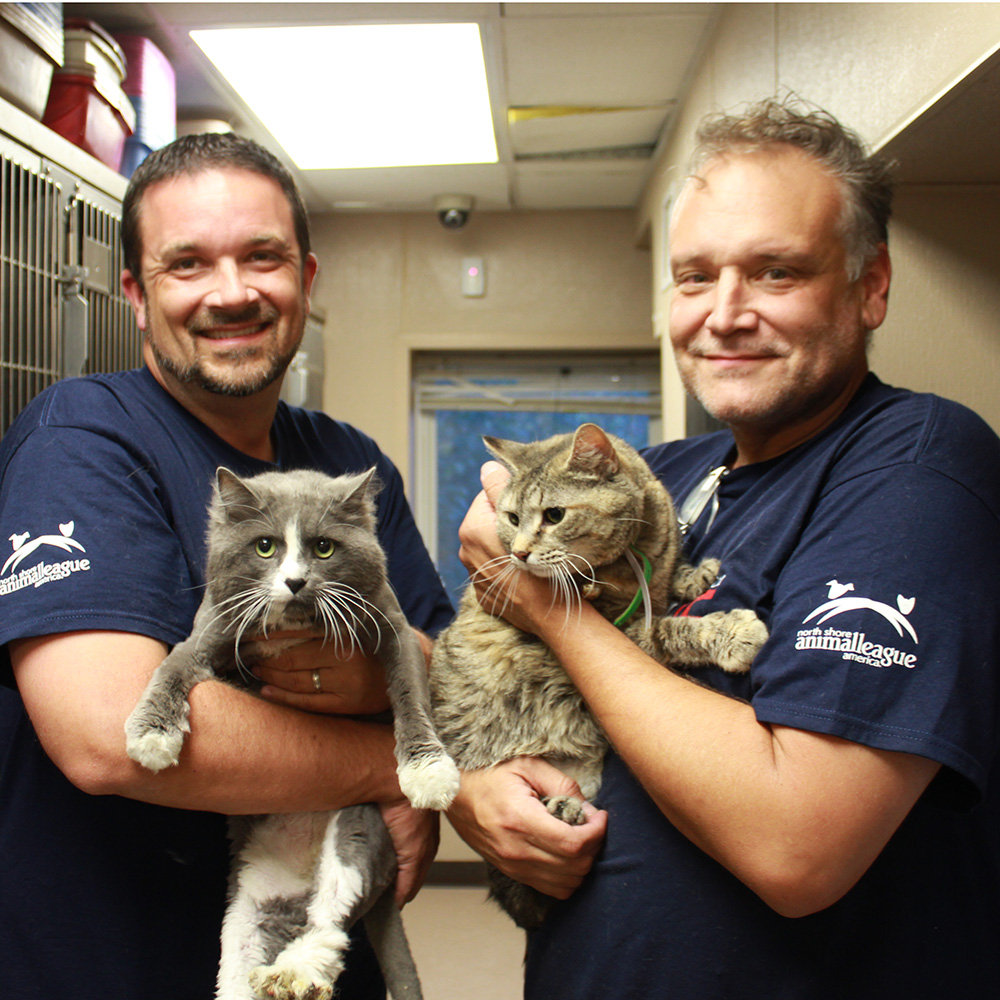 As we continue to do all we can to assist with relief efforts in Texas, we are also preparing to aid the people of Florida and the Caribbean as Hurricane Irma continues her destructive path. We are collecting items and coordinating with our many shelter partners in the Broward County to construct a plan of action, and our Emergency Rescue Team is already preparing two more of our Mobile Rescue Units to make the long drive down to Miami early Monday morning. It's because of your support that our rescue teams are able to respond to emergency relief efforts when called upon and safely evacuate animals out of harm's way when disaster strikes.
North Shore Animal League America has boots on the ground in Texas, and has spent the holiday weekend assisting our friends at Houston Humane Society with rescue efforts in the wake of the catastrophic devastation caused by Hurricane Harvey. Our shelter partners on the Gulf Coast have not only been caring for the homeless animals in their care before the storm hit, but have been dealing with the influx of displaced animals. Our Emergency Rescue Team arrived with two Mobile Rescue Units filled with food, water, and supplies, thanks to generous donations from our supporters.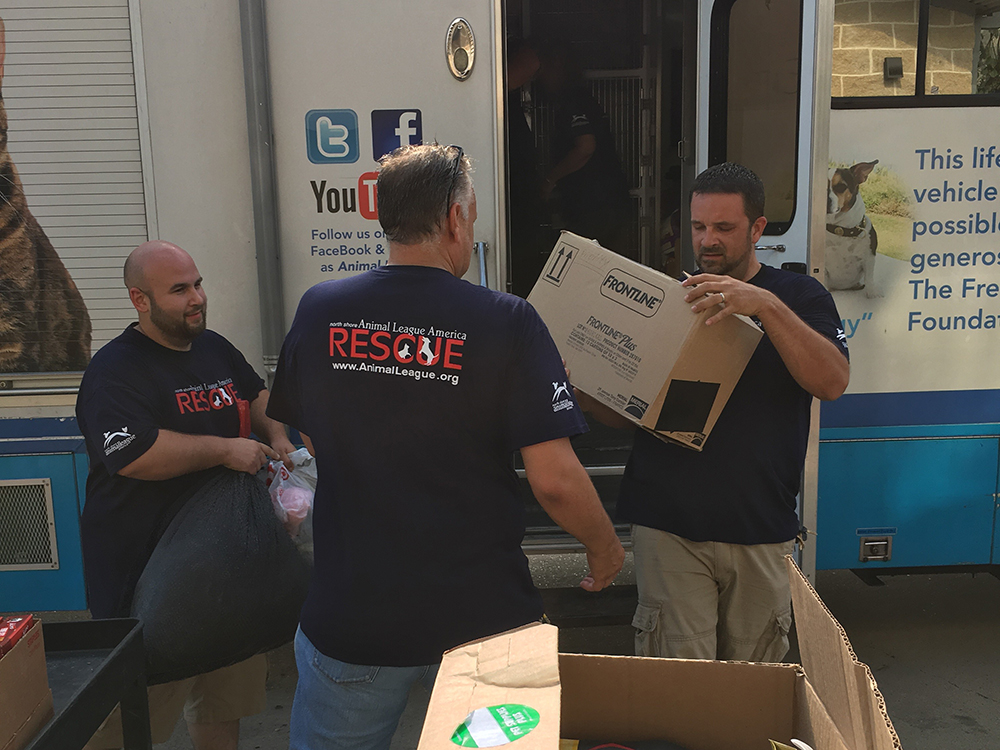 Today, our team is on their way to Dallas Animal Services and Adoption Center, where we will collaborate on a rescue transport to bring homeless dogs, cats, puppies, and kittens back to our Port Washington, NY shelter, as well as our partner shelter Muddy Paws in New York City. This will make room for the displaced animals who were separated from their families until such time as they are able to be reunited. Animals like this sweet pup, who was adopted before Hurricane Harvey hit, had to be brought back when her family lost their home.<.p>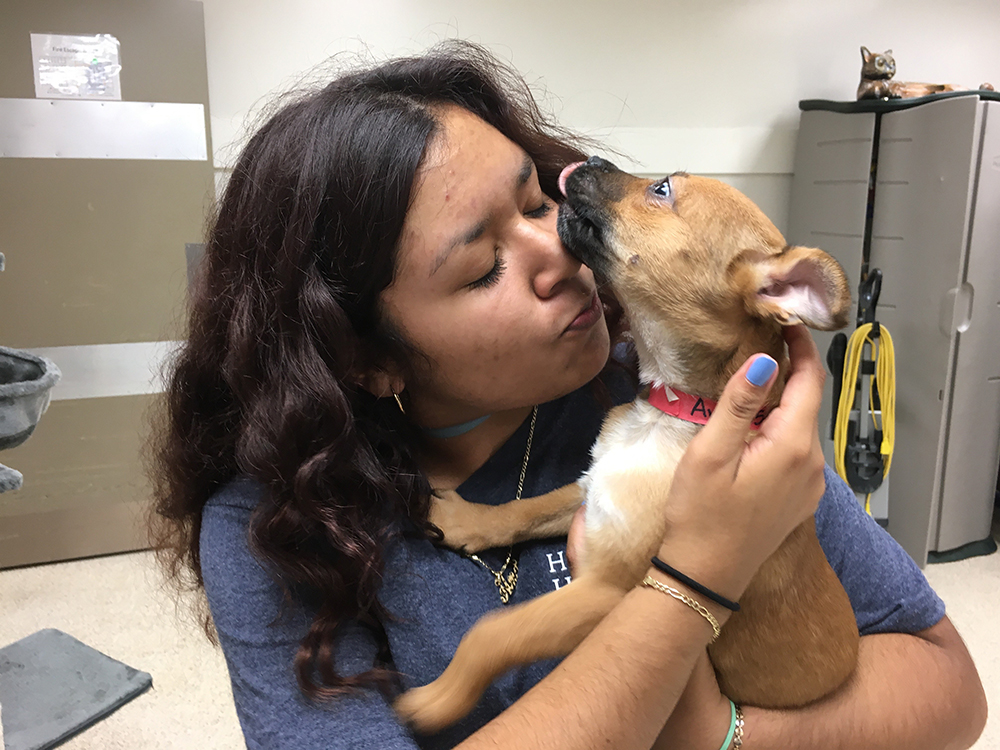 In a four-day span, many areas of southeastern Texas were flooded with more than 40 inches of rain, with peak levels reaching more than 50 inches in some areas. With hundreds of thousands of homes destroyed, more than 30,000 people and countless animals displaced, and more than 60 deaths, Hurricane Harvey is one of the worst natural disasters in the history of the state. The recovery from a catastrophic storm of this magnitude could take years, but with your generous support we can continue to do our part to help.
As Hurricane Harvey continues to wreak havoc on the people and animals of southeastern Texas and its surrounding areas, North Shore Animal League America is preparing to deploy our Emergency Rescue Team to assist Houston Humane Society with disaster relief efforts from this unprecedented storm. We will be bringing food, supplies, and manpower, providing support in any way we can during this trying time.
We are deeply saddened to hear about those who tragically lost their lives, their homes, and in some cases, their beloved pets, as a result of this devastating storm. With destructive winds, record-shattering rainfall, and catastrophic flooding tragically effecting so many on the Gulf Coast, Animal League America is prepared to do all we can to help.
Thanks to the overwhelming outpouring of donations we received in response to our social media appeal, our Mobile Rescue Unit is fully stocked with food and water, blankets, beds, toys, and many other supplies to aid the animals and people in desperate need of support in southeastern Texas. Members of our Emergency Rescue Team will be making the 26-hour drive to Houston Humane Society to aid in their continued recovery efforts.
Because of your support, Animal League America will be able to continue to help the people and animals affected by Hurricane Harvey, but still be prepared to take swift action the next time disaster strikes.
Thank you so very much to everyone who took the time out of their day to come to our Port Washington, N.Y. campus and donate items. Your kindness and generosity will go a long way in helping us provide some relief to those who need it most during these trying times.
Over the years, we were on the ground before, during, and after many major hurricanes, including Hurricane Katrina in 2005, Isaac, Superstorm Sandy in 2012, and most recently Hurricane Matthew in 2016, working tirelessly to provide shelter, food, medical treatment, and any other essential services to keep animals safe. Whether it be in our own backyard, across the country, or around the globe, our no-kill mission to make a difference never ceases, especially during times of dire need. It's because of your unwavering support of our lifesaving work that we have been so well equipped to assist in such crucial rescue efforts whenever we are called upon.
We are ready and prepared to help in any emergency – hurricanes, floods, tornadoes, or fires – ensuring that every animal in harm's way is provided with a new lease on life.
More Ways To Help Our Shelter Partners
Many of our partner shelters have been dealing with the devastating aftermath of Hurricane Harvey, while others are doing all they can to help those affected. Below is a listing of shelters that can use your support. Many have Amazon Wishlists where you can order items and send directly to the areas in need.