North Shore Animal League America partnered, for the first time, with K9 Global Rescue to bring four dogs, rescued from a South Korean dog meat farm, to a new life in the United States where they will now become treasured pets. After more than 20 hours traveling by land and air, the dogs arrived at the airport and were met by our Rescue Team who then shepherded them through U.S. Customs and Border Protection, and brought them safely to our Port Washington, NY campus.
K9 Global Rescue contacted Animal League America, the world's largest no-kill rescue and adoption organization, for assistance. They're a group of former combat veterans working with volunteers in cooperation with rescues and other organizations worldwide for the humanity of dogs and all animals.  One of the goals of the organization is to end the cruelty and slaughter of dogs for the dog meat trade.
Your support helps us continue our rescue efforts across the country and around the world.
Once they arrived on campus the team hustled to get them out of the crates and into a small yard so they could interact with each other, stretch their legs, and feel more comfortable. It was heartening that one dog, named Mama, was already seeking a human touch after such an arduous trip.
"The dogs were exhausted and a little scared after such a long journey, but that's understandable," said Sylvia Ottaka, Senior Director of Admissions and Rescue at Animal League America. "This rescue with K9 Global Rescue is the beginning of a great new relationship where we can together save the lives of animals in need."
All four of the dogs are Jindo mixes—two females and two males. The Jindo is a breed, from an island off the coast of South Korea, that's well-known for being loyal and intelligent with a strong hunting instinct.  The K9 Global Rescue team worked hard to get the dogs medically ready for the trip and to socialize them with different people. The Executive Director of K9 Global Rescue, Jon Barocas, traveled with the dogs every step of the way making sure they were doing well. He also wanted to see them get settled into the Adoption Center here.
"We were told about this farm from someone we work with and they asked us if we could help," said Jon.  "The smallest dog we brought here was the guard dog on the farm and he was on a seven-foot chain and that's where he lived with a little shelter. The other three dogs here were all being held in cages and I personally took them out."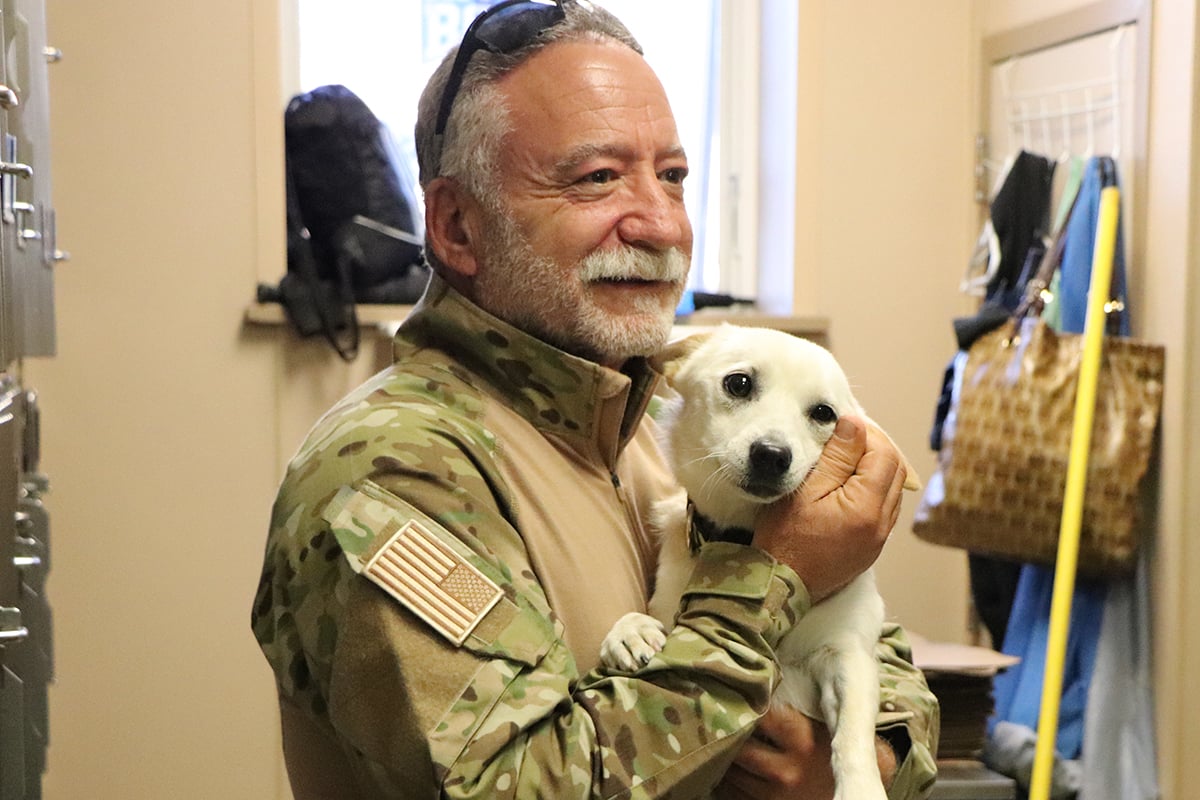 The dogs are all adjusting well to life here at North Shore Animal League America.  Mama, the biggest female, accepts all people as friends and even has some new canine pals at the Adoption Center.  Hawkeye, the small male, is doing great on a leash and will immediately jump into people's laps when he's in the yard.  Radar, the second female, was slower to come out of her shell, but is now a very playful dog.  Klinger, the bigger male, will readily eat treats from the staff's hands and loves to snuggle with big comfy blankets.  The next step will be to match them with responsible, loving homes who will understand them and give them all the time needed to adjust to their new lives as beloved pets.