When North Shore Animal League America got the emergency call from shelter partner, Georgia Animal Rescue Defense, to help with 178 Pomeranians who were surrendered from a backyard breeder, our Rescue Team sprung into action.
As soon as they arrived on the scene with our Mobile Rescue Unit, our Rescue Team of Karla Agostinello and Ted Moriates could see that the dogs had been severely neglected. "The coats of these dogs were all matted, and feces were caked on their tail areas," said Karla, Rescue Manager at Animal League America. "Every single one of the dogs we rescued are not social. They do not know the feeling of a loving touch, or a dry warm place to sleep. On our first day with these dogs they wouldn't even look at us, but by the time we arrived back at Animal League America's Port Washington, NY campus, we were starting to see some wagging tails."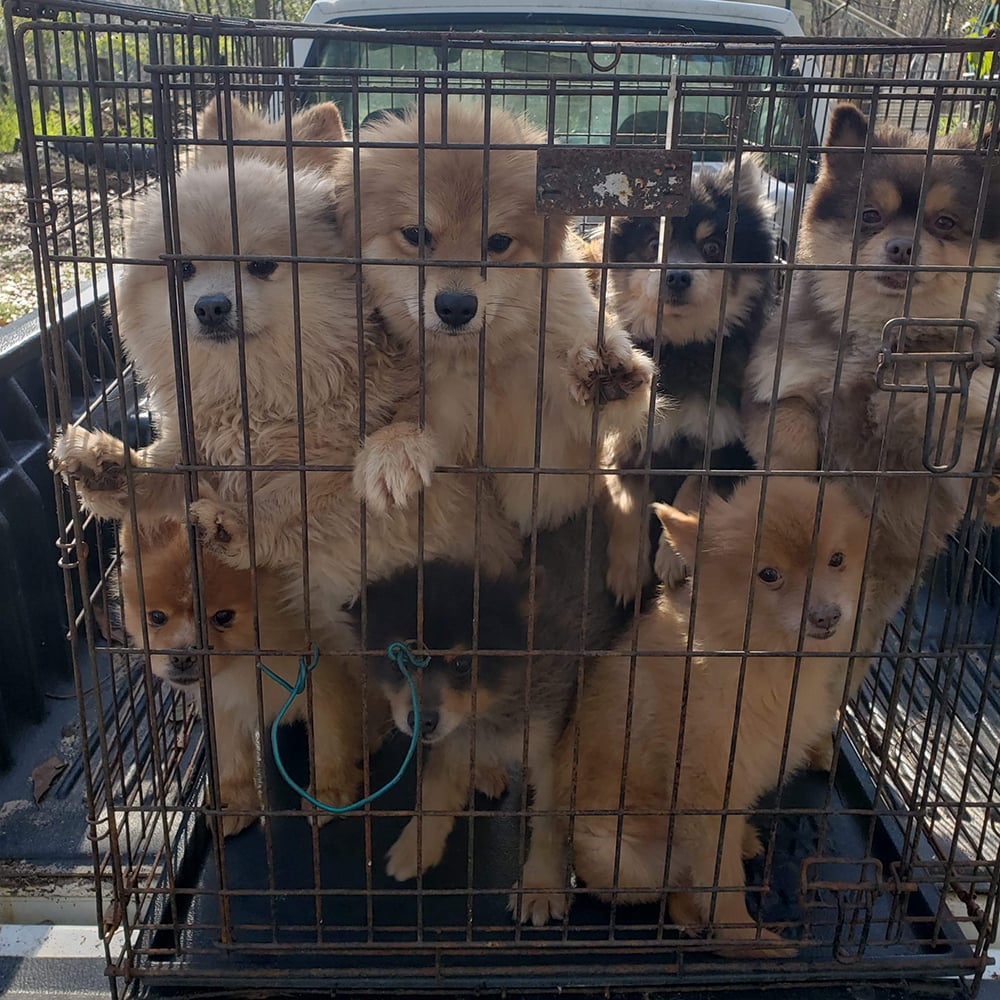 Several other rescue groups also rallied in the emergency and were able to take many of these poor Pomeranians into their care. Not only did our shelter partner need to find placements for all of these dogs, an almost overwhelming task, but the dogs needed extra tender loving care after being neglected for years.
Photos showed that they had been kept in horrific conditions and many were just left outside all the time in all types of weather. Our shelter partner has informed us that the state of Georgia is gathering information and evidence so they can press charges of animal cruelty against this heartless owner.
Once the 40 Pomeranians arrived on our campus, they were given a little time to settle in and relax. Now they are being groomed — in many cases they're being shaved because of badly matted fur. Once fur gets so terribly matted, it pulls on the skin and this can be painful. Next, they are starting to be medically examined by our Animal League America team of veterinarians.
Henryk, estimated to be between one and two years old, was one of the first to be examined. "The concern we have is that we'll see a lot of issues related to neglect as they haven't had a lot of care when they come in from these breeding situations," said Dr. Mark Verdino, Senior Vice President & Chief of Veterinary Staff. "Another thing we worry about with backyard breeding is there is, unfortunately, a lot of inbreeding and this increases the risk of hereditary diseases and congenital defects such as heart disease and orthopedic issues."
Luckily, Henryk's heart and lungs sounded great, but Dr. Verdino did find another genetic problem that Pomeranians often have called luxating patellas—the knee caps are out of alignment. Henryk has this issue on both hind legs, but the right one is worse. "His right knee cap is completely out of alignment. I can put it back in, but it pops back out again," he commented. "Since Henryk is only a year or two old and I am already feeling cartilage wear, he will likely need to have surgery," asserted Dr. Verdino. "We will get x-rays of his hips and knees when he is neutered and proceed from there."