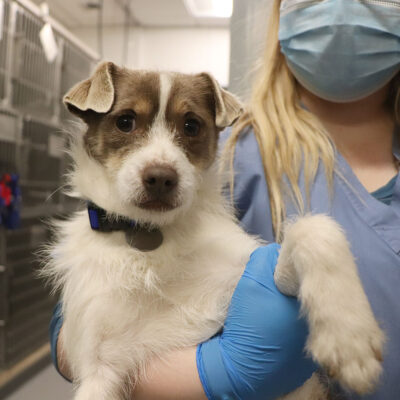 Warning: Some images may be heartbreaking.
A victim of animal cruelty, resilient Clarence is giving us all the gift of hope. It is heart-wrenching to consider the circumstances that brought this scrappy, young Terrier into our hands at Animal League America, but thanks to a collaborative rescue effort his future is changed forever.
Clarence was abandoned on the steps of an animal shelter in Tennessee — cruelly dumped in a plastic bag and badly injured. His hind leg had been poorly splinted for so long that the friction caused severe wounds to his body, and he could not bear any weight on the leg. Given the complexity of his medical condition, our Tennessee-based animal rescue partner Rescue Dog and End of Life Sanctuary contacted us, and Clarence was transported swiftly into our care.
Dr. Marina Tejada, Animal League America Supervising Veterinarian, evaluated Clarence's situation and explained, "Clarence apparently broke his leg five weeks ago, and was placed in a splint but was never seen for follow-up care. Unfortunately, that splint was never removed and ended up causing significant wounds on his belly."
The position of the lacerations over time created issues for his genitalia that required reconstructive repair, in addition to the surgery on his leg. Unfortunately Clarence has to lose his leg, since his fracture wasn't given the proper medical attention. Too much time passed for the bones to be fused properly. As Dr. Tejada noted, however, most dogs can do amazingly well on three legs: "They tend to be faster even, and definitely more energetic, without the extra weight of a non-functioning limb."
It is tragic to note that if Clarence had only received medical attention from the start, his leg could have been easily repaired. The animal clinic in Tennessee where Clarence was discarded was able to track down his former owners. Local law enforcement will be pressing charges against them.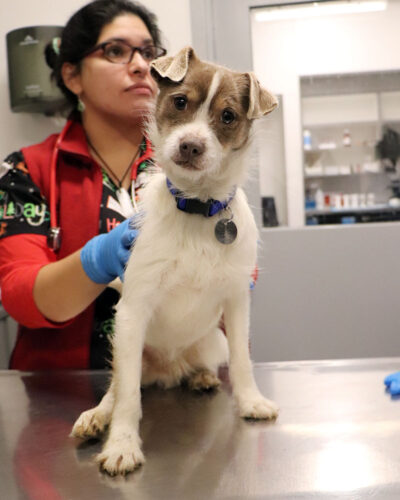 Given all that Clarence has been through, he has been amazingly tolerant of all his handlers and patient with his examinations. Even though Clarence only knew the worst of humanity until now, he remains interested in the world around him and offers an adorable head tilt whenever he hears a curious sound. We are thrilled to report Clarence came through his surgery amazingly well, and will remain under our round-the-clock supervision while he heals.
No longer abandoned, now Clarence will get to hear the joyful bells of the season, and kind words from people who care and only want the best for him. And we also know that soon this angel will get his holiday wish to be able to run and play, and have the wonderful life he deserves.