Looking at a photo of Miracle Baby's tiny face in the plea for help to save his life, who could resist wanting to assist. Certainly not our Rescue Team, who answered Brooklyn Animal Care Center's urgent appeal that stated he needed "nutritional support" and a place that could "monitor his temperature." They immediately set up a transport to pick him up and bring him to North Shore Animal League America.
This four-to-five-week-old kitten — all alone in the world — was one of our youngest rescues this year. He was found on the streets of New York City. When he arrived at Animal League America's Pet Health Centers, Miracle looked and felt terrible. He was lethargic. There was discharge coming from his eyes and from his nose. Miracle was underweight for his age and he wouldn't eat even though several tasty treats were put before him. He just cried piteously and looked for comfort.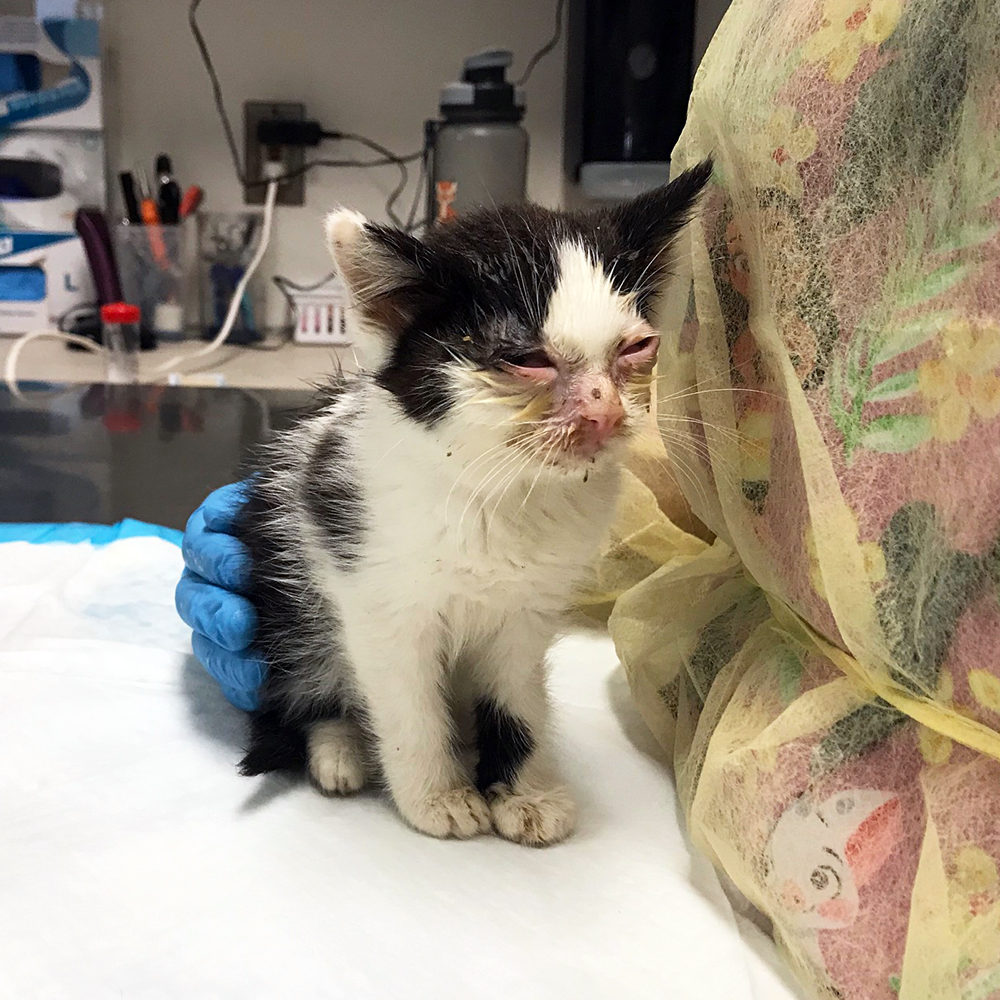 Dr. Kaitlyn Zaino, Staff Veterinarian, was called to the Emergency Care Unit to examine him. "Miracle had a severe upper respiratory infection as well as conjunctivitis. The conjunctivitis was so severe his eyes were swollen shut with continuous copious amounts of discharge coming from them," said Dr. Zaino. "In these types of cases, if the conjunctivitis goes too long without treatment, it can cause damage to the eye itself. It was imperative to get him started on treatment as soon as possible to prevent further damage to his eyes as well as getting him to feel better enough to start eating on his own."
Miracle had been treated previously with fluids for his dehydration at Animal Care Centers. He had also arrived with intermittent hypothermia. Many times young kittens cannot keep their body temperature up without their siblings and mom who huddle with them. A hot water bottle or other external source of heat often helps them.
Dr. Zaino ordered more fluids, a medication for his conjunctivitis, and an antibiotic to continue to combat his upper respiratory infection. She also made the veterinary technicians aware that Miracle would need heat support if his temperature dropped to less than 99 degrees Fahrenheit.
With our compassionate, supportive care and his fighting spirit, Miracle has been progressing. He was moved to our kitten nursery where the staff could keep a close eye on him. He was treated for a scar on the cornea of one eye and has steadily gained weight.
In fact, there is wonderful news. Miracle has been adopted and gone to a loving family and his very first home! And that's a miracle after having had such a really rough start in life.