North Shore Animal League America recently partnered again with the Georgia Coalition to rescue 42 more dogs and puppies just in the nick of time from five overcrowded, rural shelters, where they faced euthanasia.
"This is our fourth transport with the Georgia Coalition. The shelters we are working with in rural Georgia are overcrowded and the time in the shelter that these dogs have runs out quickly," said Karla Agostinello, Rescue Coordinator at Animal League America. "So far this year, 200 puppies and dogs have been saved through this partnership and all of them got a second chance by coming here." The shelters are located in Dougherty, Thomas, Terrell, Early, and Tift counties.
Among the dogs that came in were two, scared Chiweenie moms with 12 tiny puppies! They were dumped at a shelter by owners who didn't want them anymore—after they'd been breeding them in their backyard and selling the puppies. Who knows what type of conditions they had to endure? Some of the other dogs were pitifully thin and still others were frightened so they cowered at the back of the cages. It didn't seem like they've had much kindness or care before they ended up in the shelters. That was all about to change.
Your support provides the resources to rescue more animals at risk or euthanasia. Please donate today to save more lives tomorrow.
As the Mobile Rescue Unit pulled onto our Port Washington, N.Y. campus, a group of volunteers stood by ready to assist with unloading the animals and settling them down. These volunteers were here for the day as part of an employee volunteer program from the New York Mets. They stood at the ready to help, and after a quick cuddle, carried these animals into our Pet Health Centers for their intake exams.
One of the volunteers, Christina Andrews, Director of Suite Sales and Service, was celebrating a birthday that day and found the experience to be a very special gift. "As someone who was one of the first humans these puppies encountered after their long overnight journey from Georgia, touched is not even close to what I felt. I had tears in my eyes the whole time. Each puppy's personality shone through and while some were excited and full of energy, most were cautious, tired and scared. Being able to give them minutes of comfort with hugs, food, water and treats was remarkable."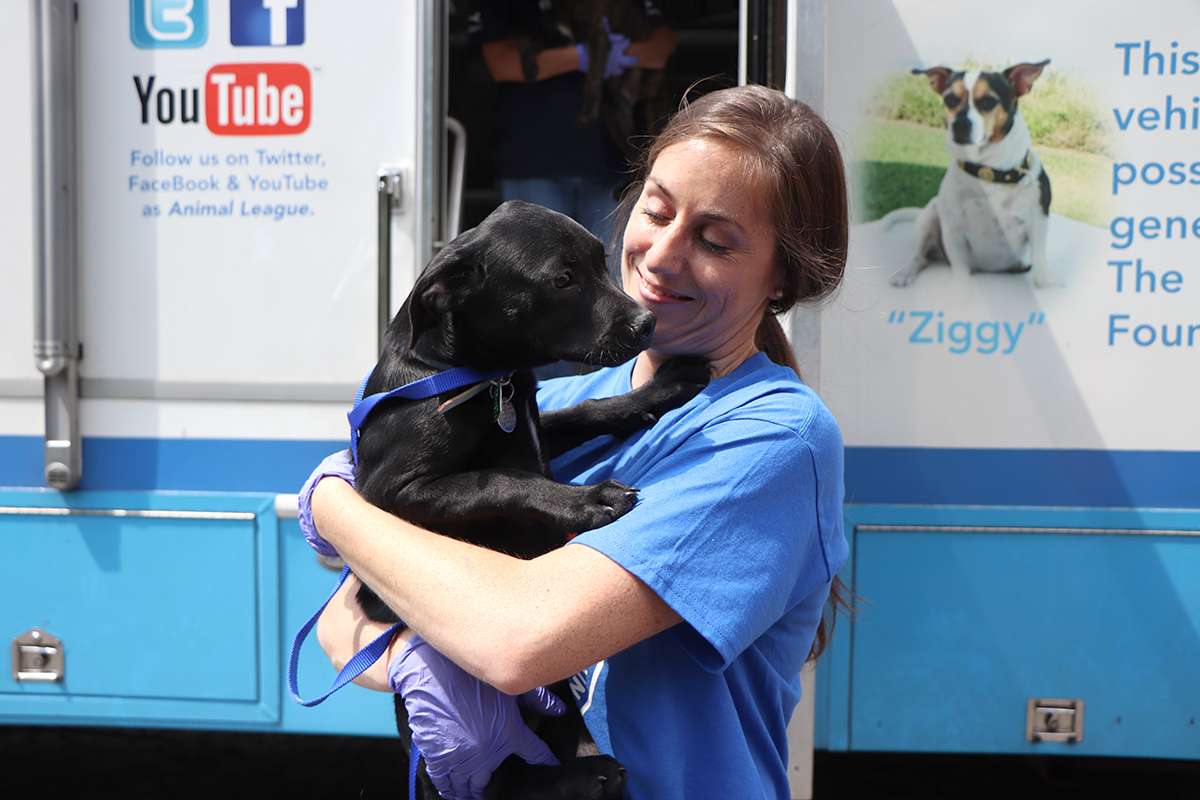 Now it's up to the staff and volunteers at Animal League America to make sure these puppies and dogs get everything they need to prepare themselves for the next step of their journey. And when tomorrow comes, these animals will begin to realize that they're safe and loved and soon will be on their way to becoming a new best friend for some lucky adopters.