Thanksgiving is a time to celebrate gratitude – when we stop to appreciate the things in our lives that we are thankful for. At North Shore Animal League America we are thankful for all of our loyal supporters and generous donors who continue to allow us to save the lives of hundreds of homeless animals each year.
In November, we worked with our rescue partners from all over the country to rescue 700 dogs, cats, puppies, and kittens from overcrowded municipal shelters, an inhumane commercial breeding facility in the Midwest, and other less-than-ideal conditions. Equipped with our state-of-the-art Mobile Rescue Units, our Rescue Teams ventured out to places like Outer Banks, N.C., Martinsville, Va., Dillon County, S.C., Clarksville, Tenn., and Barbour County, W.Va., to pick up animals in need of our help. Each time the wheels of one of those units touch the pavement of Lewyt Street here in Port Washington, N.Y., the road which has been a pathway to safety for 72 years, another group of animals receive a second chance.
"I'm constantly in contact with various shelters and rescue groups all over the country, and even outside of the country, to see who needs our help. Any way that we can help to take some of the burden off of them and allow them to rescue more animals, we'll do it," said Animal League America Senior Manager of Rescue Services Cindy Szczudlo. "This particular month, not only did we provide second chances to hundreds of animals via transports and other rescues, but we were able to organize a Puppy Mill Rescue in the Midwest as well."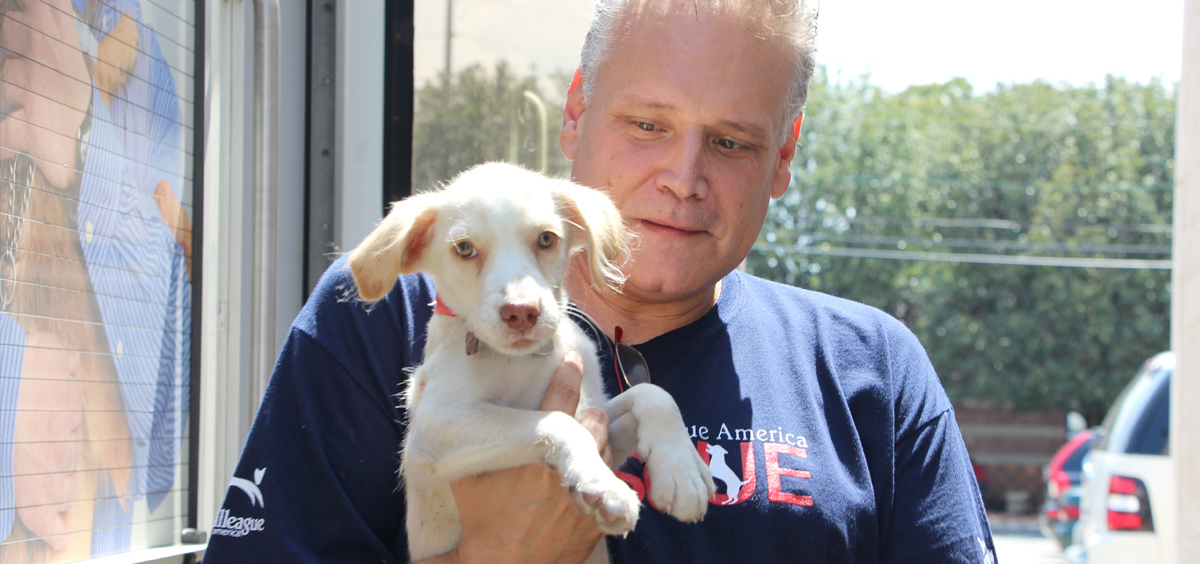 Of the 700 animals rescued and brought back to our adoption center to soon find responsible, loving homes, 60 of them were pulled from the horrific conditions of a Puppy Mill. Chihuahuas, Dachshunds, Miniature Pinchers, Yorkies, Shih-Poos, Poodles, a Boston Terrier, Beagles, Mini Schnauzers, Maltese, a Pekingese, Shih Tzu's, even a few blind dogs, and a hearing impaired Great Dane were saved rescued during this life-saving mission. A life of solitude inside of a wire cage, alive solely to breed for the sake of producing a profit, isn't a life that any animal should have to endure. It's also one of the many reasons why Animal League America is proud to be able to conduct several of these emergency rescues each year.
"With every Midwest rescue there is a certain amount of anticipation and anxiety the night before the rescue.  We never know what we will find when we pick them up. What condition will they be in? What will they be like behaviorally? These are the questions you always have in your head before heading out on the road. This particular rescue there were some animals with hearing and sight issues," said Rescue Associate/Driver Ted Moriates, who along with Rescue Associate Laura Arendt, took the six day trip aboard one of our Mobile Rescue Units to bring these precious animals to safety. "Not only did we rescue them, but we already found a foster-to-adopt situation for the hearing impaired Great Dane with a great family in Upstate New York. It seems like the perfect fit for the family and for the dog, so Laura and I couldn't be happier."
After being examined by the veterinarians in our Alex Lewyt Veterinary Medical Center and pampered by our groomers, many of these dogs and puppies were placed up for adoption during our Black Friday Adoption special. What better way to celebrate Thanksgiving and the beginning of the holiday season then by providing new life to a furry four-legged friend in need? At the end of the night, 114 animals found loving homes, including many of the well deserving Puppy Mill survivors who finally have homes for the holidays!
NSALA has maintained a no-kill promise since 1944. Like you, we believe in the value of every single dog and cat. It is only through your support that we can continue to honor this promise. Together, we make a world of difference to the animals that need it most. Please support our rescue efforts today!