This past weekend it was clear skies ahead for the 21 dogs, cats, puppies, and kittens who landed at Republic Airport in Farmingdale, NY, on their way to Animal League America and a brighter future. Through a new collaboration with Amelia Air Animal Rescue, and the efforts of our South Carolina partner Lakeside Animal Rescue, Animal League America was able to save these precious animals, some of whom were pulled from overcrowded shelters. All these animals are now well on their way to finding responsible, loving homes as safely and quickly as possible.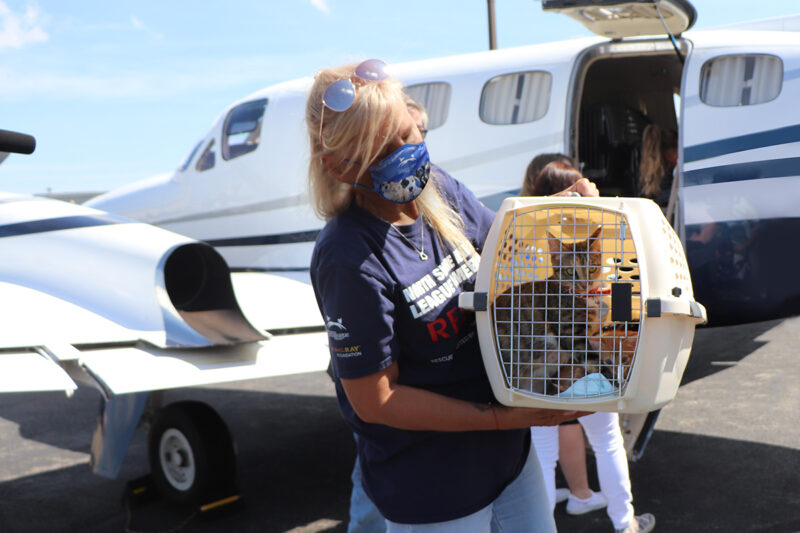 "Amelia Air is thrilled to be working with the amazing team at Animal League America to bring these animals from South Carolina to Long Island, where they can have a chance to find the perfect family," said Petra Janney, Amelia Air Animal Rescue Co-Founder and Volunteer Pilot. "Our mission is to fly shelter pets off death row, and provide that missing link between overcrowded shelters and the communities who want to adopt these animals."
Animal League America is a pioneer in humane relocation and this program model has been replicated by shelters all across the country. While our state-of-the-art Mobile Rescue Units are well-equipped, they do require more travel time. "Partnering with Amelia Air Animal Rescue provides an exciting opportunity for us," said Karla Agostinello, Animal League America Rescue Manager. "Together, we can save more animals from far away, and they can get to us more quickly."
For cats like Meadow and her five tiny kittens, that makes an enormous difference. Meadow was one of the animals rescued from a municipal shelter by our South Carolina partner Lakeside Animal Rescue. The shelter did not have the space to care for Meadow and her litter, so they were fostered by Lakeside Animal Rescue until they could board the Amelia Air flight to Animal League America. Now they are already purring happily in the comfort of Bianca's Furry Friends Feline Adoption Center.
Meadow and her kittens — along with their canine travel companions — are all receiving full grooming and medical checkups and will soon be ready to meet the families they deserve. By forging new partnerships, Animal League America continues to increase the number of vulnerable animals we are able to save — animals who will be just as fortunate as these South Carolina flyers!