Ollie and Tommy, two bonded cats, huddled together in their bed at North Shore Animal League America with their best friend, Fredo. Ollie and Tommy were rescued from a feral colony and Fredo was taken in from a hoarding situation. All three were having a difficult time adjusting to life in a shelter.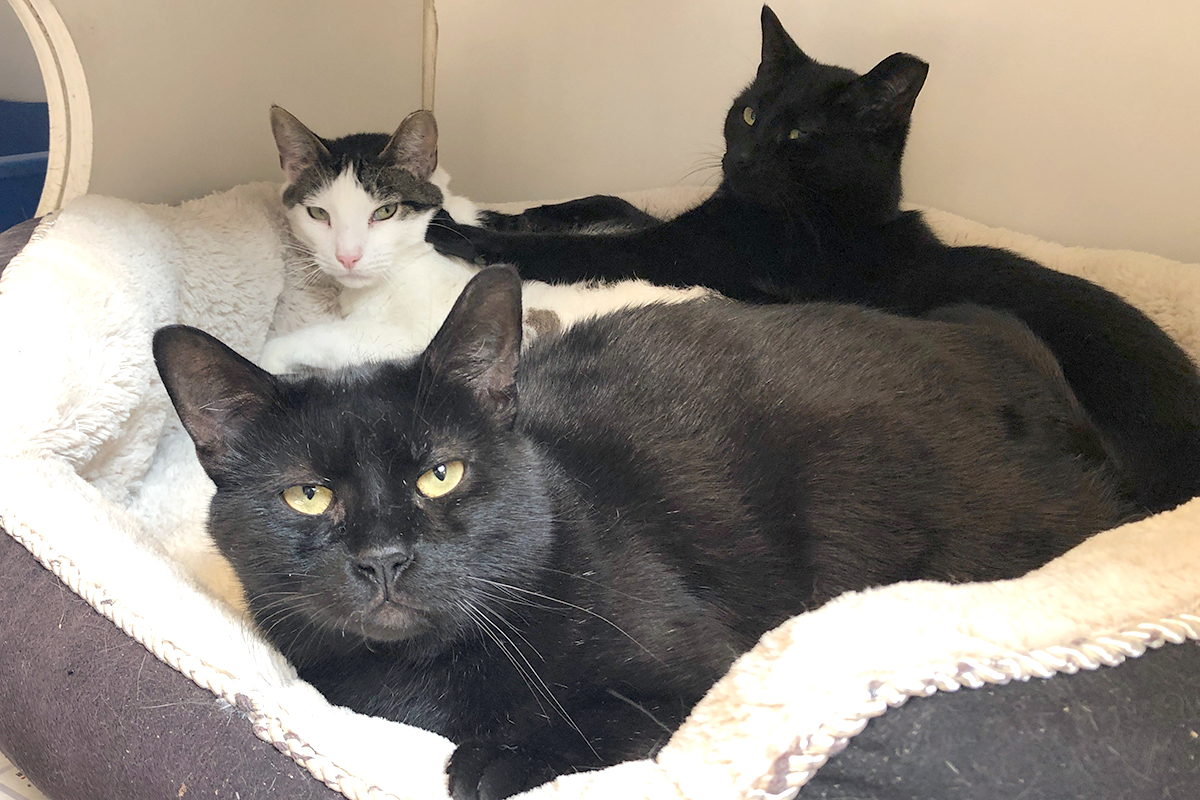 When they met in one of our cage-free cat rooms, these three under-socialized cats immediately became fast friends. For Fredo, a frightened crisis survivor, living around cats and cuddling with them was the only thing that gave him comfort. Ollie and Tommy were happy to provide that comfort.
The adoption inquiry into Ollie and Tommy came from a posting on the Animal League America website. As soon as staff and volunteers saw this, we were excited for them. However, we were also upset that Fredo would be left behind.
When the adopters came in to meet the two bonded boys, Fredo decided he would be front and center at the meeting too. "Fredo just came over from the adjoining cage and plopped down on top of Ollie and Tommy. The staff told us that Fredo was their friend," laughed Erin, "so I said just get another carrier then." So Erin and her husband, Terry—two kind and big-hearted people—adopted three adult cats that day.
Staff watched as the couple and the three cats drove off together. They were amazed at how Fredo had just "sold" himself to the adopters without any human help at all. So not two, but all three cats had just gone home together! Tommy and Ollie and Fredo had been waiting a long time for a family willing to give them a chance.
And it has certainly turned into happily-ever-after for these three homeless cats. Within a day or so, the cats were eating and drinking and already exploring their new digs. Fearful at the shelter, felt more and more at home every day. "They're doing great. Their personalities are starting to come out and they are active all night, playing and knocking over all my stuff," said Erin. "Fredo let Terry pick him up today and Ollie mooched while I was eating a salad with chicken on it. Tommy actually came to my hand and rubbed on it voluntarily. It really made my day."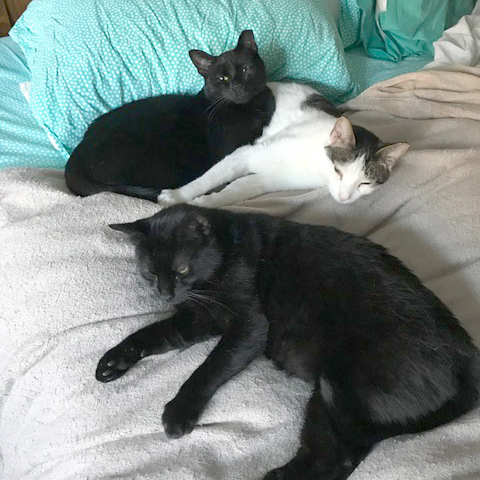 Erin and Terry were not worried that the three cats were fearful here in the Animal League America Adoption Center. They were up for the challenge. "It's really rewarding to adopt pets that are fearful of people. When they eventually decide to trust you and seek out your affection, it's an amazing experience," exclaimed Erin. "Animals of all ages and backgrounds deserve to be safe and loved." It certainly looks like these three cats couldn't have found a more perfect and loving place than their home with Erin and Terry.