Little Man and Bella, a pair of Chihuahuas, came in to North Shore Animal League America's Port Washington, NY campus on a rescue from Abilene, Texas. They'd had only one owner, an elderly woman who lived in her car. Sadly, she became ill and had to go into a nursing home and there were no family members to take them, so they ended up in the local shelter. Rescue the Animals SPCA, which serves as a hub for rescuing animals from over 20 West Texas counties and throughout the Southwest, thought they were good candidates for this rescue operation.
"Our shelter partner told us that they were both friendly, but when anyone tried to pick Little Man up, he would scream. He was only ever handled by his woman owner," said Ted Moriates, Rescue Associate. "So as soon as they came in on the rescue, we decided to foster them in our office. We thought that a little time in here would help Little Man learn that it was okay for other people to touch him."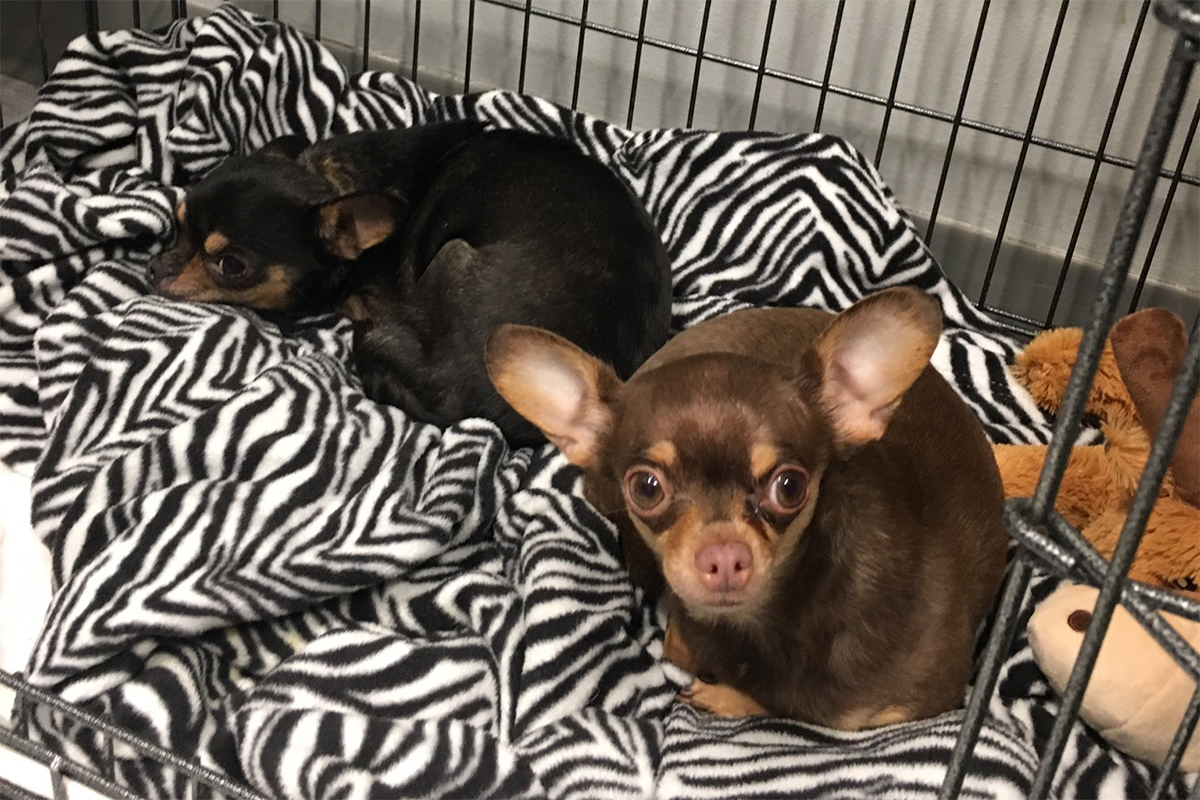 Little Man and Bella are half siblings as they both had the same mother. Even though he's the older dog, everyone could see how Little Man depended on Bella to feel more secure so it was decided that they should go to a new home together. Staff learned that Bella is very outgoing and enjoys being the center of attention while Little Man loves to snuggle under a blanket. They sleep curled up together. Little Man has a heart murmur caused by mild mitral valve disease, but he doesn't need any medication. He will need to undergo an echocardiogram once a year to monitor the condition.
While the Chihuahuas were getting some extra socialization and medical care, a mom in Port Washington was looking for a dog to adopt for her family and checking Animal League America's website daily. "I grew up with lots of Chihuahuas, actually in Texas, so I was so happy when I saw these two up for adoption," said Grace Lucarelli. "We all fell in love." Everyone came in to meet the pair and home they went together just as staff and volunteers had hoped for.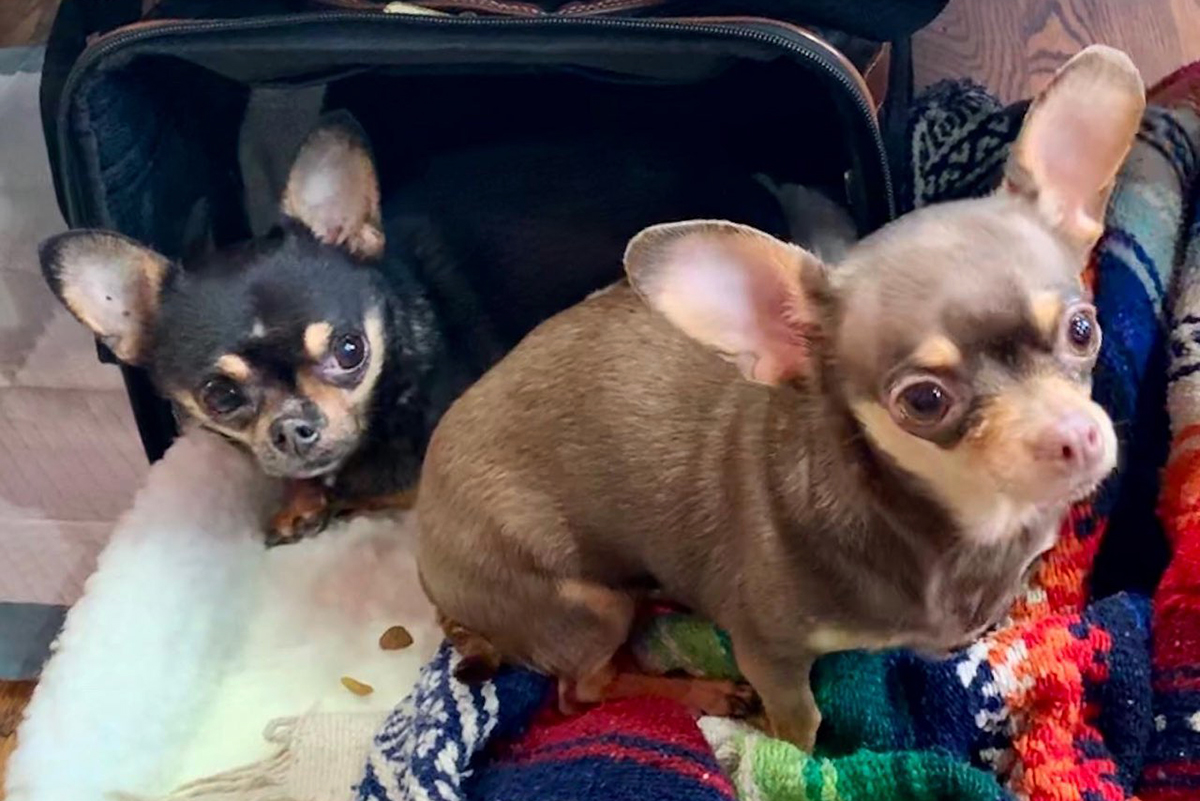 Grace feels that the pair have settled in well. The family decided to change Bella's name to Poppy.  Their crate, food, and water bowls are in the family room where everyone likes to hang out. She says that her daughter Ava, 14 years old, and her son, Teddy, 10 years old are "gentle, quieter kids and they have been great with the dogs." Little Man and Poppy have a favorite spot on the couch — the same spot where Little Man curled up with a warm blanket the very first day they came home.
"Poppy, who is very friendly and loves people, had no problem adjusting. She wants all the attention on her," laughed Grace. "Little Man was afraid to come out of his crate at first, but he slowly has emerged from his shell. He loves to be pet, but is shy."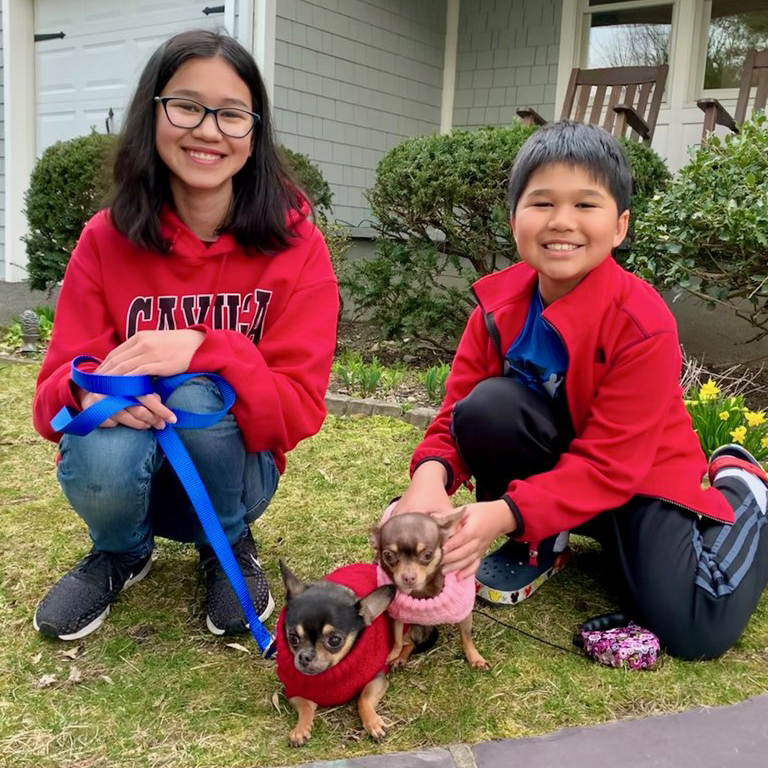 The first two times that Grace tried to walk the dogs, Little Man was too scared to walk UNTIL he saw another dog. Then, she says, he "became very excited and transformed into a 'BIG' brave dog!" Since then he's gotten braver and she's been able to walk him around the neighborhood. He loves to be outside now and people watch. The family has discovered that Little Man knows the commands to "stay" and "come." And he rolls on his back to ask for tummy rubs!
These are the first dogs for the Lucarellis as a family. "Poppy and Little Man are perfect for us. It was meant to be!" declared Grace.