On the evening of October 30th, North Shore Animal League America hosted a special celebration for the completion of the Bianca's Furry Friends Feline Adoption Center, our new cage-free facility for cats and kittens. Beth and Howard Stern, Billy Joel, and Rachael Ray were among the many honored guests in attendance to see this new addition to our shelter that was years in the making.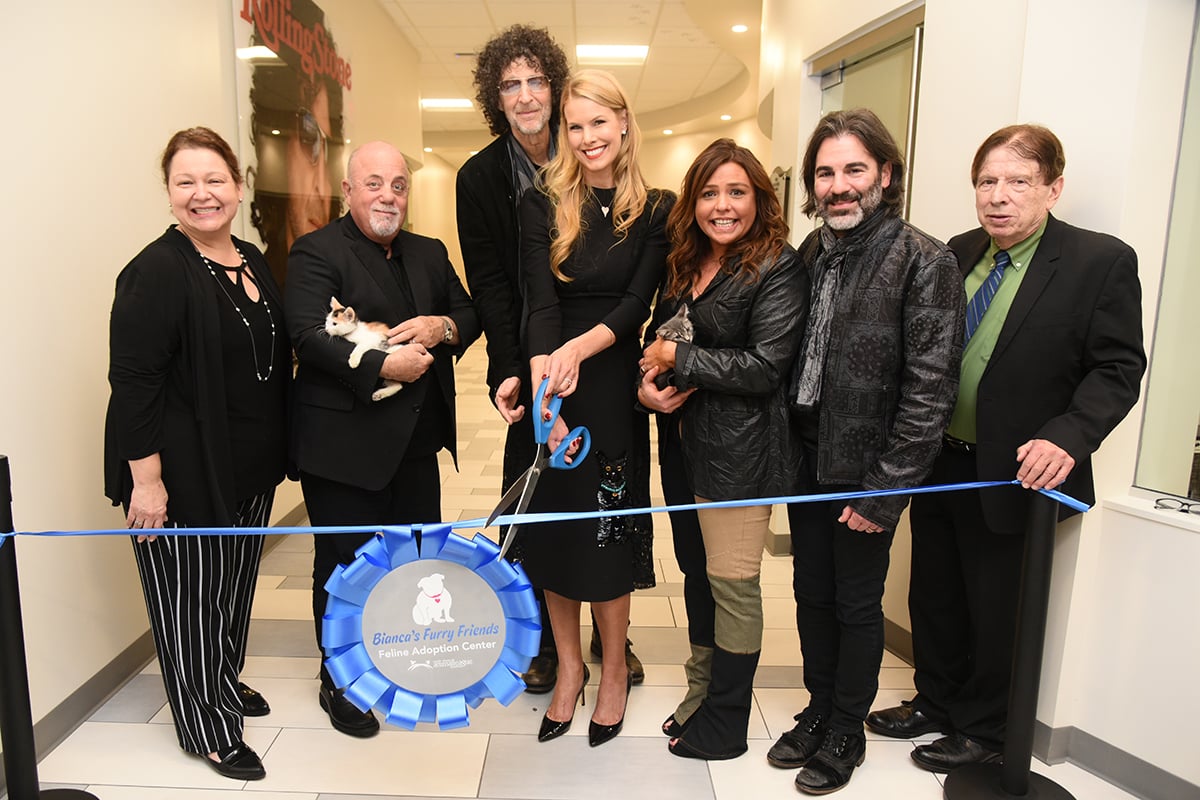 John Stevenson, President of Animal League America and Joanne Yohannan, Senior Vice President of Operations, looked on as Beth Stern, National Spokesperson, Foster Parent, and Board Member, cut the ribbon on the new feline adoption center. This event marked the culmination of years of fundraising, planning, and designing, plus almost two years of construction. This new 14,000 square foot addition will help us save more lives, and not just cats and kittens. By building a second floor to our existing shelter we have now freed up space to save more dogs and puppies. This complex project was the largest expansion in the history of Animal League America.
The bright, sleekly designed rooms with their cat residents were a big hit. Guests enjoyed visiting with the cats —both young and old. They oohed and aahed over the designs in the different rooms that put the cat's comfort first and allowed them to socialize more and feel calmer and more confident.
In The Hallmark Channel room there was lots of action. Cats and visitors were interacting with lots of petting and playtime. "Oh, my goodness. I'm already a huge fan of Animal League America so I have pre-formed opinions. For me, any room with kittens running around is a great room," exclaimed Herschel Cohen, a supporter of Animal League America who was on hand for the event. "This is an unbelievably wonderful resource and we are so lucky to have it in our community."
"This Feline Adoption Center is absolutely amazing.  A beautiful job.  It's really going to showcase these cats in a different way and they'll go home quickly," said Carmen Conde, another Animal League America supporter. "It also shows people the best environment for cats and gives them examples of what they can do in their homes too."
There were surprises in store for both Billy Joel and Rachael Ray. Beth Stern brought Billy Joel and his family to view the free roaming cat rooms dedicated in his honor as a special thank you for generously donating proceeds from his 65th birthday concert to Bianca's Furry Friends. The first room was an homage to the Piano Man himself, featuring a real piano designed with little nooks for the residents to lounge in. The adjoining room, known as the "New York State of Mind" room, was filled with New York City landmarks including Yankee Stadium, the Brooklyn Bridge, and the Empire State Building.
Then, Beth surprised Rachael Ray by taking her over to a special cat adoption room designed as a tribute to her. Rachael's dedication and support of our no-kill mission has helped save thousands of lives over the years. The Rachael Ray Room features an impressive treetop canopy that allows the cats to walk through the room or take a nap in a cozy corner while high above the ground. Sisal scratching posts and dangling toys are tucked away among the tree trunks and live greenery is provided by pots of cat grass. This free roaming cat area maximizes the use of vertical space and gives the cats many places to play and hide. Rachael loved it!
Another cage-less cat adoption room is dedicated to our partnership with Hallmark Channel's Adoption Ever After pet initiative. Animal League America supports "Kitten Bowl" and "Cat Bowl" to help educate the public about the many rewards of adopting shelter pets. This bright, colorful, modern room features special shelving throughout so the felines can climb and jump on or just curl up on for a cat nap.
The nursery, sponsored by the Alex and Elisabeth Lewyt Charitable Trust, allows the public to watch the moms and their kittens as they thrive. Through the beautiful curved window, people will also be able to view kittens being bottle fed and special older kitten play sessions with their caretakers.  Behind the scenes there is a full medical suite including exam rooms, a surgery, and a respiratory/isolation area.
Bianca's Furry Friends Feline Adoption Center is a must-see destination for cat lovers and for the national humane community.  All are welcome to visit and hopefully find a purrfect new friend, when we open to the public on Thursday, November 21, 2019.
Some images courtesy Rob Rich/SocietyAllure.com.