Ted Lim, Featured Volunteer
"When one door closes, another door opens."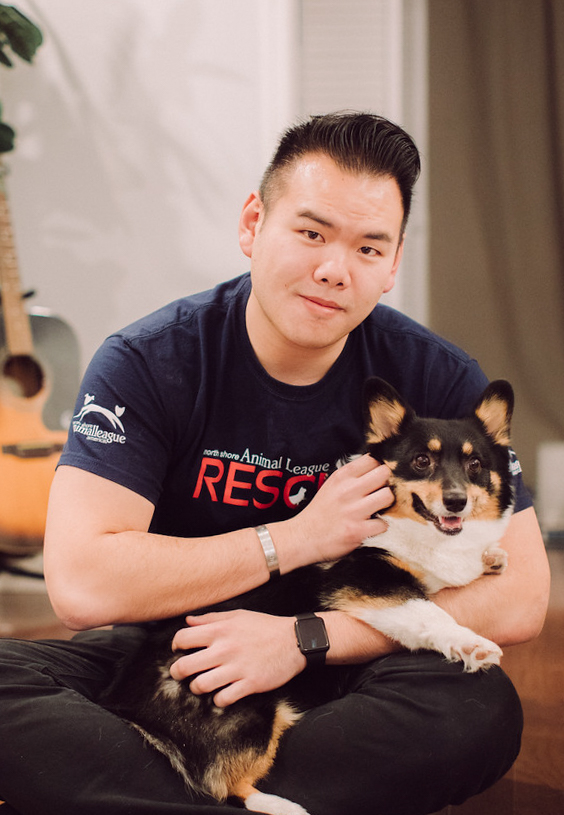 This quote by Alexander Graham Bell, the famed inventor credited with patenting the first practical telephone, is often used as encouragement during times of struggle or hardship. Doors may close, but there are always, other, unlimited number of doors – new opportunities if we just open our eyes and embrace them. For Ted Lim, one of our cherished volunteers here at North Shore Animal League America, he knows all too well how even the most unfortunate of events can lead to some of the brightest days.
Shortly after having to give up his beloved dog because a severe car accident left him unable to care for him, Ted decided that if he couldn't give all of his love to Luke, he'd become a volunteer and give it to the more than 350 animals temporarily living at Animal League America's Port Washington, N.Y. campus.
When and how did you first begin to volunteer at North Shore Animal League?
TL: I began volunteering at North Shore Animal League America in October of 2011. I remember seeing one of the off-site vehicles on the road and decided to go down to their campus because I was interested in adopting a dog. I took a walk around the adoption center and enjoyed seeing all the good work being carried out. Shortly after, I found the dog to rescue from upstate New York. After a couple months of having him, I unfortunately got into a serious car accident, which rendered me unable to care for him. Long story short, my friends wind up adopting him from me. They told me I did such a good job training him, so I got the idea to go back to Animal League America and apply to become a volunteer. I wanted to help rescue more animals even if I couldn't adopt.
Everyone has their own unique reasons, but why do you volunteer at Animal League America?
TL: I volunteer here for one reason only; to aid in the mission of rescue. There are too many perfectly loving animals being needlessly put down around the world today. I want to spread the word of adoption, population control (via neuter/spay), and also help others realize that you don't have to purchase a pet, you can rescue one by adopting. Not only do you save that pet, but you save another because it frees up room for another dog or cat in need.
If someone is considering volunteering their time, why should they consider Animal League America?
TL: As a relatively young professional, I also volunteer here to encourage others to do the same. Living in the NY Metro area, people are often inundated with "busy-ness" and create excuses as to why they can't volunteer. Too often I hear "I wish I could volunteer, but I just don't have time." When I started here, I was working a full time job in corporate finance, getting my MBA in the evenings, and maintained a social life. I think people can get more done than they think. Sometimes it's just a matter of knowing how to help. There are so many ways to get involved. I've also found that working with our shelter pets helps bring balance in life. It encourages us to stop and take a break.
What does working with our shelter pets bring to your life?
TL: Working with them helps develop empathy, compassion, and more importantly patience. I work with dogs specifically and I'd argue they have helped me to appreciate "the now" by taking a break and just hanging out with them in the park. I can truly enjoy the more subtle and quiet moments in life. Perhaps it's enjoying the breeze while playing fetch with your favorite dog, or just taking a walk around the campus. What I didn't expect was the amount of satisfaction I got when helping another family find their perfect pet. There's a moment where I see pure joy from both animal and person that cannot be expressed with words. It's something you have to experience to understand.
What do you do when you come to volunteer?
TL: I am a weekend warrior so you'll find me on campus in the early mornings on Saturdays and/or Sunday's. Initially I started out in the puppy room to care, socialize, and match our young furry friends with their potential families. I then progressed to the kennel with our adult dogs to help them find their perfect matches. Later on, I started walking our dogs (of all shapes and sizes) and worked with our awesome on-site pet behavior team to help train them. Recently, I moved on to something that allows me to add value in a different way; photographing our animals to help promote adoptions.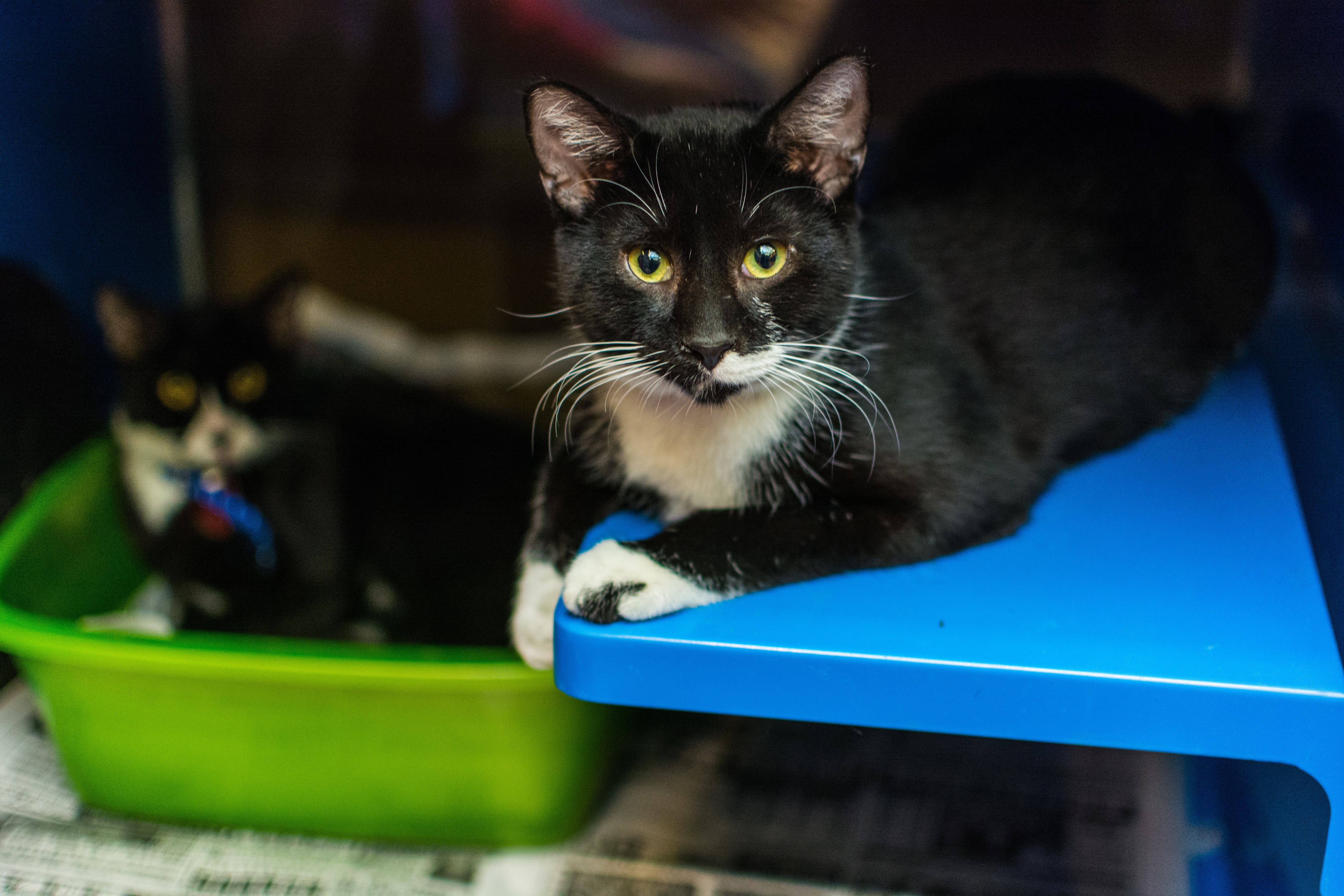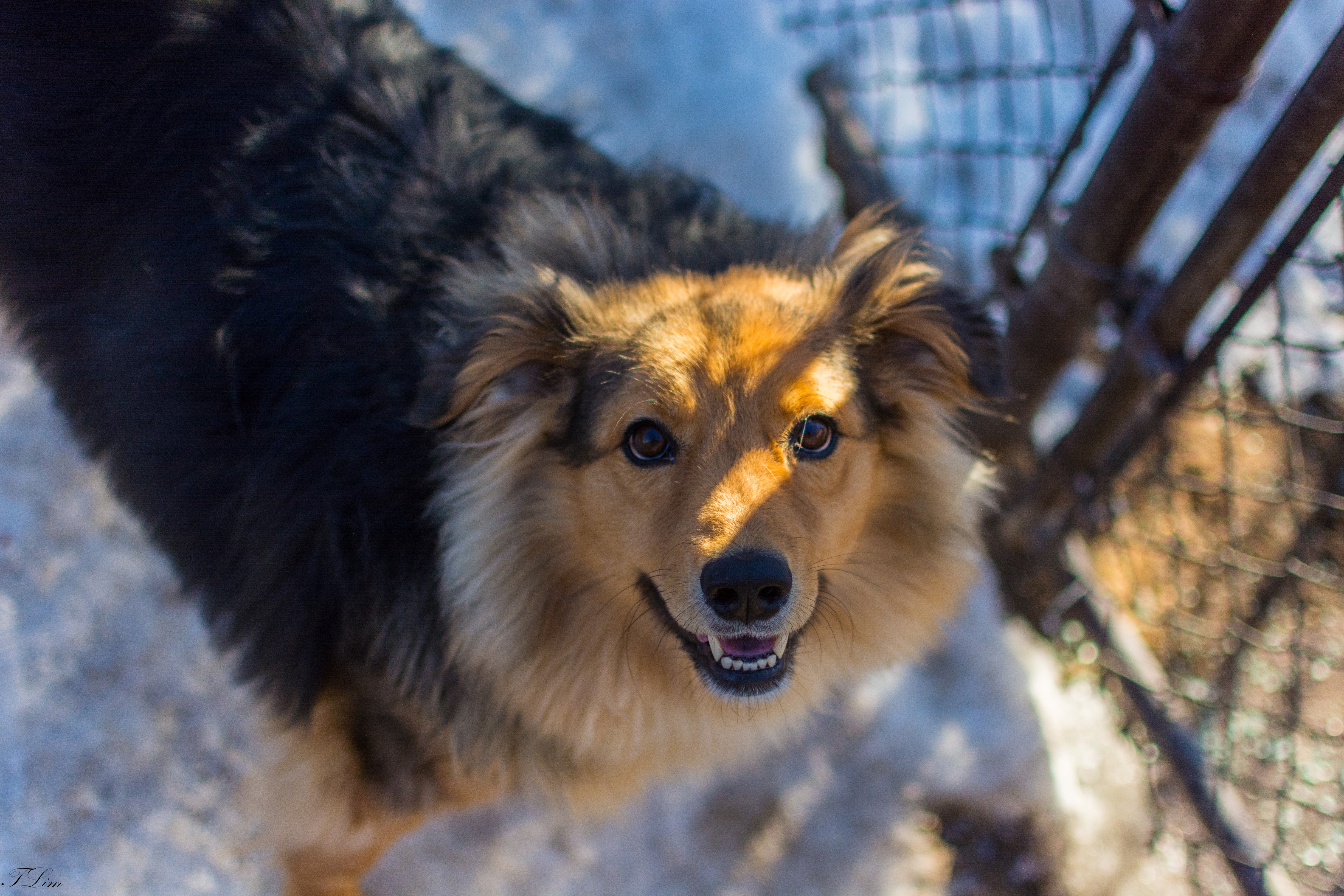 Talk a little bit about the newer role of photographer you've recently taken on. How did that come about?
TL: Last summer, I took a photo of a dog and posted it on Instagram. An adopter came in the next week and showed me the photo that she found on Instagram and asked where she could find the dog. She ended up adopting the dog. I was a blown away! I started to realize that I can convey my relationship with the animals through the lens and through digital media. I wanted to give prospective adopters a chance to see dogs outside of the cage, which shows them carefree and happy. Instead of a dog barking inside the cage or giving sad eyes, I want adopters to see a loving companion that wants to go on walks, play fetch, and get belly rubs.
Recently, you took some photos of a few of our animals in a toy Tesla (Great job, btw!) … I believe I was told you work for the company?
TL: I am blessed with the opportunity to work at two amazing companies. I work at Publicis Groupe, one of the largest marketing companies in the world, and at Tesla, a company that is leading the world into a sustainable energy future. At Tesla, I work in sales and education where I help people understand how Tesla products can improve their lives and save the planet at the same time.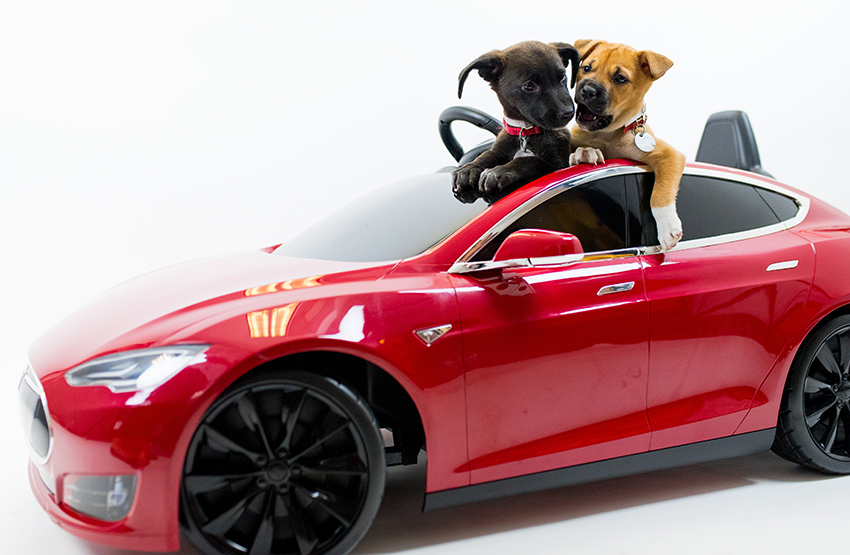 One day at Tesla, I had a client come in and she brought this dog that looked really familiar. I remembered her because it was an Abino Boxer, who was very hard to forget. The dog ran right up to me and flipped over for belly rubs. Turns out, they adopted the dog from North Shore Animal League America and I had seen her several times on campus. I started to think of ways I can somehow merge the two worlds together. I think the key word is adoption. I'm all about adoption for rescue animals and adoption for sustainable energy, so why not bring the two together? I figured why not put puppies and kittens into a miniature Tesla and show the world two great ideas coming together? Everyone seemed really happy with the photos and it was such a fun time shooting them. Whatever I can do to help to promote our animals, I'm all for it!
To view more of Ted's photos of our adoptable animals, follow him on Instagram @ted.lim.