Four years of undergraduate studies to earn a bachelor's degree in Marketing. Another four years to earn an MBA in Finance from the Stern School of Business at New York University. Eight years of higher learning transitioned into a dream job in investment management at Goldman Sachs, one of the most prestigious financial institutions in the world.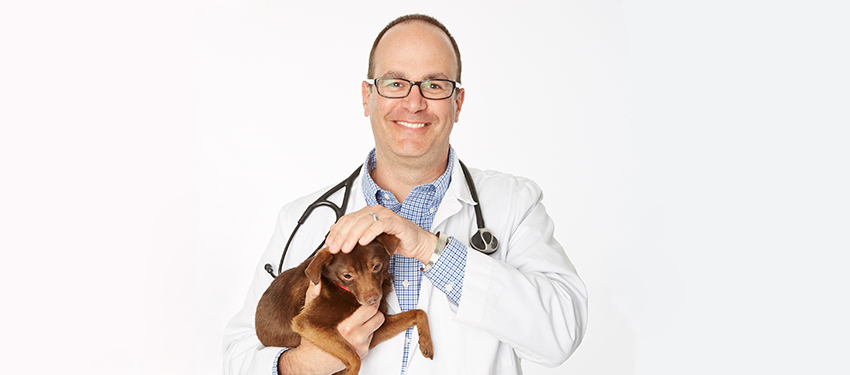 For a young man growing up in a family steeped in a lineage of Wall Street professionals and aspirations to follow in their footsteps, this seems like the storybook timeline, but not for North Shore Animal League America's Vice President and Chief of Veterinary Staff, Dr. Mark Verdino. It didn't take long for him to realize that a life of cash-flow statements, profit projections and financial reports would never provide the sense of fulfillment he desired from his life's work. Instead of coasting through his professional life on autopilot, he decided to make a life-altering decision that many wouldn't have the courage to make.
"Everything changed for me when the events of September 11th transpired in 2001. That was the catalyst for me. I was working in Manhattan when the planes hit and knew several people who had lost their lives that day," said Dr. Verdino. "I vividly remember going to funerals and listening to the families and loved ones of these people talk about how much they loved their jobs and their work. It was at that point when I realized it wasn't the right fit for me because I didn't have that passion for it, I didn't love it."
Once deciding that life on Wall Street wasn't going to be the end all be all to his professional career, he was faced with question of what he'd have to do to wake up every morning excited to go to work. It took a chance meeting with a real-life veterinarian to set off a light bulb in his head – "I've always been an animal lover, I remember rescuing injured animals and taking care of them in my parents' garage. It's a profession that I knew would allow me to feel fulfilled if I was willing to make the commitment."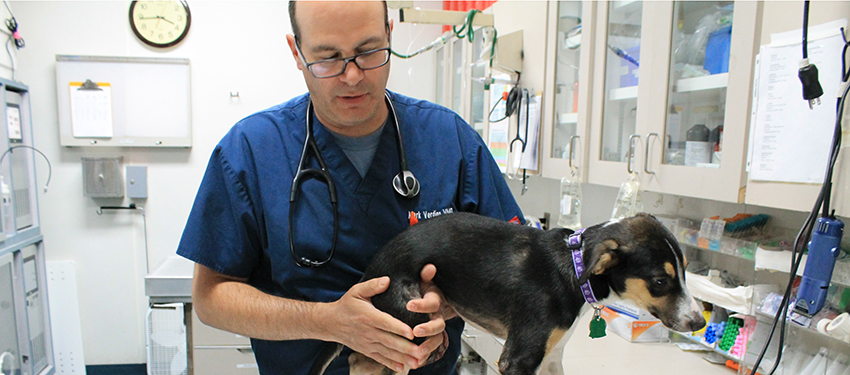 Before becoming "Dr." Verdino, this long-time animal lover would have to endure another five and a half years of schooling to earn his VMD from the University of Pennsylvania's School of Veterinary Medicine. Not only did he have to pay his way through veterinary school, but he gave up a lucrative career at a Wall Street powerhouse to find true happiness. This move wouldn't just assist him in achieving a sense of fulfillment, but it would also help provide a better life for the countless companion animals he has treated since becoming a practicing veterinarian.
"I knew coming into this profession that one of the major differences in the two fields would be that there are lives at stake, which of course takes things to a completely different level. Secondly, there is a lot of direct client contact with vested people, people who have a lot of interest in what's going on with their pet," said Dr. Verdino. "It may be a lot of pressure, but it's why I chose to enter this field. For me, the successes we are able to achieve are the ones that stay with you and allow you to keep moving forward."
After several years at Caring Hands Animal Hospital and Old Dominion Animal Health Center in Virginia, as well as time spent working closely with the Animal Welfare League of Arlington on various medical cases, Dr. Verdino accepted the position as senior veterinarian at North Shore Animal League America in 2010. His talent and ability to lead a team were quickly noticed, and by 2011 he was named Chief of Veterinary Staff and put in charge of 16 veterinarians and the rest of the medical staff inside Animal League America's Alex Lewyt Medical Center. Since then, he's been a mainstay at our Port Washington, N.Y. facility, where up to 80-100 animals are hospitalized at all times, 50-60 surgeries are performed each day, and 350-400 clinic patients are seen each week.
Dr. Verdino said providing individualized medical care to so many animals on a daily basis requires a total team effort from everyone involved. From the veterinarians, vet techs and assistants to the clerical and client service staffs, each group is a vital piece to the puzzle and works together with one common goal in mind – saving and improving as many lives as humanly possible. It's that cohesiveness and attention to detail which has allowed Animal League America to rapidly broaden its scope of medical services that can be provided in-house, as well as expand its case load, which ultimately provides more animals with the opportunity to live happy, healthy lives.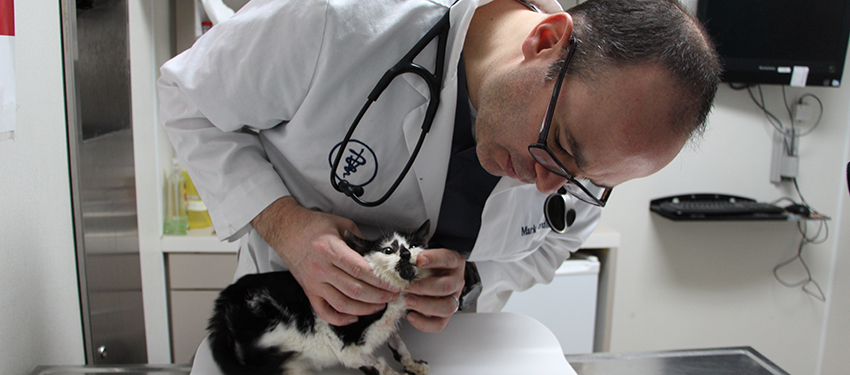 "Dr. Verdino is extremely intelligent as he has an MBA, so that helps us both run the hospital more smoothly. We complement each other because we both love animals and want to see them get well by any means necessary," said Vice President of Medical Services Diane Johnson, who actually hired Dr. Verdino as a senior veterinarian back in 2010. "Both of us are willing to go above and beyond to provide our animals with the care they deserve, so we're always on the same page. He is a very skilled surgeon and is always willing to train others to be able to grow and excel just as he has."
There's no debating that Animal League America and the care it is able to provide companion animals across the country and around the globe has vastly improved since the arrival of Dr. Verdino, but he isn't one to rest on his laurels. He said he will continue to motivate himself and his team to continue to grow and better themselves for the sake of every animal that comes through the doors. He said he's never been more excited to see what the future holds for the world's largest no-kill animal rescue and adoption organization.
"A lot of the goals I had for the organization five years ago we've already implemented. We've dramatically expanded the scope of what we do, but I continue to strive for more, especially when it comes to specialized medical procedures we can do in house," said Dr. Verdino. "We've upgraded a lot of our equipment, we've implemented a practice management system that allows us to become a paperless practice, and many of our capital projects coming up in the near future like Bianca's Furry Friends Feline Adoption Center and several others which will all allow us to continue to grow and broaden our scope of what we can do here."