If you're familiar with the work of North Shore Animal League America, surely you know about our long lasting reputation of being the world's largest no-kill rescue and adoption organization. With that comes the mentions of the more than 1 million lives saved, the almost 20,000 animals rescued each year, and the world-wide lifesaving missions we've spearheaded throughout the years – but there are many special moments that occur at our Port Washington, N.Y. campus that fly under the radar.
Helping Chico to Make the Most Out of Whatever Time He Has Left
Emma Arctander, a Licensed Veterinary Technician here at Animal League America first met Chico six months ago when he arrived off a rescue transport from Tennessee. With a warm, affectionate personality and an irresistible charm, how could anyone resist falling for the handsome Terrier mix? She and much of the staff in the medical center and the shelter cared for Chico after he underwent several bouts of radiation to treat a tennis ball sized tumor that covered much of the left side of his face. The radiation combined with steroids and holistic medicines controlled the growth of the tumor for a short time, but eventually it began to expand, leaving much uncertainty in Chico's future.
It was at that very moment that Emma decided she was going to provide her ailing friend with the life he so desperately deserved.
"Once I brought him home to my house and introduced him to my other dogs, I could see his spirits begin to brighten immediately. Chico is so loving and has such a peppy, lively personality, so watching him come alive so quickly after leaving the shelter was a moment I'll never forget. It was like the life was infused back into him," she said. "I decided that no matter how much time he has left of this earth, a week, a month, years, I was going to make sure he enjoyed every last minute."
Emma said she and her new pal can often be found enjoying the outdoors, whether it be at the beach, in the park, or just lounging around feeling the breeze behind his floppy ears. When he's not exploring the great outdoors, Chico hangs with Emma's other dogs, Mary, Julio, and Grandma, occasionally taking a break to enjoy the finest high quality, natural foods and tasty treats, especially rotisserie chicken, which Emma said is the best way to administer his daily medication routine. While Chico is basking in the riches of being spoiled rotten by his new mom, Emma says seeing him transform back into the happy, peppy dog she met more than six months ago when he arrived at Animal League America is exactly why she decided to dive into this emotional journey.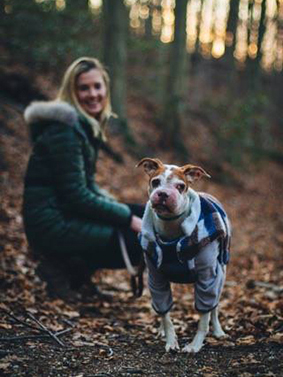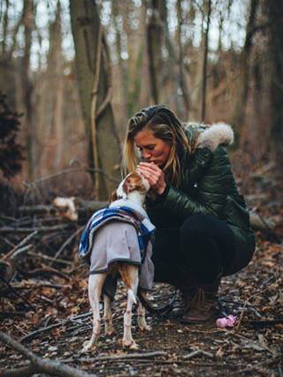 "He's not my foster dog, Chico is MY dog now. He's part of the family just as much as my other dogs are. Whatever he gives me is ten times what I can give him. He's brought so much to my life in such a short time and I'm just thankful I had the chance to do this for him. Hopefully people will read this story and can find it within themselves to do the same thing for an animal who needs it. It's very emotional and can be physically challenging at times, but it's so gratifying when you see how much it means to him."
Honoring a Fallen Feline Friend
When Ashes arrived to our campus, the senior cat was emaciated, sickly, and very scared. Overwhelmed by her new surroundings like many animals often are when they first arrive, she could often be found carefully, almost strategically, making her way around the cat room as she searched for a familiar place to perch. Her personality slowly began to blossom as she felt more comfortable, especially when she got the chance to snuggle up to special friends like Volunteer Kate Haslbauer and Feline Enrichment Manager Dorit Shani.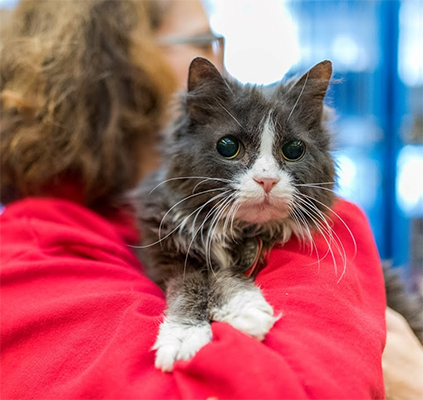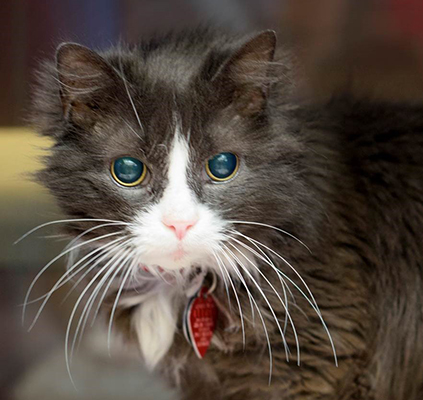 "She was a gorgeous cat and any time I would post a photo of her on my Instagram page you could count on it getting the most likes," Kate said. "She was delicate and beautiful. She enjoyed snuggling and being held as much as any cat in the room, and we certainly obliged her every whim. Little did we know, Ashes was holding onto a big secret that would wind up devastating all of us."
Not only was Ashes eyesight quickly deteriorating causing her to become disoriented, but her health also took a drastic turn for the worse. One day Dorit found the normally happy, cuddly cat screaming in pain, and immediately rushed her to our Pet Health Center. With all of her human friends waiting on pins and needles hoping for the best, the tests revealed the worst – Ashes had cancer, more specifically, lymphoma.
After her grim diagnosis, Ashes spent most of her time being treated in one of the isolation wards of our Alex Lewyt Veterinary Medical Center. Every day Dorit and Kate, as well as several other members of the medical staff, would take a few minutes to visit their four legged friend, showering her with love and doing whatever they could to make her comfortable. Then, almost as if it were scripted in a movie, a potential adopter, who had no idea about her recent diagnosis, called the shelter expressing interest in Ashes.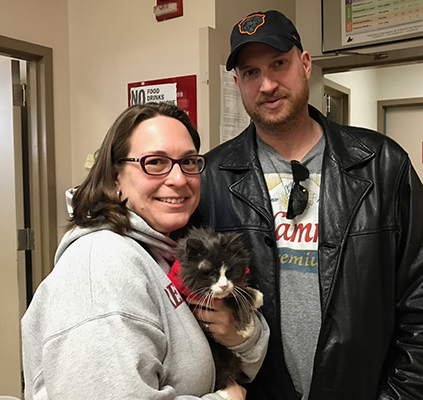 Dorit explained Ashes circumstance to Patty, a Veterinary Technician from Pennsylvania, and her husband Dave. Undeterred by the news, the couple decided to open their hearts and their home to the dying cat for as long as she had left. Unfortunately Ashes only got to enjoy four days in her new home before her little body gave out, but for those four days she had the chance to remember what it felt like to have her very own home with parents who loved her unconditionally. Kate and Dorit were so touched by the selfless act of kindness by Patty and Dave that they decided to show their sincere appreciation by purchasing a cat tower for the cat room in honor of the selfless couple and their fallen friend.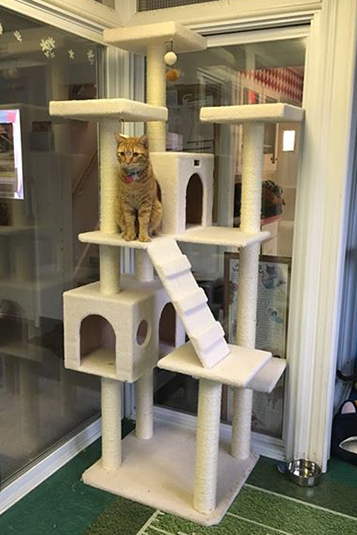 "It was a way for us to honor Ashes memory and show our gratitude to Patty and Dave for opening themselves up to this experience. It was such a painful time for all of us, but doing this allowed us to heal in a way," Kate said. "For them to give her a home was the greatest comfort to us. That tower is a healing reminder to us as well that there is goodness and second chances out there. As gratifying as the good days are, shelter work can often be sad and painful, but Ashes represents love on its purest level. I don't look at that tower and feel sadness. I look at it and see comfort."
With so many animal loving people working and volunteering here and so many homeless dogs, cats, puppies, and kittens just looking to be spoiled, many for the first time in their lives, there's never a shortage of heartfelt encounters that proudly display the human/animal bond in its purest form. It could be a brief encounter between one of our rescue associates and a puppy as they carefully load the Mobile Rescue Unit before the long journey home, a special bond formed between a long-term cat and one of our dedicated volunteers, or the dog of one of our administrative staff sitting patiently at the foot of the desk just waiting to hear it's time to go for a walk – and then sometimes the connections run even deeper.
You can change the world when you open your home to foster or adopt a homeless animal in need, or donate to support animal adoption. Please consider a visit to our Port Washington Adoption Center where you can find hundreds of dogs, cats, puppies, and kittens eager to meet you…and change your world forever.
Chico photos courtesy of Lauren Peralta.