It's no secret that cats are very self-sufficient creatures. As long as they are in their own environment they are content and don't require much tending to. In contrast, dogs are pack animals, they are happy in many different environments as long as they have their pack with them. This allows us to train them because they crave that attention and positive reinforcement.
Sometimes when these animals make their way to North Shore Animal League America, for one reason or another, their instinctive behaviors and personality traits play a role in the adoption process. Put a cuddly puppy in the arms of a potential adopter, or allow them to fall in love with an affectionate older dog, and the adoption process usually takes care of itself. When it comes to kittens, they have the same effect as the puppies. But cats, they can be fickle at times.
This is where volunteers like Kate Haslbauer spring into action and make a true difference in the lives of these adoptable shelter pets. It's because of her tireless drive to pair these felines with the perfect adopters, and her budding enthusiasm for the position that makes her one of our featured faces here at the Animal League. You'd be hard pressed to find a single contemporary or manager of Kate's who doesn't use the adjectives "positive," "hardworking," and "passionate" when describing the senior volunteer.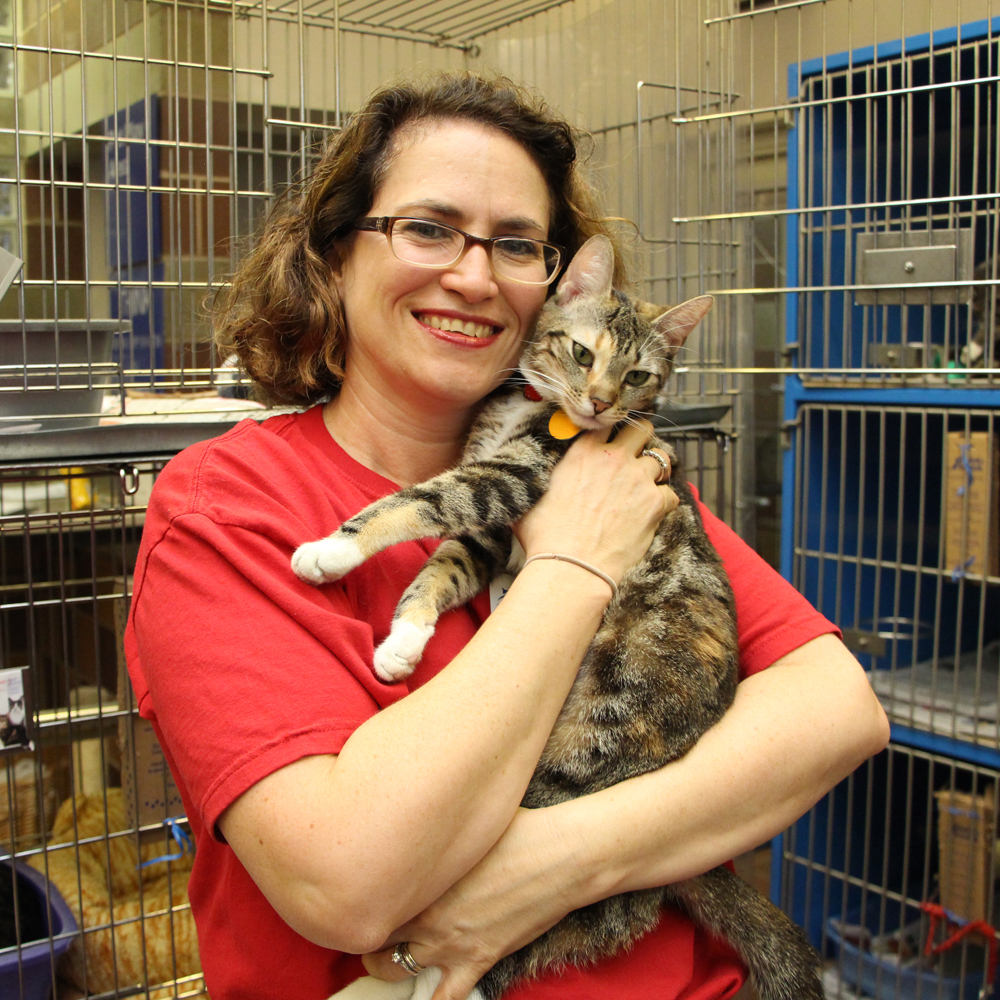 "I hear so many good things about Kate and how she has such a positive attitude about her work here," said Senior Volunteer Manager, Lauraine Merlini. "She really knows her stuff and everybody has so many wonderful things to say about her any time her name comes up. She's certainly been a standout contributor."
Kate first joined the volunteer team at the Animal League in April of 2012, after she and her family moved from Levittown to Port Washington. She said she was in the process of looking for a new job as a Teacher's Assistant within the school system and needed something to fill the void that leaving her previous job had created. Her two children had recently graduated high school and college, and were preparing to leave the nest, so Kate was even more motivated to find something she was passionate about. Being the cat lover that she is, Kate knew exactly what she needed to do. She took a short trip down to the Animal League and filled out an application to be a volunteer, and she's been a mainstay there ever since.
"Having the opportunity to volunteer here is just the best," said Kate. "When one of these cats go home I literally can't sleep that night because I'm so excited. I work with children all day, then I get to put in time over here and work with the cats, so I feel like I have it all. My guilty pleasure is working with these animals and seeing them go home."
Every Tuesday from 4-8pm and most Sunday afternoons you can find this cat lover leading the team in the Cat Room, going above and beyond her expected duties. Whatever it takes to get the cats out of their cages and into the hands of loving adopters, Kate is going to do it. If she's not there, she's likely behind the scenes checking up on some of the more long-term residents and adult cats, who she has developed a relationship with during her time here. Although the main goal is helping to find these animals a forever home, she says that helping to rehabilitate and heal the cats both mentally and physically is the most important step of the adoption process.
"I've come in here since the beginning and prided myself on trying to assist with as many successful adoptions as possible, and it's so rewarding," said Kate. "Recently, I've been working more closely with Dorit, who is the absolute best at what she does, on the training and behavior aspect with the older cats. Anything I can do to learn more and help out."
Dorit Shani, a Feline Behaviorist at the Animal League started working closely with Kate over the last few months. She said not only will Kate do anything it takes to highlight each and every adoptable cat at the shelter, but she'll make sure to preform follow ups with every adoption she oversees. Dorit said it's easy to see that Kate truly cares about making a difference, and it shows every time she steps foot into the Cat Room for her weekly shift. She's the kind of volunteer that can be counted on to go the extra mile to ensure that each cat has the opportunity to be featured on the adoption floor, which makes her an indispensable asset.
"She's amazing, a real breath of fresh air. She has a natural affinity and ability with the cats. You can give her challenge or task and she'll take it on whole heartedly, and you know she's going to work her butt off to get it done," said Dorit. "She's willing to learn and also teach other volunteers be the best they can be."
Kate isn't just one of the many dedicated volunteers here at the Animal League, she's someone who practices what she preaches. She and her family recently lost their 13-year-old cat, Chloe, whom they rescued at 10 years old. She said the house felt empty, and more importantly her heart was missing a very important piece when Chloe passed. The only way she knew how to make it whole again was to support the cause to an even further extent and adopt another cat from the Animal League.
"One of the best and most meaningful experiences of my life was rescuing Chloe," said Kate. "I really recommend doing it if you are able to do it because these older cats really understand that you're saving them. They are so grateful and you wind up developing such an intense bond. This time we adopted a younger cat named and named him Brody. He had just came in from a kill shelter and I didn't want to put my kids through the pain of losing another cat so quickly."
Volunteering at the world's largest no-kill animal rescue and adoption organization is a selfless act that helps to improve the lives of  hundreds of thousands of animals each year, and there are many ways to donate your time in support of the cause. If you're interested in volunteering please visit our website animalleague.org for more information. If you are one of the lucky ones to don the red Animal League Volunteer shirt, you just may have the opportunity be in one of the training courses taught by Kate.