Robert Winterton, Volunteer Since 2015
After retiring from his career as a computer architect, Robert Winterton promised himself that he'd fill his days with passion projects – engaging in daily activities that he not only found enjoyable, but that also provided a sense of pride.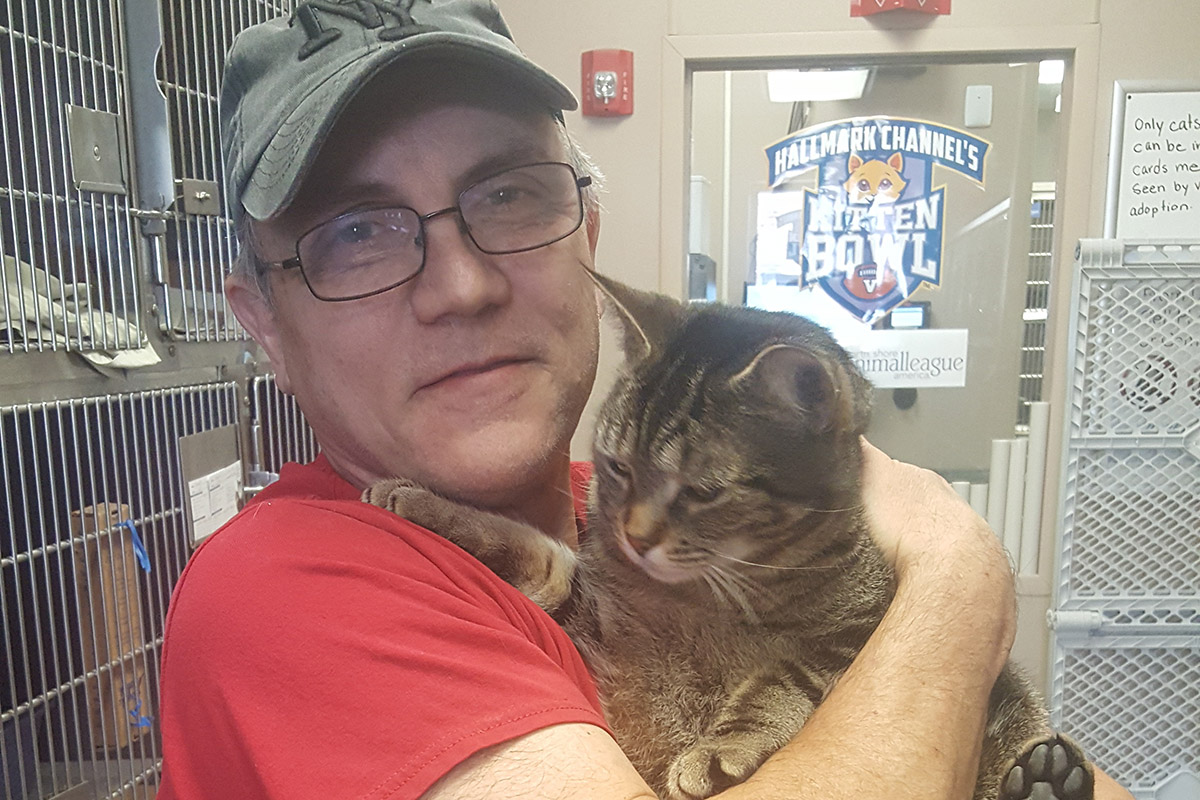 As the pet parent of two cats and a dog, the Mineola resident decided to take his love for companion animals to the next level, dedicating three days per week to volunteering at North Shore Animal League America. Although there were several local animal shelters and rescue groups that could always use the help, Robert said he chose Animal League America because of our unwavering dedication to our no-kill mission.
"For years I heard about the great work that this place was doing for homeless dogs and cats, but I just never had the time to contribute when I was working full time. When I retired back in 2015, I figured it was the perfect time to start volunteering," Robert said. "There are hundreds of animals living here at any given time, so it's important we have the staff and volunteers to care for all of them. I really enjoy the company of animals and being there for them in whatever way I can. All of them are here waiting to be adopted, so it's nice to be able to give them a sense of home in the meantime."
Robert spends Fridays and Sundays volunteering in The Lewyt Ark, helping to socialize the cats, making sure they are clean, fed, and well taken care of, and assisting adopters with finding the perfect four-legged friend for their families. On Wednesdays he spends most of his shift in the Pet Health Centers, lending a helping to the veterinarians and medical professionals in the echocardiogram room. Although he enjoys all aspects of his duties as a volunteer, he admits that he gets the most satisfaction playing the role of matchmaker for the adult cats and those that have had difficulties finding the right adopter.
"What I enjoy most about being a volunteer is playing a role in pairing the cats with the right adopters. Just recently I helped facilitate the adoption of a 10-year-old cat and an older woman, who was looking for a calm, lap cat to keep her company," he said. "I take a lot of pride in getting to know the cats and putting them into the best situations as possible. It's certainly a nice perk of being a volunteer."
It takes a special person to be a volunteer at North Shore Animal League America. There's no paycheck to drive them. No reason to show up other for their shift other than the love inside their hearts for the animals they spend countless hours caring for. These selfless men and women create a welcoming environment for every dog, cat, puppy, and kitten that arrives at our no-kill campus – a temporary safe haven on their journey to finding responsible, loving homes. For Robert, it's all about spending time with the animals and doing his best to make a significant difference in their lives.
"It doesn't take a lot to make an impact on these animals," he said. "I don't see what I do here as work, I see it as having fun doing something I truly enjoy."