Jill Marcus, A Volunteer "Cat Whisperer"
A volunteer was sitting on the floor of the Cat Habitat with large, brown crumpled up sheets of paper in front of her and two cat wand toys in her hands. Rather than running away, the cats were intrigued and slowly approached. Then she moved her hands back and forth under the paper and popped the wands up through it. Now one or two of the cats looked ready to pounce. Jill's "play therapy" session for the day had begun.
"From my experience, this type of play gets the shyer cats more involved," said Jill Marcus, a cat area volunteer at North Shore Animal League America. "If they grab a wand they can keep it, and this gives them a sense of accomplishment. I get a lot of satisfaction out of this too." She also uses bells, other types of toys, and cardboard boxes as enrichment items.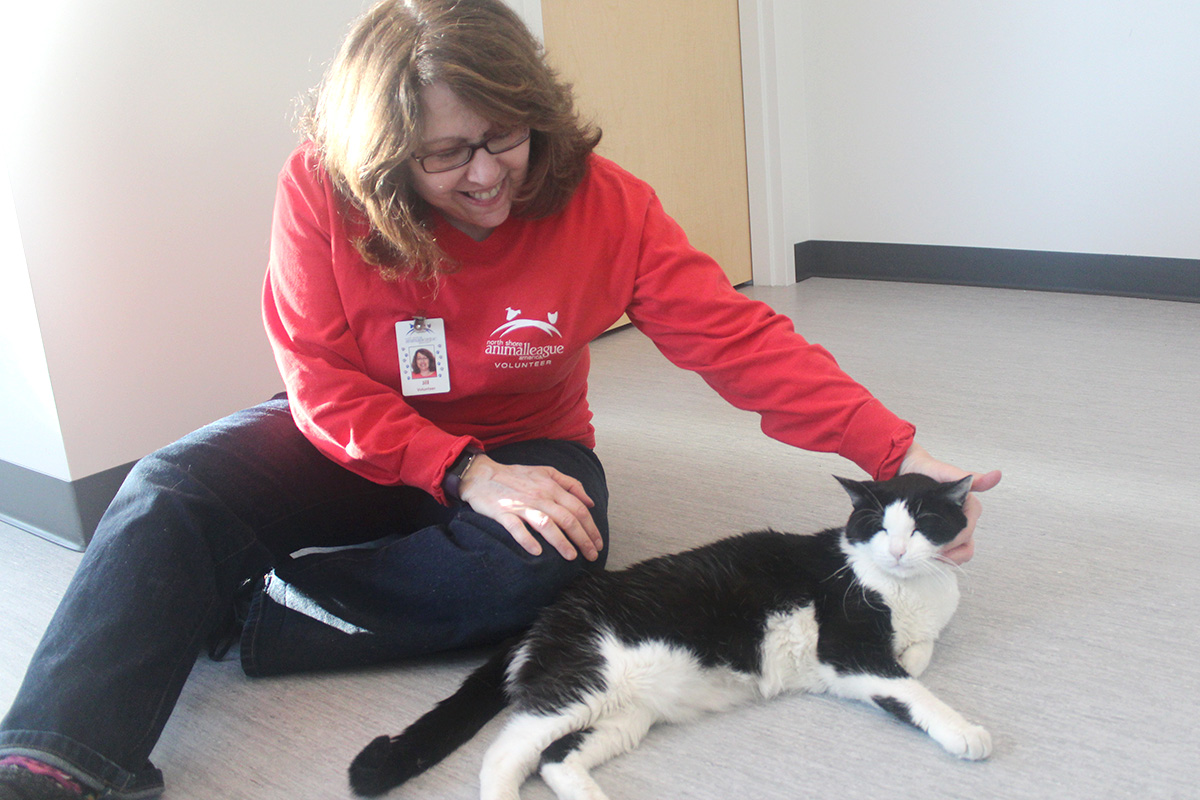 Jill, a Port Washington, NY resident, first thought about volunteering five years ago when her last cat passed away. She'd had cats as companions over a 30 year period. Jill felt that she wanted to put her "animal energy into helping homeless cats and getting them adopted" rather than having more pets of her own. Jill selected Animal League America because she'd heard about the great work our organization did.
Jill makes a real difference by spending quality time with our rescued cats. She remembers sweet Polly who greeted all the other cats in the Cat Habitat, but never came down from the top of the cat tree to play. She saw she liked the mouse wand and she worked with her until she eventually was comfortable enough to play with the others. "Polly was a favorite of mine and a fantastic success story even though she was here for more than a year because of a cardiac issue," she declared. "She was a loving cat who found a great home with two feline siblings."
Another memorable cat that "touched her heart" was Leonardo, who was blind and had cerebellar hypoplasia—a condition where he wobbled and couldn't keep his balance when he tried to walk. Jill remembers how he loved to be held and just purred away. His adopter had several other special needs cats and Donny, as he is now called, became a therapy cat going to places like hospitals and Alzheimer's centers through Animal League America's Shelter Pet Outreach Program. "I credit his match into his perfect, forever home to Animal League America's wide reach to so many people where a cat like this one is noticed and sought after," she stated.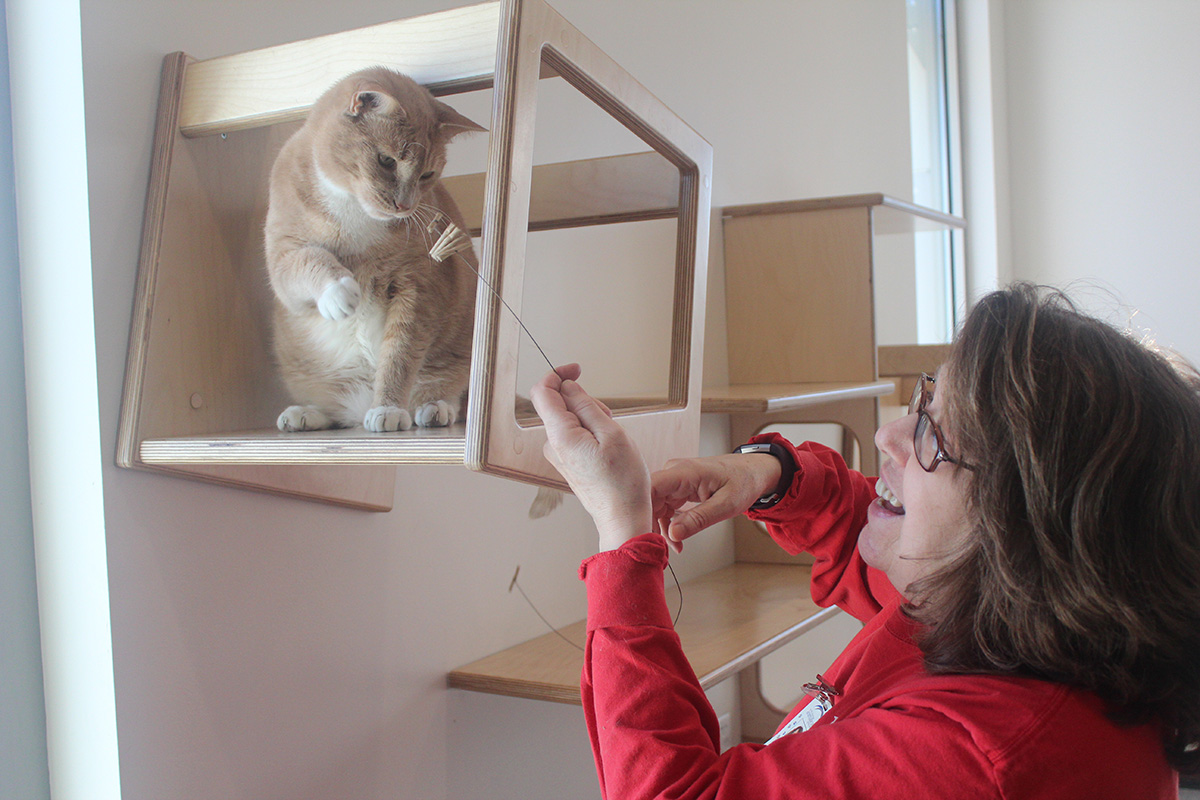 Jill loves that classes are offered every month and she's been able to expand her knowledge. She's gotten experience with a variety of cats of all ages, temperament, personality, and watched how they interact with each other and different people. She's learned more about the needs of the cats and how to approach cats calmly when they first come in so she can help them. "Dorit Shevach-Shani, the Feline Enrichment Manager, is a whirlwind of information on the needs of the cats, has great suggestions for working with them, and is very supportive," stated Jill.
The opening last year of Bianca's Furry Friends Feline Adoption Center (BFF) was a "game changer" for the cats. Now Jill moves from room to room and spends quality time with even more cats. "BFF has made a monumental difference in how quickly the cats adapt when they come in to the adoption center," said Jill. "There is no other facility like this in the world. People are interested in seeing the cats, spending time here, and playing with them." She also enjoys that she is able to assist more with matching people with cats and seeing them go to loving homes.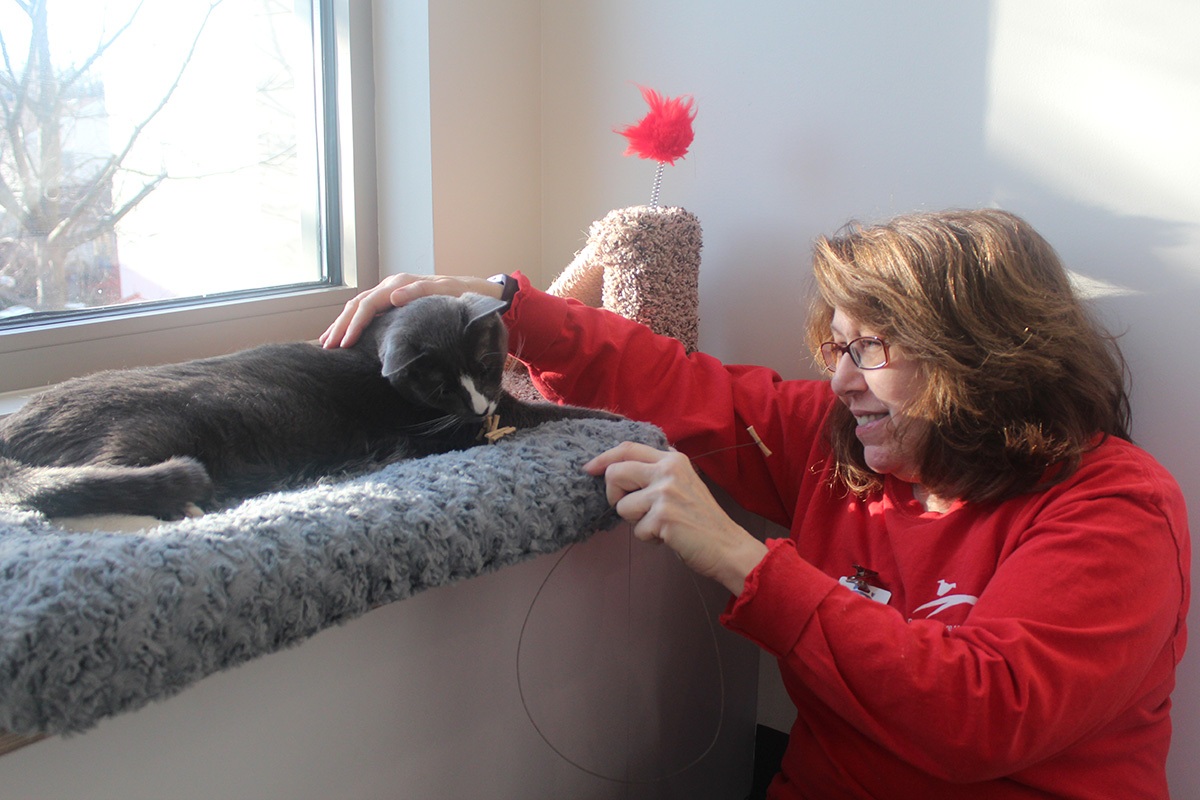 Jill, an attorney for 30 years, plans to retire this year. "With BFF, we can expand the number of cats that we rescue nationally and internationally and they are getting saved from possible euthanasia and this appeals to me," she asserted. "I hope to volunteer several more hours each week at Animal League America and even do more with animal law." One thing is for sure, when Jill decides she wishes to get involved, she does it with her heart and soul!