Volunteers Maria D'Agostino and Tom Burke The Dynamic Dog Walking Duo
Tom Burke stands in front of the training room at North Shore Animal League America and distributes the handouts for the volunteer dog walking class. At the same time, he and Maria D'Agostino talk about their experiences with the dogs on the Port Washington, NY campus. Their smiles light up the room.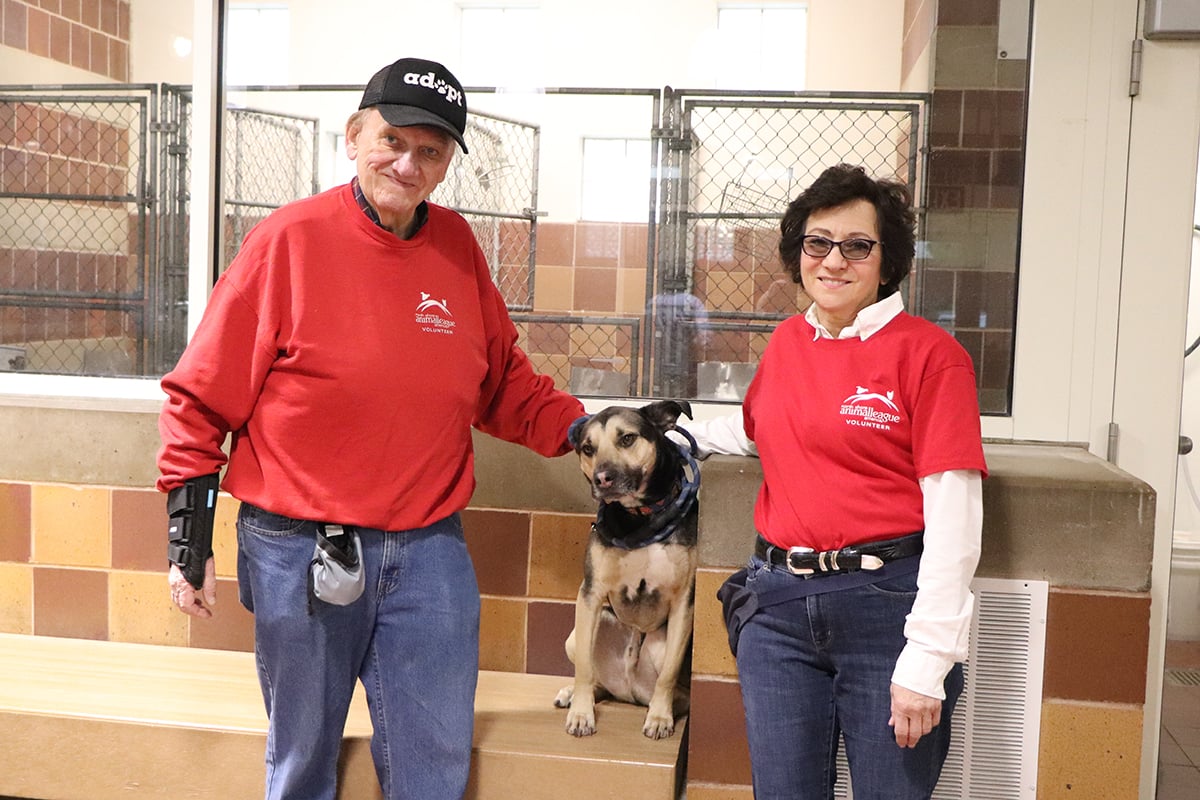 This is the "dynamic dog walking duo" at work as they mentor new volunteers, who are excited to begin walking the rescued dogs and giving them love and attention. "Tom is the master of ceremonies and I'm the assistant," laughed Maria. "I demonstrate how to put a leash on, how to take dogs out of the kennel runs, and how to use positive reinforcement techniques while walking them. We complement each other!"
When Maria and Tom came on board as volunteers in March 2018, they had no idea that about a year later they would team up and mentor new dog walkers. They started working with puppies, cats, and kittens. On Thursdays, they both cleaned cages, fed and socialized animals, and supervised puppy playtime. Maria and Tom moved on together to dog walking and graduated through the different levels. Both volunteers were very happy getting to know the adult dogs and taking them outside for walks, exercise in the dog parks, and some one-on-one attention.
Then they were asked to teach basic dog walking classes to new volunteers and the rest is history — the "dynamic dog walking duo" was born! Both Maria and Tom have backgrounds in education. Maria was a special education teacher and assistant principal in elementary schools for 32 years. Tom has been everything from an adjunct instructor, academic dean, and senior vice president on the college level and holds a doctorate in psychology and a master's degree in communications. Right now, he's a senior development writer and consultant for a number of colleges in the New York area. "I'm used to interacting with people and I like it. I think the human touch is what makes the class interesting" he said. "So far, the volunteers have enjoyed it and we've gotten positive feedback."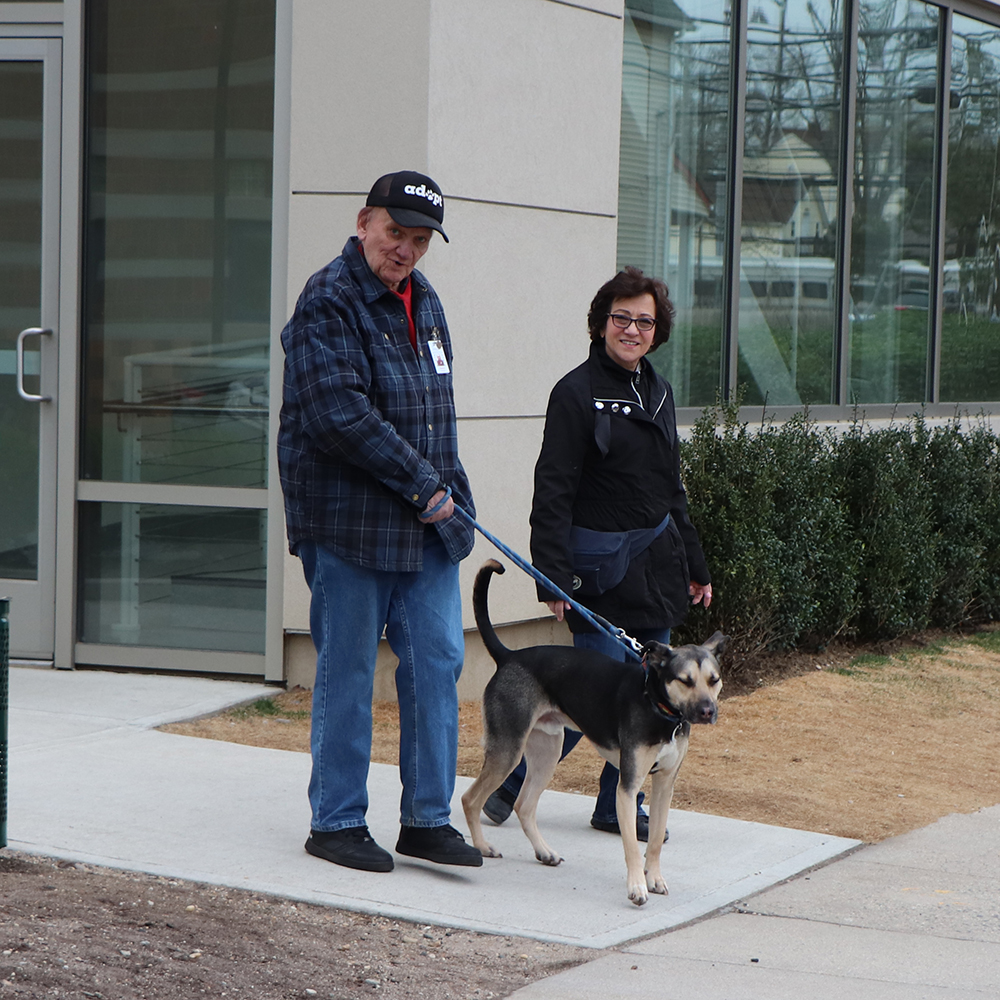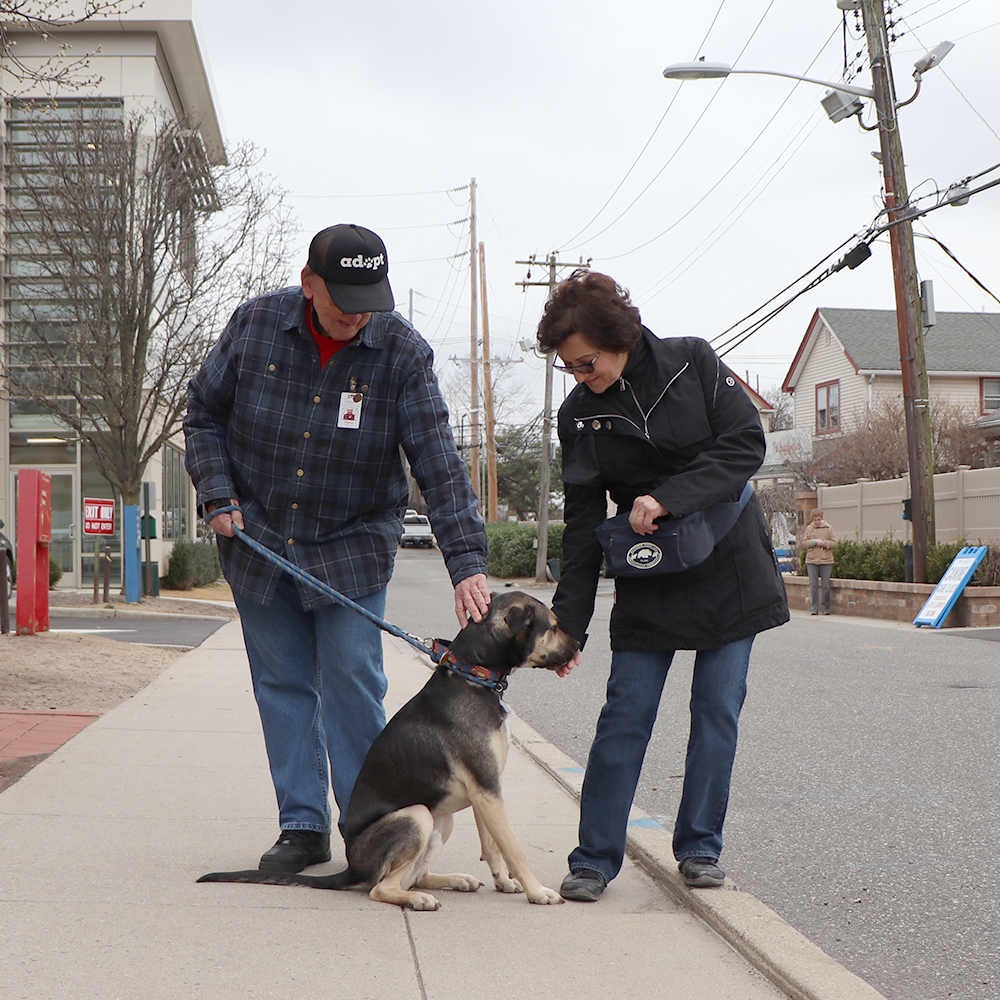 Just like other volunteers at Animal League America, Maria and Tom are united in their love of animals. "Animals give me a sense of peace and serenity when I work with them," states Maria. "My first rescue was when I was in second grade. I found a cat in the rain on the way to school. I wrapped it in a kerchief and took it home."
Even as a child, Tom's family always adopted and they always came to our Adoption Center. "Everyone knows North Shore Animal League America. I am a big proponent of this organization's no-kill mission," declared Tom. "So, of course, I came here when I decided to volunteer."
Tom's had big dogs like German Shepherds, Rottweilers, and Akitas at home so he didn't hesitate to jump right into the dog walking. His current pet is an 85-pound Pitbull/Boxer mix named Lundi, who was rescued from South Carolina. He feels for the big adult dogs because sometimes adopters write them off due to their age. "I like interacting with all of these dogs and letting them know that they're in a good place here with people that care about them," he said. "I like preparing them to move out of the Adoption Center and into a family where they can get and give love."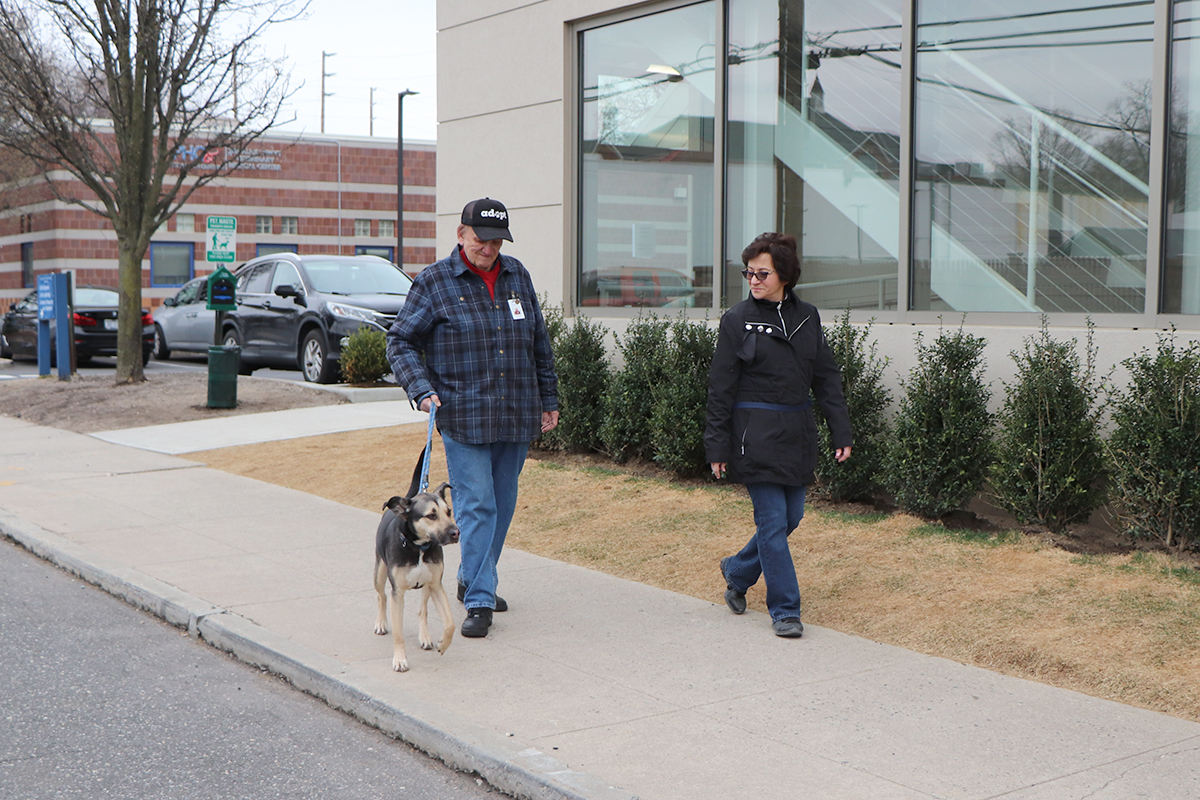 Maria has a Chihuahua named Lylah, rescued from a puppy mill by Animal League America in 2018, and two cats. It took Maria a little longer to get used to the bigger dogs. She was able to practice with Tom until she became more comfortable. Now she just treasures the time she spends walking these dogs. "The dogs really need to get outside and get fresh air. There's a bond that grows with them," she exclaimed. "They feel the love and appreciate that you are taking the time to be kind."
Even though they see so many dogs each time they come for their shift, they do have favorites — it's hard not to. Maria spends quality time with Max, an adult dog rescued from Thailand. She finds him very bright and very savvy. He can be stubborn though and it was a challenge to get him to learn to trust her and respond correctly. As for Tom, his favorite is Maximus who also happens to be a Thailand rescue. "He's smart, loyal, and protective and it almost seems like he's had military training." He finds himself constantly sending photos to people he works with and others in an effort to help get him adopted.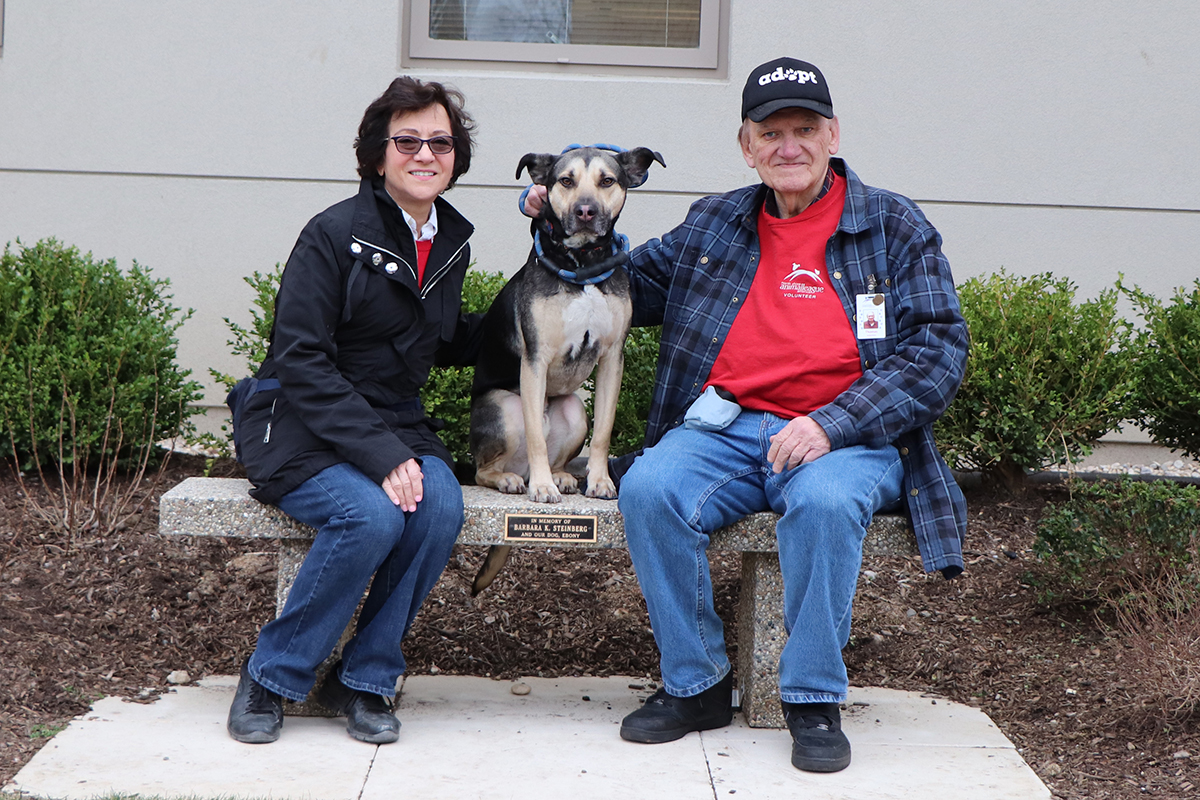 Tom enjoys the fact that there's so much to learn every time he comes here about canine care, the different breeds of dogs, and how they're all unique individuals. He loves the "feeling of being here for an animal that needs someone to be here for him and even if you can't change the world, you can change it for one animal."
Maria likes that there are so many different opportunities to "learn and get more involved" such as going to special events, taking puppies to senior centers and nursing homes, and a new community outreach program for cats. "It's very rewarding here. There's always an opportunity to learn something else," she said. "You feel proud that you can help the animals. You feel a sense of accomplishment and I always ask how else I can help."