Peaches, a 16-year-old cat with kidney disease and an overactive thyroid, really needed a home to spend her Golden Years. Larissa, a puppy mill survivor awaiting an echocardiogram and possible ear surgery, was hoping for a quiet place while undergoing treatment. Finding the right foster homes for animals in need can be a daunting task. Then, the whole world changed.
As the COVID-19 pandemic was escalating applications began pouring into North Shore Animal League America's Foster Care Program. People wanted to open their homes and nurture an animal even amid concerns for their own health.
"We have been so happy that people were inspired to lend a hand during this trying time," said Jenna Martiello, Foster Care Coordinator. "The number of foster care applications tripled in the last few weeks."
Having to social distance and hunker down at home had many New York families thinking about what they could do to help during this time and still stay safe. The media alerted people that animal shelters, facing surrenders of pets from people sick with COVID-19 and a scaled back workforce, were looking for assistance caring for their animals. Foster care rose to the forefront as a way to help.
As the Foster Care team reviewed applications and interviewed new candidates, dogs and cats in need began to move out of our Pet Health Centers and Adoption Center and into homes — some for the very first time. There are always older puppies at five or six months who've grown up in a shelter and are in need of manners and socialization. Then, there are those with medical issues like Larissa, the puppy mill Cairn Terrier who is awaiting an echocardiogram for a heart murmur, and may also require surgical intervention to treat chronic issues with her left ear.
Larissa found a foster care home on Long Island with Lydia and Emily Doerflein.  The Doerfleins were motivated to become a foster family now as daughter, Emily, had come home early from college and mom, Lydia, is working from home for the foreseeable future and wanted to support her daughter's desire to foster.  "I knew I wanted to do something meaningful while I have this time at home," said Emily. "I love dogs and I hated the thought of a dog sitting in a cage instead of being in a home." Lydia thought "it was a good time to be able to give attention to a dog that might need some extra care."
Both Emily and Lydia were surprised about how quickly seven-year-old Larissa, now called Lady, has become acclimated to their home because she was from a puppy mill. She was timid for a few days, but Emily declared that "every day her personality comes out more and more. She is so sweet and now she follows me everywhere. When I walk her, she is excited and happy to see other dogs."
"This experience has been so rewarding because I get to make her life better. When she wakes up from her naps she's so excited and I think it's because she realizes she is here and happy!" enthused Emily. "The challenge has been house training and she's not a fan of getting her eye drops every eight hours, but it's getting a little easier." Mom Lydia just enjoys "having a sweet little Lady in our home that we can love and who makes us happy too."
Other dogs, both from puppy mills and different situations, are more fearful and need time in a foster care home in order to learn how to interact with people and their new environment. "Socialization is critical for the success of the puppy mill dogs or any fearful dog. It's almost like they have protective layers, caused by neglect and abuse, and you have to peel the layers back to find the dog underneath," explains Jenna Martiello, Foster Care Coordinator. "Going through this process can be stressful and a lot of work, but it's so rewarding and they're so grateful."
Peaches the cat was taken home by a seasoned foster care volunteer who learned how to medicate her and is willing to provide her with a home for the rest of her life. Tamara, an older kitten, went home with a foster care parent who can assess some neurological issues for the veterinarians — she has an abnormal gait and possible vision impairment.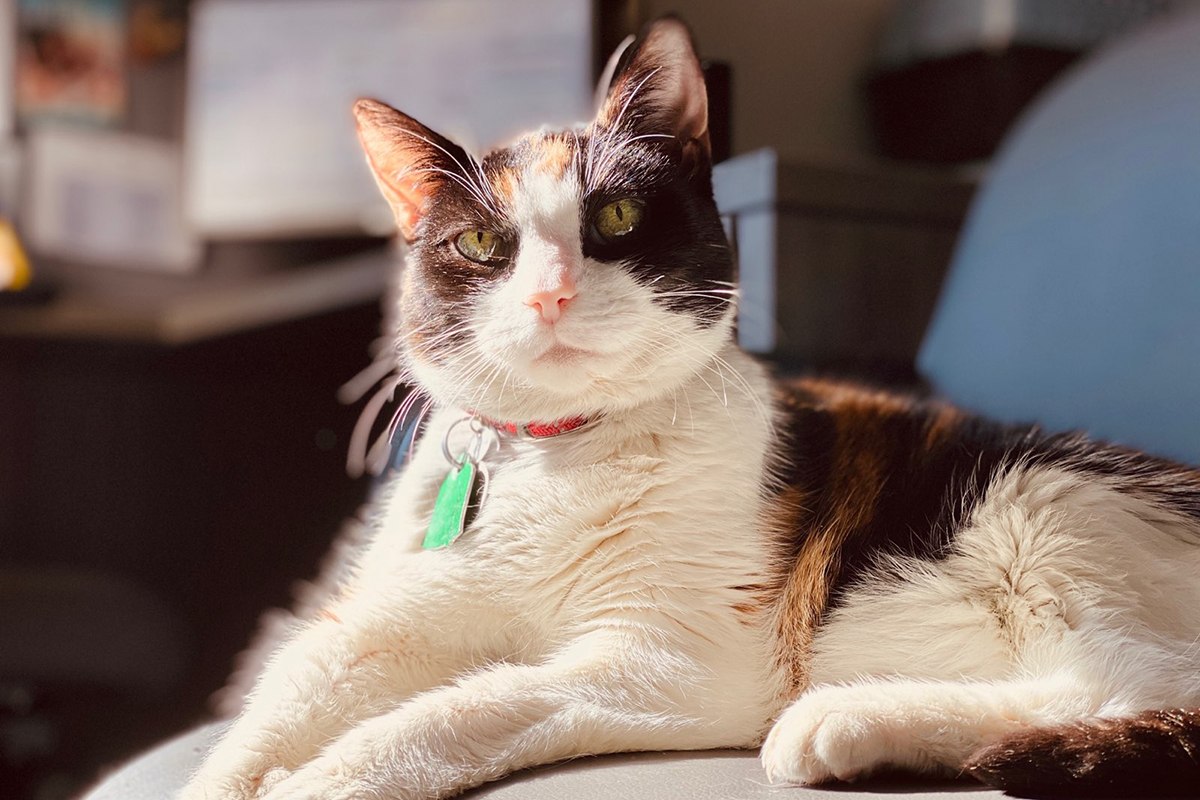 Some of the newly approved foster care parents have been put on a new COVID-19 emergency foster list and, as more animals become available, they will be matched up. The staff hopes that these new volunteers will continue to take animals into their homes who need their help even when the crisis is over.
"It's been a really amazing experience," declares Jenna. "I'd like to thank the people in our community for stepping up and asking how they can help whether as foster parents or simply donating supplies. Our next step is to follow up with everyone and try to get these animals adopted from their foster homes!"
If you would like to learn more about our Foster Care Program visit animalleague.org/foster.