Seven volunteers from Tito's Handmade Vodka arrived on North Shore Animal League America's Port Washington, NY campus on January 22nd. They were ready, willing, and able to jump right in and help us care for our homeless dogs, cats, puppies, and kittens to honor a colleague who is battling a health issue. What a way to "walk the talk" of Tito's Handmade Vodka's support of our no-kill mission!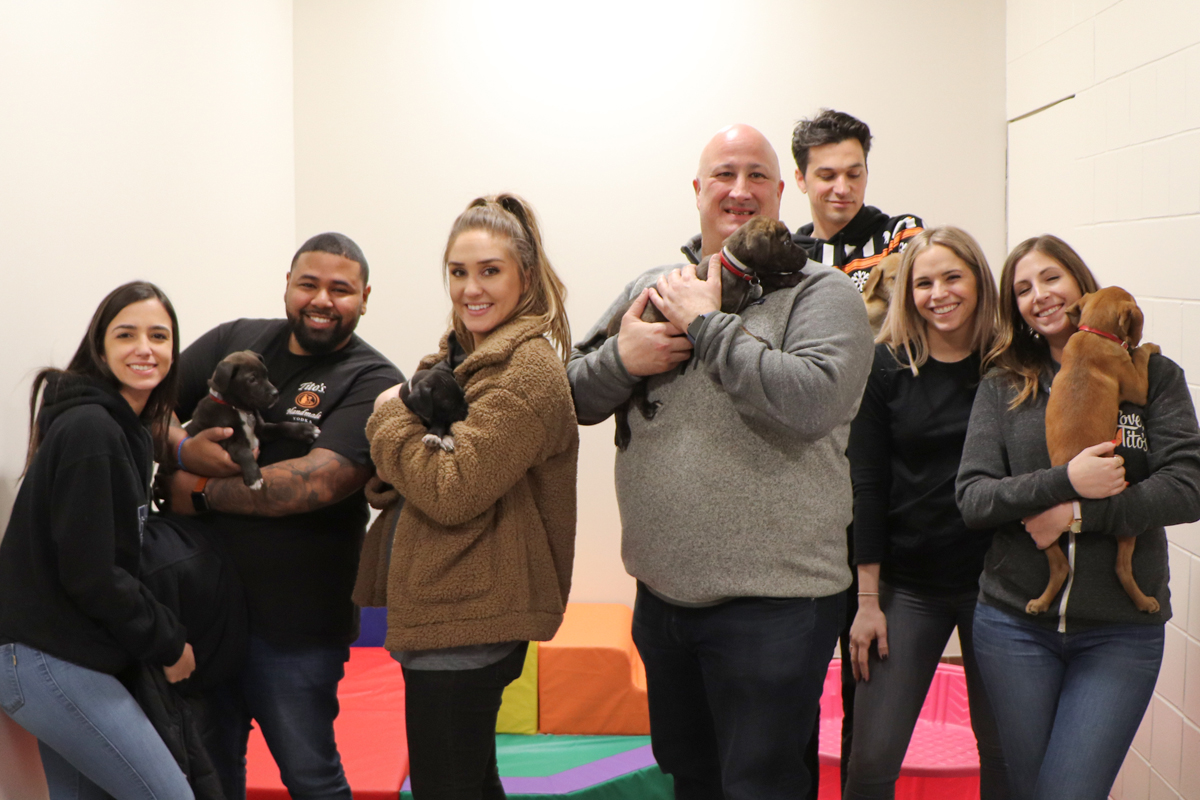 "Helping animals is part of the fabric of our company and our corporate culture going back to Tito himself," said Matthew Purpura, New York State Manager of Tito's Handmade Vodka. "Today, as we volunteer at North Shore Animal League America, we are sending good vibes out to Beth Bellanti Pander who created the Vodka for Dog People campaign. This passion project is helping make a difference in the lives of many animals."
Tito's Handmade Vodka sponsorships span Bark in the Park baseball parades with pooches, Wooftop® Parties, a swanky Hamptons event, a Nurture Sponsor at our Get Your Rescue On® Gala, and the Gala After Party. Matthew Purpura has served as a member of the Gala Committee helping secure other sponsors and support. "North Shore Animal League America is a favorite animal charity of ours," commented Matthew. "We see the dedication, passion, and pride in what you do for so many animals."
"Tito's sponsorship of our events and provision of products for the events help us raise awareness and provides funding for us to accomplish our mission," said Diana Zaferiou, Vice President of Strategic Development Partnerships at Animal League America.
Corporate volunteers were treated to a special tour that highlighted our national and international rescues by visiting The Lewyt's Ark, the Lewyt Canine Adoption Center, and our new cage-free Bianca's Furry Friends Feline Adoption Center. Then, they saw the young rescued puppies and, of course, fell in love instantly. But puppies also make messes so cages needed to be kept clean and water bowls checked.
Another important aspect in the care of young puppies and kittens, while they are awaiting adoption, is continuing with their socialization—both with people and other animals. The volunteers from Tito's were happy to provide attention, some scratches behind the ears and under the chin, and just some overall "loving."
Next, the group moved on to the state-of-the-art Feline Adoption Center. The socialization continued, but for the cats it was a bit different. Using cat danglers, colorful mice, and spring toys, the volunteers encouraged the kitties to play and get some exercise in the various adoption rooms. Some cats did settle in a few comfy laps.
This was a meaningful day for this team of colleagues who rolled up their sleeves and nurtured animals waiting to become pets. We extend our heartfelt thanks from the humans, canines, and felines at Animal League America.