"That's Her!" And That Was That!
Last spring, Ana Molina and Andrew Gasper realized they needed a dog in their life. Ana had adopted a kitten, Harley, from North Shore Animal League America 18years earlier. When Harley died after such a wonderful, long life, they knew they wanted to rescue another animal. They asked us to be on the lookout for a dog this time, but only the right dog… and that's how they met and fell in love with Jadie.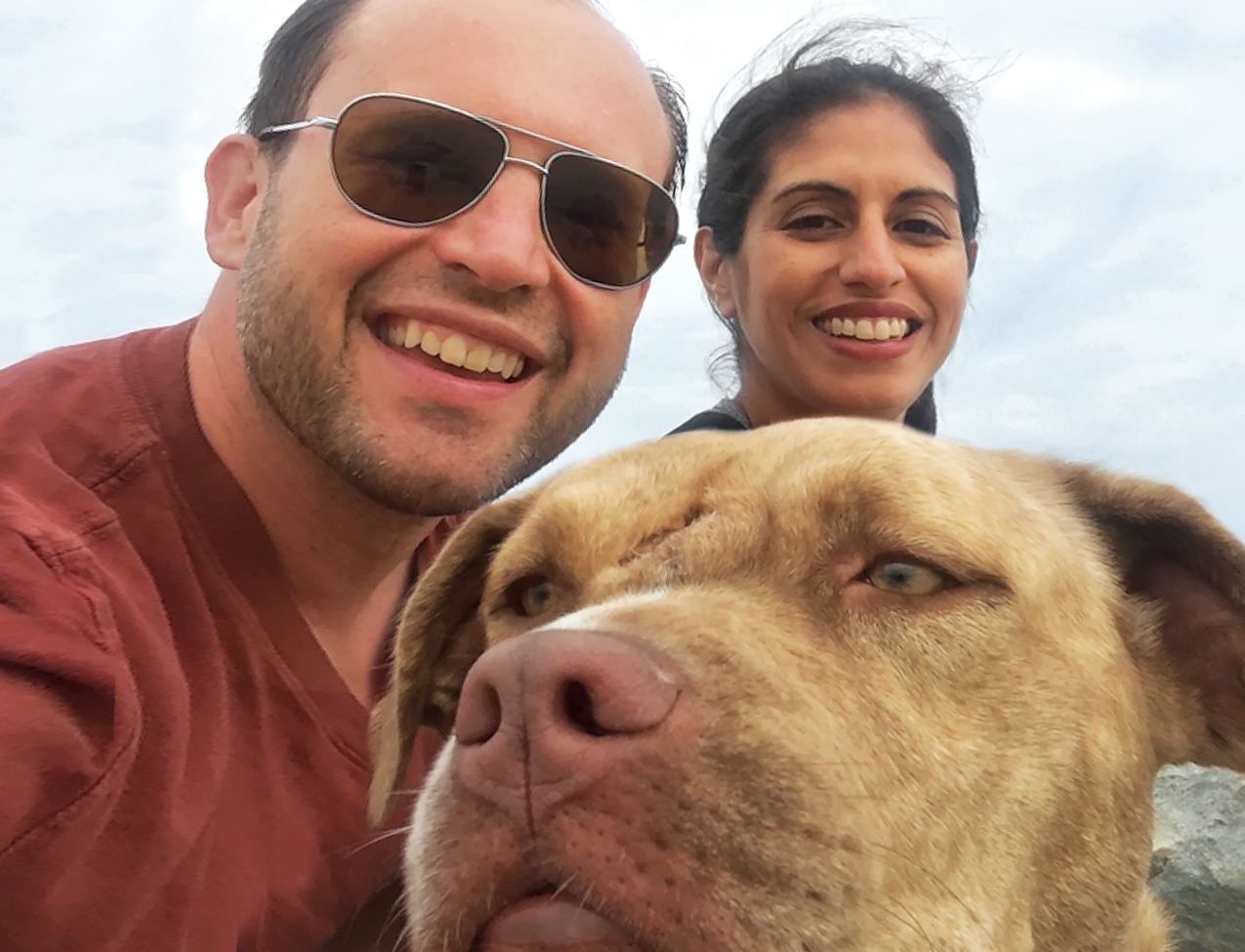 "She looked at me with those eyes of hers," says Ana. "People always comment on her beautiful eyes—they melt everyone—so when she made the gentlest eye contact with me at the shelter, I said, 'That's her.'"
Jadie and her puppies came to Animal League America from a shelter partner inTennessee that had suffered spring flooding. Jadie heroically carried her pups to safety, and after the journey to Long Island, the puppies were adopted during our Tour For Life® kickoff. Jadie's lucky day came three weeks later.
Today, the Pit Bull terrier mix is "the Mayor of TriBeCa," says Andrew. Everyone knows her and loves her, from the woman who runs a local gym to the staff of a popular wine bar to all the other dog guardians in this hip, Lower Manhattan neighborhood. "We're discovering New York through a charming dog's eyes," Andrew says. "We've learned so much about reading body language and paying more attention to the world."
They've also met a lot of other "dog people" on their walks. Jadie, who has become a friendly local dog ambassador, has a way of disarming kids, adults, and other dogs, many of whom are rescues like Jadie. "People are proud of their rescues today," says Ana. "It's all changing. They look at Jadie and then point to their own dogs and say, 'A rescue? Great! You're one of us!'"
It takes very little to get this enthusiastic young couple singing the praises of their "belle of the ball," and even less to prompt effusive praise for Animal League America. "We have a soft spot for animals and great respect for North Shore and its no-kill mission," says Andrew. "We thought making a donation would be a great way to honor Harley and support their programs. North Shore is really good at educating people about why rescue matters and what no-kill means. We believe in their mission."
Andrew is on the senior leadership team at Jet.com, an ecommerce company that is part of Walmart. The Walmart Foundation has a generous program that matches personal donations of the company's executives up to a set threshold to eligible nonprofit organizations. Andrew and Ana's donation qualified, and the combined donation has had a significant impact on our mission.
Since her adoption, Jadie has become the couple's constant companion, even on road trips—though at first, she had her doubts. "She didn't like the idea of going somewhere else," says Andrew. "But when we brought her home, she realized that cars make round trips. Now she loves it, because she knows she'll always come home again."