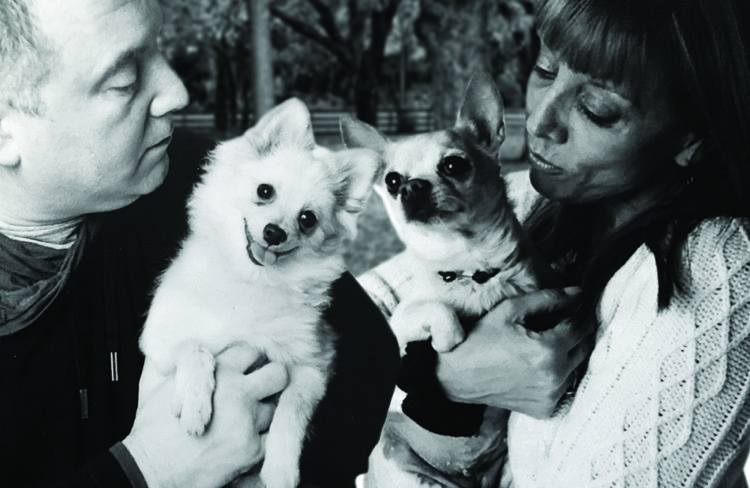 Widening the Circle of Compassion and Care
When it comes to spoiling their three Mutt-i-grees®, Carmen and John Grossman are in a league of their own.
Nothing delights them more than doting on their "babies," whether it's providing specially prepared meals, carefully vetted dog walkers, or a fenced-in yard with plenty of room to run and play. They can't imagine life without the company of dogs. And their concern doesn't stop there. Indeed, they're dedicated to doing whatever they can to help less fortunate animals experience the care and love their own pets enjoy — which is why they generously support our no-kill mission to rescue, nurture, and adopt as many Mutt-i-grees as possible.
"I grew up in Long Island," says Carmen, "so Animal League America was probably one of the first organizations I became aware of. I recall that its no-kill policy resonated with me, and as I became more aware of the work that it does, I grew even more committed."
The Grossmans speak from experience — and from the heart — when they say that homeless shelter dogs make wonderful pets, regardless of tough backstories and rough starts. Their three pups prove the point.
"Daisy, the Chihuahua, is the 'baby' of our group," says Carmen. "Her mother was rescued after she was found with her head stuck in a jar. Apparently she was trying to eat. Cheo is a Jack Russell/Chihuahua mix who was found by my sister roaming the streets of Oklahoma. We had Cheo for close to a year before he stopped trying to eat out of garbage cans. And Teddy, our Pomeranian, was rescued by a sweet young co-worker who had the grace and wisdom to acknowledge that she was too young for the responsibility − and was grateful when we offered to take him."
Clearly, the Grossmans have a deep interest in saving lives, so it comes as no surprise that they're happy to support our lifesaving goals, including the goal of a more humane future. "We donate to organizations that meet an urgent need and believe as we do, that animals are to be loved and cherished. And we also believe that the wisdom of caring for animals involves early stage education, so we're thrilled to know that Animal League America spends significant time in schools," says Carmen, referring to our Mutt-i-grees® Curriculum, now implemented in more 4,000 schools, libraries, and afterschool programs across the country.
In recent years, the Grossmans have seen a positive change in attitude toward shelter animals, and they credit Animal League America with helping make that change. "Animal League America has been very creative about getting the message out to the community. When that happens, more animals are adopted. In general, society is doing a much better job of driving traffic to shelters so these beautiful animals find homes…but of course, more can always be done."
"…we also believe that the wisdom
of caring for animals involves early
stage education…"
As longtime donors and supporters, the Grossmans are committed to always doing more. "Animal League America's mission, vision, and values are important to us. We support those ideals and will continue to do so," says Carmen. All of us — especially our Mutt-i-grees — are fortunate and grateful to count John and Carmen Grossman as members of the Animal League America family.
To learn more about how you can support our lifesaving mission with a gift, please contact Jill Burkhardt, at [email protected], or call 1.516.883.7900, ext 833. Thank you.