A Texas-New York Connection
Growing up in Texas, Animal League America donor Mary Marecek always had animals around, whether they were dogs, cats, or horses. It was the bond she forged with her cat, Trilby, however, when Mary was only six years old, that really started her appreciation for the unconditional love from pets and the depth of the human-animal connection.
Her passion for four-legged creatures, big and small, continued into adulthood and Mary does not hesitate to go the extra mile when she encounters animals in need. After finding a litter of abandoned kittens on her farm in Waco, TX, Mary took on round-the-clock bottle feeding to ensure their survival. Now one of those cats continues to give back to Mary for that kindness to this day, by keeping her barn and tractors rodent-free!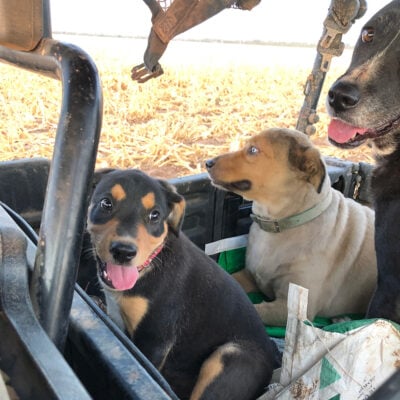 Though Mary was involved in supporting her local animal shelter, it wasn't until Hurricane Harvey hit Texas in August 2017 that North Shore Animal League America entered her radar. "I went to our shelter in Waco to make a donation," Mary said. "And I met someone from your Long Island headquarters. I thought it was just an amazing act of generosity that they would travel this far to help and I have been giving to them ever since."
While Mary was impressed that Animal League America has shelter partners throughout the nation, over time she learned about our international animal rescue outreach efforts as well, and that has also been a major factor in choosing an organization for her donor support. "I particularly want everyone to know about your work to stop the Yulin Dog Meat 'festival' in China," Mary said. North Shore Animal League America has collected thousands of pledges over the years to send a clear message to Yulin officials and the Chinese government at large — to stop the annual brutality as defenseless dogs are captured, caged, slaughtered and eaten.
We will always do everything we can to help animals in crisis wherever they are, across the country or around the world. With donor support from friends of Animal League America like Mary, we can go on to accomplish even more.