When Evie arrived at our Port Washington, N.Y. campus off a rescue transport from Precious Friends Puppy Rescue and Adoption in northern Tennessee her snowy white coat and warm brown eyes ensured this beautiful Pit Bull mix wouldn't have to wait long before being adopted. Sure enough, shortly after being medically cleared by our veterinary staff, Evie was plucked off the adoption floor by an excited adopter and whisked off to her new home. Unfortunately, things didn't go as planned in her new home, but the world had bigger plans for this special dog.
Evie was returned back into our care because she and her new canine siblings didn't mesh as well as her adopted family would have hoped. Still an energetic puppy without a care in the world, our staff knew they'd help her find her perfect match no matter how long it took. Our Pet Behavior Team and our shelter staff worked together to help the young pup become more accustomed to interacting with dogs of varying ages and temperaments, making her even more adoptable than she was when she first arrived at Animal League America. But rather than going the traditional route of finding her perfect match from our adoption center, we helped Evie find love through a unique partnership with a trusted non-profit animal welfare organization in Upstate New York that trains rescue dogs to become service dogs for military veterans in need of companionship.
Evie Finds Her True Calling Thanks to Animal League America and Rescue Dogs Rescue Soldiers
Founded by Liz Keller as a branch of her Glen Wild Animal Rescue in Cherry Valley, N.Y., Rescue Dogs Rescue Soldiers trains and pairs shelter dogs with vets suffering from Post-Traumatic Stress Disorder (PTSD) and other debilitating ailments. Liz and her team work closely with the Bronx Veterans Affairs to select veterans in need of canine companionship, and work with teens in a local juvenile detention facility to train the former shelter dogs. Once the dogs finish their extensive service training and are certified service dogs, they are renamed after fallen soldiers.
"I remember watching an episode of the Oprah Winfrey Show where she talked about the unbelievably long list of veterans who were on a waiting list to get service dogs. Hearing about the staggering number of brave men and women in desperate need of the companionship and emotional support of a training dog really struck a chord with me," said Liz. "I knew that we could not only help veterans of our armed forces overcome some of the struggles they are facing, but we could also provide some very well deserving dogs with adopters who would not only love them, but truly rely on them. Naming the dogs after fallen soldiers was just a little touch that's meant not just to pay tribute, but to keep the memory of these men and women alive."
Liz said the training process for each dog usually takes around six months to a year, and she and her team have already graduated and placed two rescue dogs. They also have three more working towards certification, one of which includes Animal League America's own – Evie! Not only is she well into her second month of training, but she was recently adopted by Bronx native Gavin Walters, a veteran of the United States Air Force, and his wife Tomisha. Since being medically discharged from service in 2003 because of unexplained seizures which he still deals with today, Gavin also battles depression, anxiety, and endless bouts of night terrors and insomnia.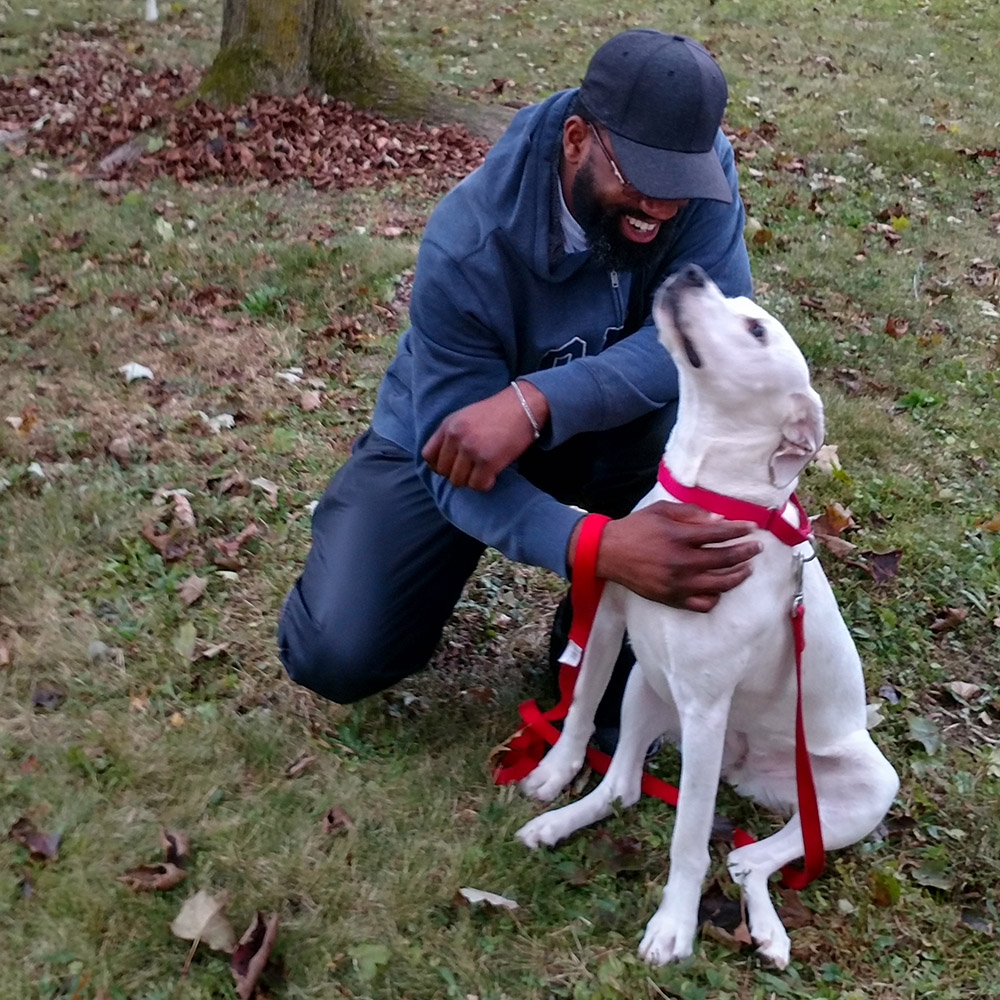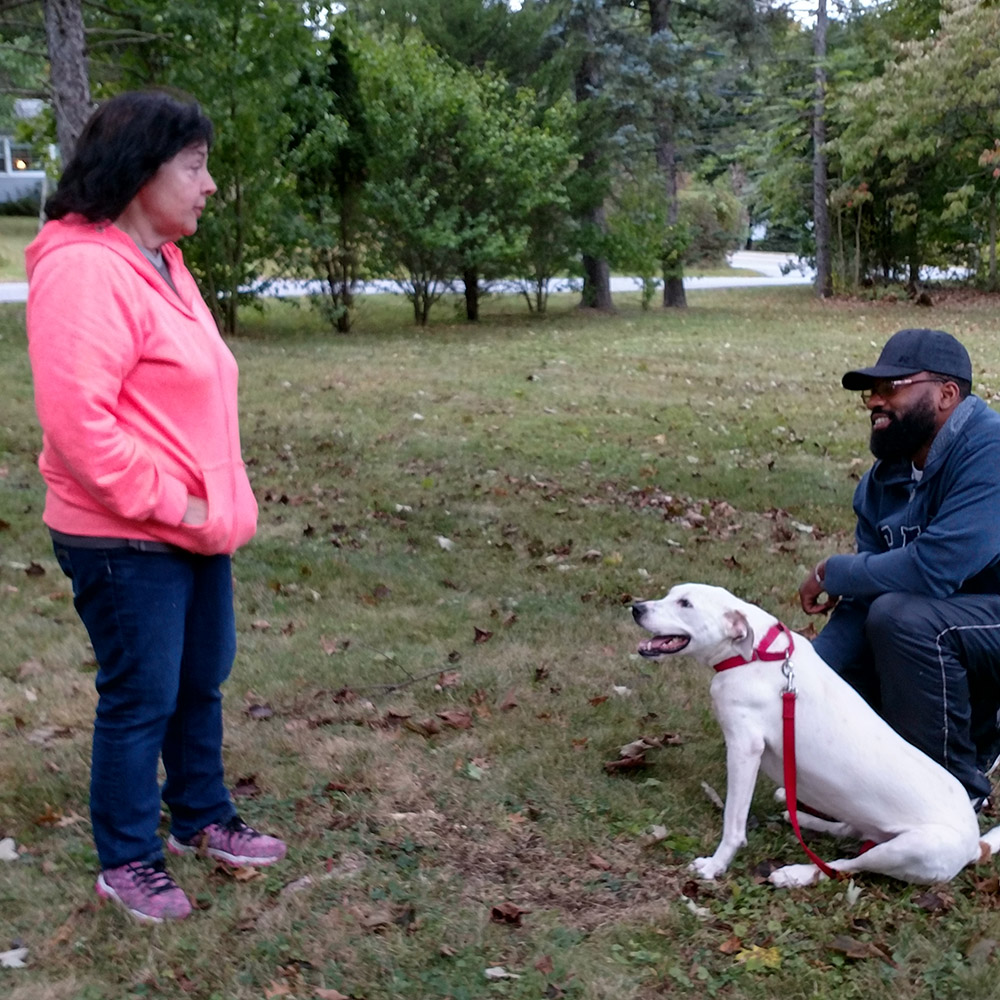 "It's hard to explain, but it feels like during a time in my life when I was in desperate search of a solution to my problems, I was introduced to Evie. My wife and I are people of faith and have a strong belief that God has a plan for us. When I look into Evie's eyes and see that big smile, it's like I'm looking at an angel sent here to be a support system," said Gavin with a grin from ear to ear. "Having a dog to go out on runs with, be there next to me when I'm going through one of my funks, be there to calm me down when I wake up from a nightmare – I truly believe all of these things will make a world of difference."
For now, Evie will live with Liz at her dog sanctuary as she continues to prepare her for her new life as Gavin's four legged companion and certified service dog. She will be taught crucial skills like name recognition, still behavior, leash walking, house training, task training, and other valuable skills that will allow her to best accommodate her adopter's needs. The two of them are attending training sessions together, which no question has been allowing their unspoken bond to continue to blossom.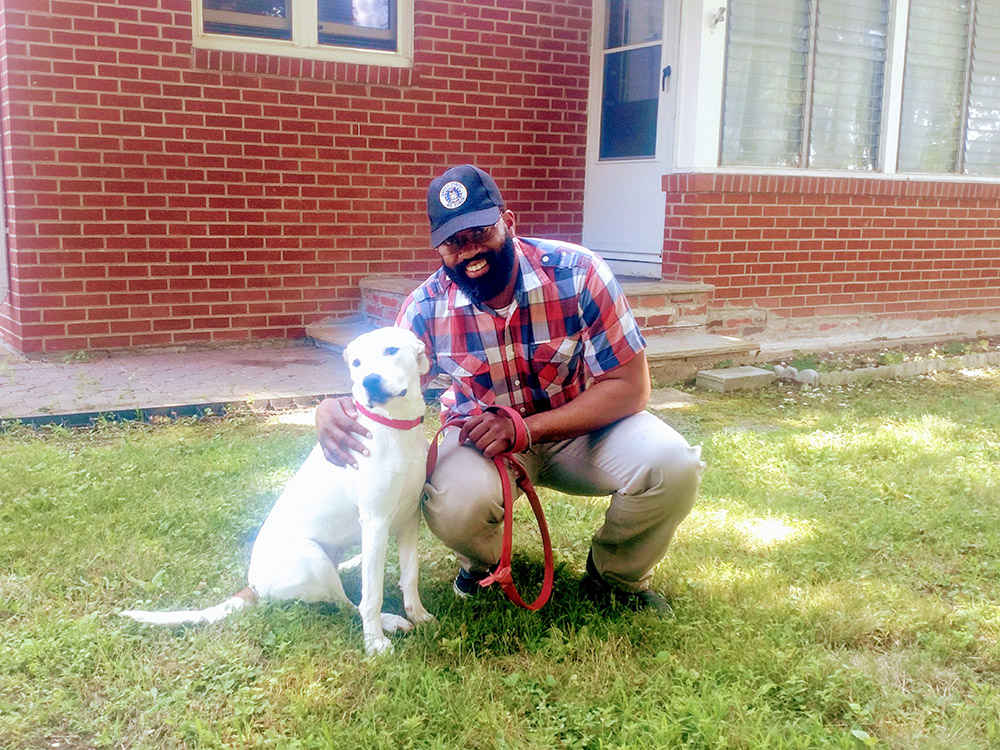 "There are nights when I can't sleep at all. I'll just lie in bed and picture Evie next to me, and a calm comes over me," said Gavin. "It's like she puts me at peace when I look at her face. She's such a special animal."
As a case manager at a group home for children in the foster care system, Gavin said just like Evie does for him, he prides himself on being a shoulder to lean on for everyone he works with despite his own struggles. He said he's not certain how long he will be able to keep his job due to the sporadic nature of the seizures, but one thing is for certain – he will continue to advocate for those who need it most – fulfilling a passion that has been with him for as long as he can remember.
"This job has allowed me to learn how to cope with setbacks and understand that everyone has something they are struggling with. Helping people is my passion, so I will continue to do that for as long as I live," said Gavin. "I have faith and a strong support system that I can count on now, but I know there are a lot of people out there dealing with issues even bigger than mine. I can't stress to them enough that there is support out there and it comes in the form of family, friends, counselors, teachers, advisors, and even pets. It took me a while to grasp this concept and to trust after all I've been through, but it has changed my life."