As he was carefully loaded onto a stretcher and placed into one of Animal League America's Mobile Rescue Units, you could see the pain in Clifford's big brown eyes. Earlier this year, this young dog was rescued in Turks and Caicos by the local SPCA after suffering multiple traumatic injuries to one of his front legs and hips, presumably a result of being hit by a car or truck. When they realized how severe Clifford's injuries were, they reached out to the world's largest no-kill rescue and adoption organization for assistance.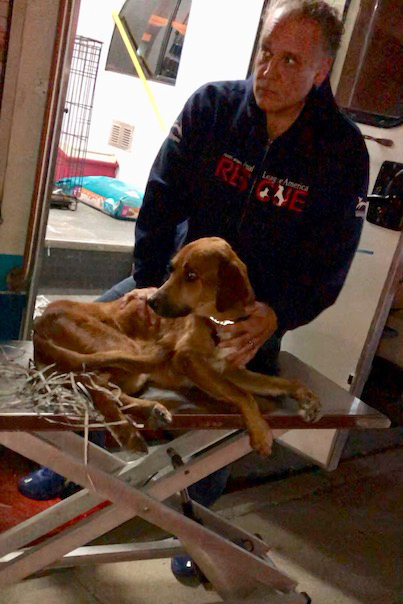 Our seasoned Rescue Team of Karla Agostinello and Ted Moriates made the 300-mile journey north from Animal League America's Port Washington, N.Y. campus to a small airport in New Hampshire to pick up Clifford, as well as 10 young puppies that were in need of rescue. The animals were flown in from Turks and Caicos by a generous pilot who regularly offers his plane and his services to the SPCA. At first glance Clifford appeared to be in fairly good shape for everything he went through – a little weary after a long trip and tentative because of his unfamiliar surroundings – but it became quickly apparent that his condition was serious. While attempting to unload him from the aircraft, Karla noticed that Clifford was unable to stand or bear any weight on his right side.
"There was no way in the world that he could walk, let alone put any weight on the injured leg and hip. We had to gently lift him up onto a rolling stretcher to transfer him onto the mobile unit," Karla said. "You can tell he was in real discomfort and didn't want to be handled much, so we just tried to comfort him in any way that we could until we could get him to our medical center."
Upon arriving to our campus, Clifford was examined by our veterinary staff and taken in for X-rays to confirm his injuries. Animal League America Senior Vice President and Chief of Veterinary Staff, Dr. Mark Verdino confirmed the original diagnosis and devised a plan he hoped would improve Clifford's quality of life and get him back on his feet – even if it meant as healthy, well-adjusted tripod.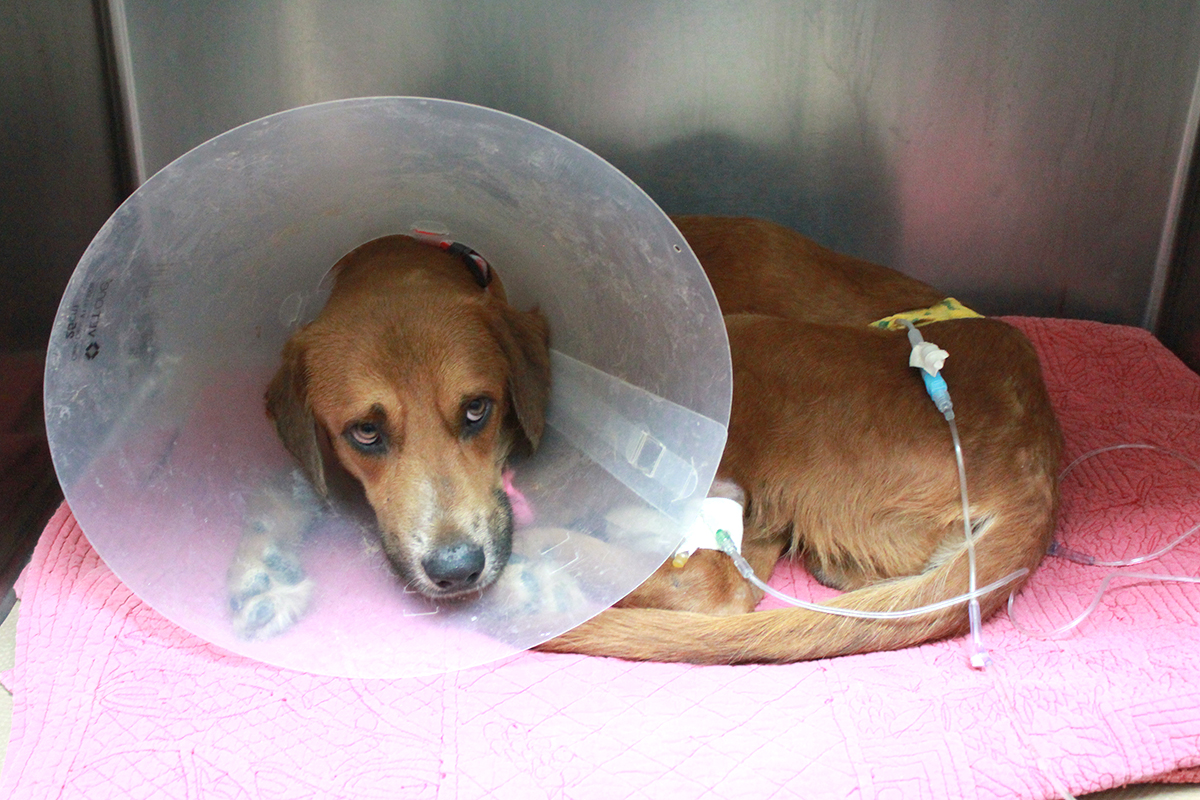 "When Clifford arrived he was dealing with two very significant problems. First, he had a dislocated right hip, which made it unable to bear weight on the hind leg. Concurrently, he sustained a fracture to the upper arm bone, also on the right side. Unfortunately, because the injuries were sustained at least a month before he arrived here, the bones in his upper arm started to heal in a very abnormal way," Dr. Verdino said. "He also suffered a wound to the same area and the bone was infected. All of these factors led us to believe that the best option would be to amputate the limb once we were able to surgically repair his hip."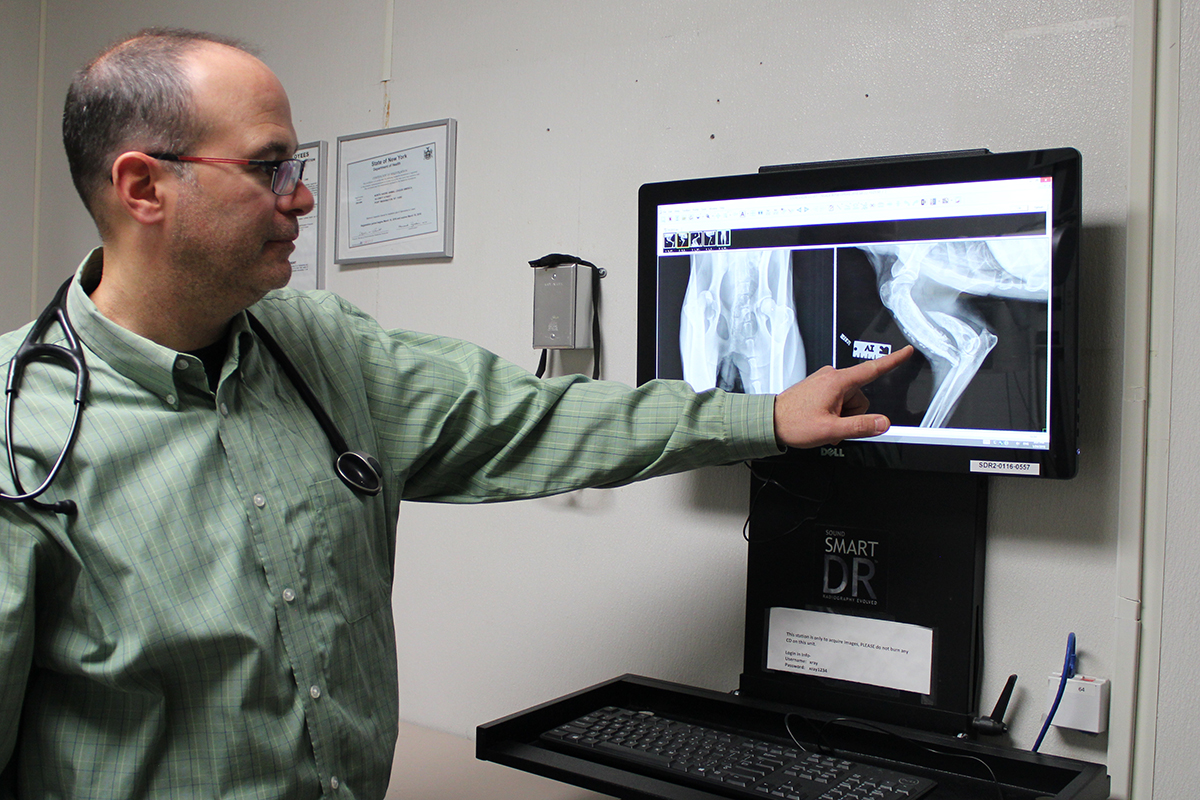 Animal League America Senior Vice President and Chief of Veterinary Staff, Dr. Mark Verdino outlines the damage to Clifford's front leg. 
Multiple Surgeries and Plenty of TLC Give Clifford a Bright Future
Five months after arriving at our no-kill campus and undergoing multiple major surgeries on the right side of his body, Clifford is getting closer to making a full recovery. His surgically repaired hind leg is getting stronger by the day and he has adjusted very well to navigating through life with three legs. Walks around campus with his favorite veterinary technicians have become a breeze, even when he picks up the pace from a leisurely walk to a feverish gallop. He's done so well post-surgery that he's been medically cleared for adoption, but Clifford still has another hurdle to clear before he can go on to find his responsible, loving home.
"We believe Clifford was a stray for most of his life and was accustomed to having complete social freedom. Having gotten to know him a bit, it's obvious he's a dog that still values that," said Erica Knors, Animal League America Canine Enrichment Manager. "Now that he's here at the shelter being handled, walked on a leash, fed at certain times during the day – he's having some difficulty adjusting. It's a slow and steady process, but I've been trying to formulate some sort of trust with him so I can evaluate him from a behavior standpoint. With some people he's super trusting and very affectionate, but with others he's much more guarded."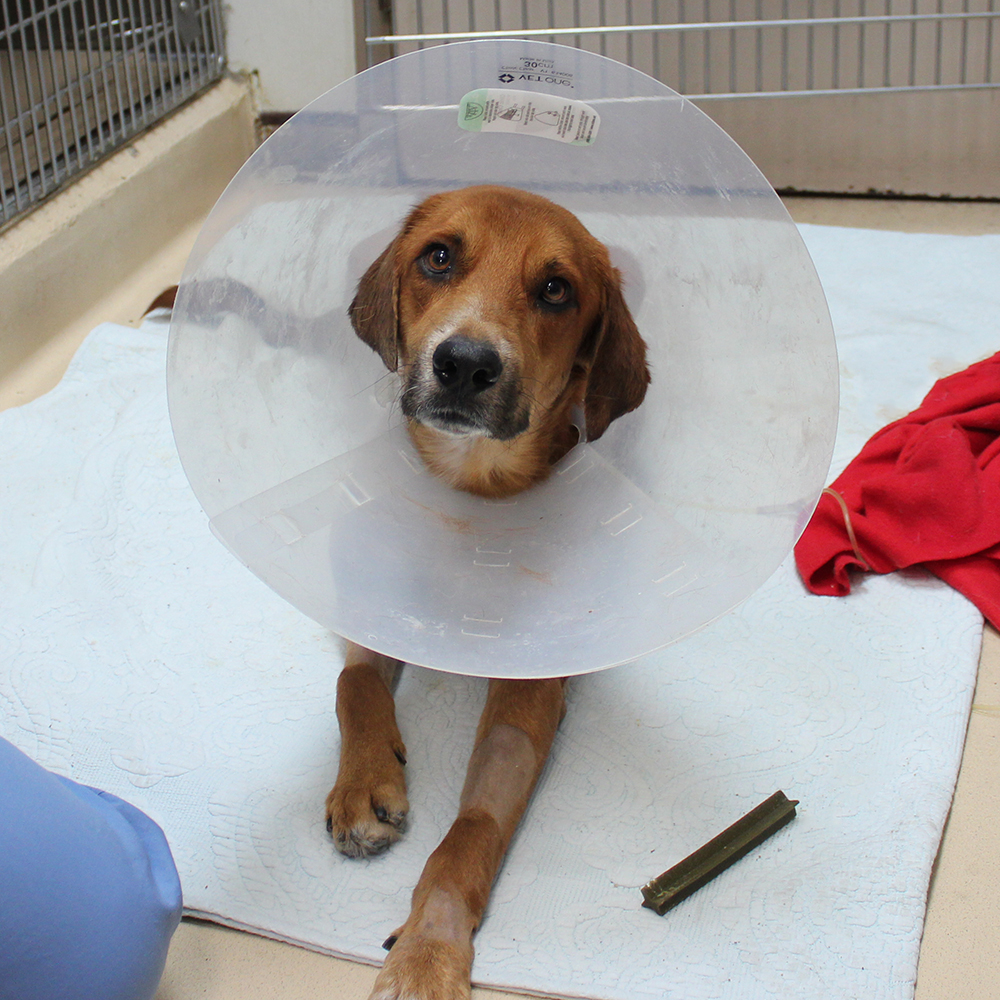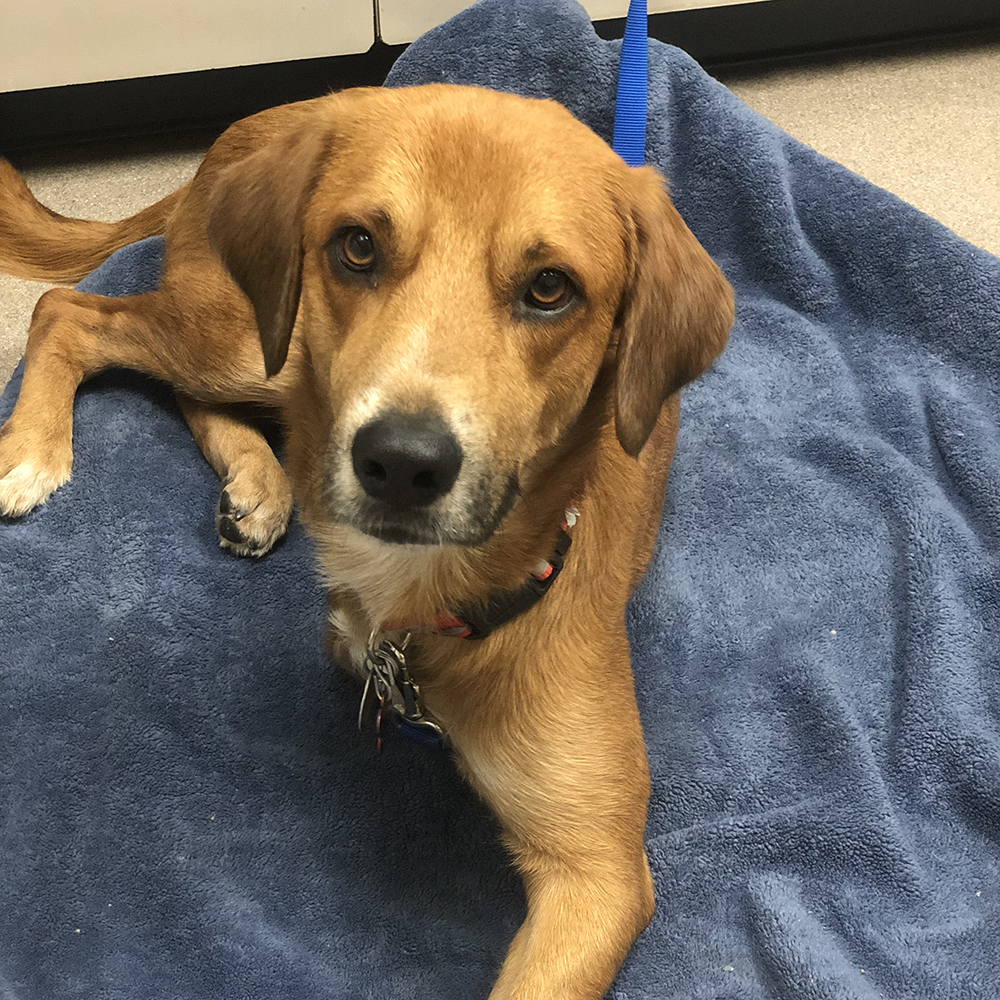 With the help of the Animal League America Pet Behavior Team, Erica will work with Clifford to mold him into the highly adoptable Mutt-i-gree we know he can be. Using various behavior modification techniques, they will provide Clifford with all of the tools he needs to thrive in a home environment, while at the same time allowing him to feel more at ease in the presence of unfamiliar situations and new people. Even spending time in a foster home with an experienced and understanding foster care parent with strong leadership skills could do wonders for Clifford in his journey to making a complete recovery.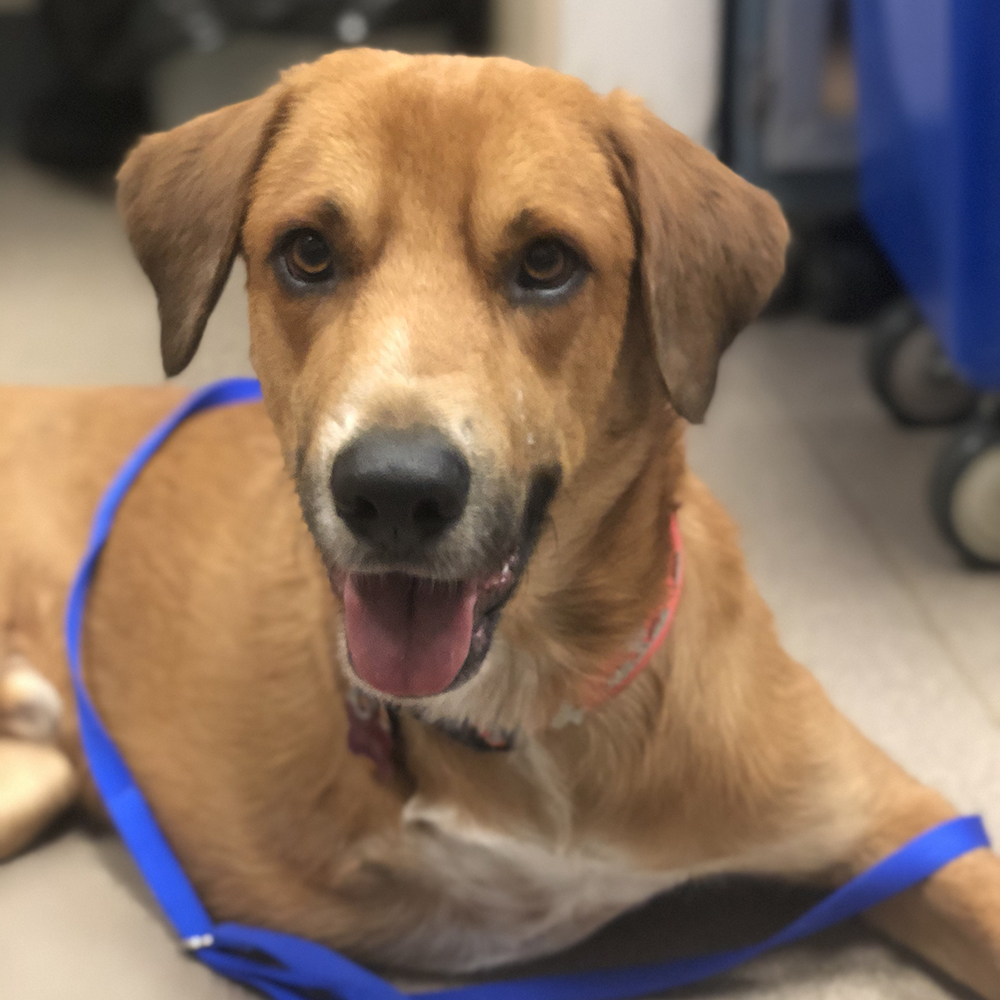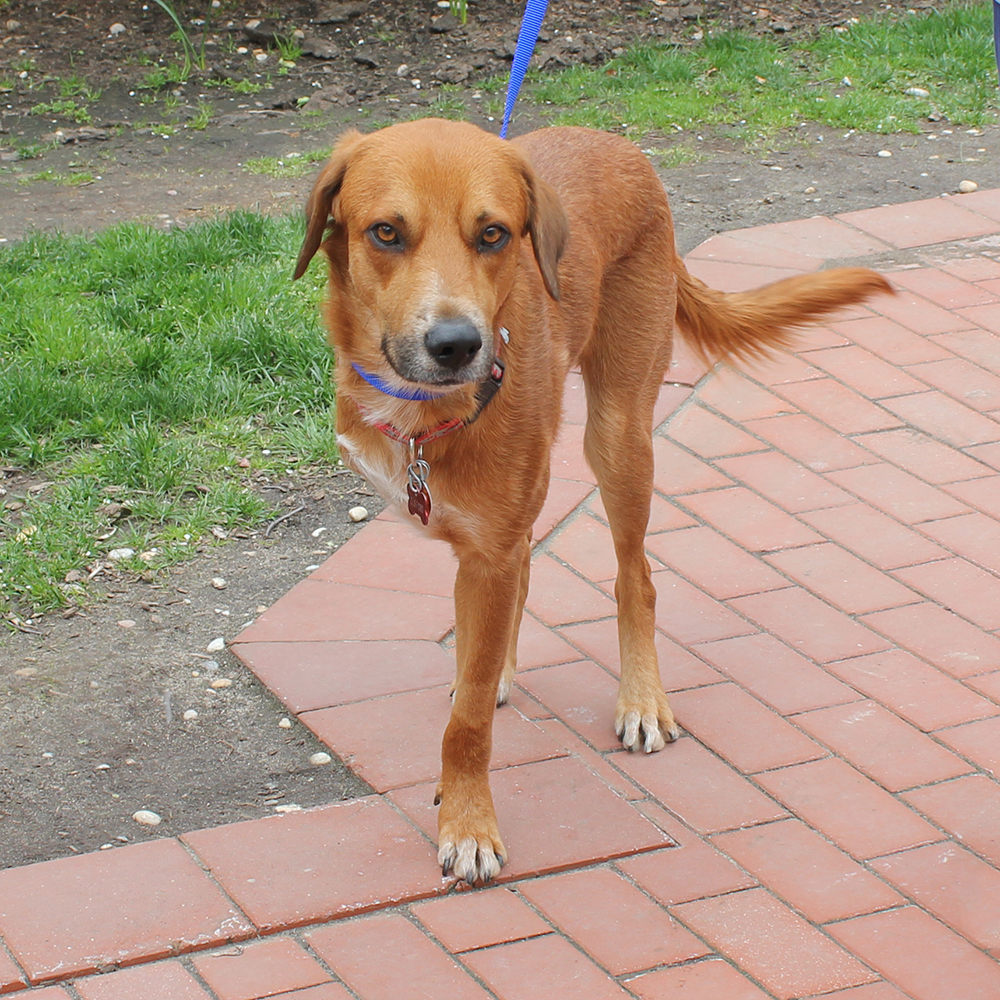 "It doesn't matter how long it takes or what we have to do – we will give Clifford the best chance to overcome the obstacles in front of him. It all starts with building a trusting foundation with him and letting him feel comfortable enough to let his guard down," said Erica. "He had a rough life and a long journey here, but there's no doubt he's in the right place now."