As we emerge from a year of uncertainty, we look forward to a post-pandemic world — getting back to a daily routine, and in some cases modifying our routines to accommodate changes in our lifestyle. This past year had us working and learning from home, missing important check-ups here and there, and maybe gaining an extra pound or two. The same goes for our pets. Their world changed just as much as ours. Here are some helpful tips to ease their transition into this "new normal."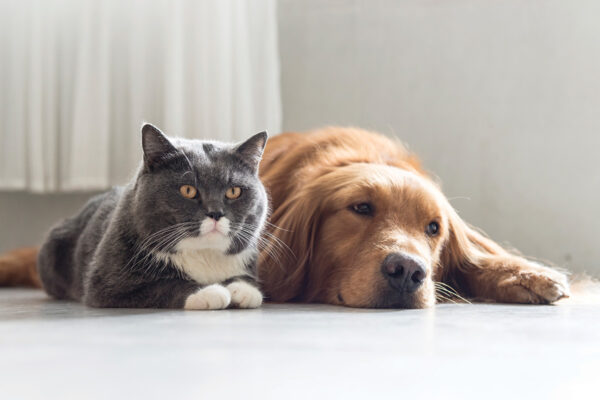 Schedule a Visit with Your Vet
Over the past year, some pet parents may have missed annual check-ups or vaccinations. Now is a good time to schedule a visit with your veterinarian and make sure your dog or cat is in tip-top shape. Especially important this time of year are preventatives for fleas, ticks and heartworm.
A full dental exam is another good idea. Having your pets' teeth checked and cleaned regularly can prevent plaque, gum disease and decay, which are all known to lead to other problems down the road. A clean, well-maintained mouth can add years to your pets' lives.
Getting Back to a Healthy Weight
If your pet has put on a few pandemic pounds, now is the perfect time to get them back to a healthy weight. Knowing your pet's proper body weight is key. Check with your vet to see if they are in a good range, or if a special diet is in order. As you begin to make your plans to return to work or school, remember to schedule some extra walk time for your dog or some extra active play sessions with your cat. It will do you both a world of good.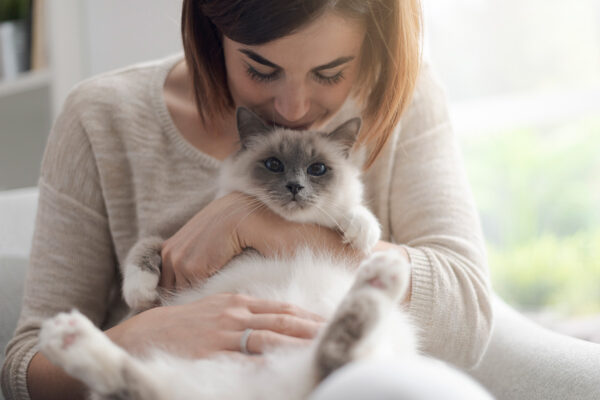 Comforting Pets with Separation Anxiety
Whenever you spend extra time at home, your pet may be the happiest member of the household. While the height of the pandemic was a great time to strengthen that bond, it's important to remember life does change, and schedules will be filled again with activities outside the home. This transition may leave your pet confused, sad, or anxious. There are a variety of strategies you can use to help ease their anxiety.
Create a Routine
Family pets benefit from routines just as much as their parents and children. Leaving and returning at the same time every day helps your four-legged family members adjust to the changes they're experiencing.
Schedule Time for Play & Exercise
Schedule daily play times for your cat or dog. Taking your dog for a walk or playing an interactive game with your cat before you leave is another calming strategy. After exercise, pets are usually ready for a nap, which creates the perfect segue for you to walk out.
Provide Some Background Noise
Playing music, leaving the TV on and even turning on an audiobook or podcast can provide your pet with some engagement and distraction. Plus, the sound of other human voices can make pets feel less alone.
Try Stimulating Puzzles & Games
Puzzle feeders are a great way to reduce anxiety and keep your pet mentally stimulated. Pour half of their recommended daily amount of food into the puzzle feeder each morning. Your dog will spend the day busy and engaged, which can ease feelings of anxiety.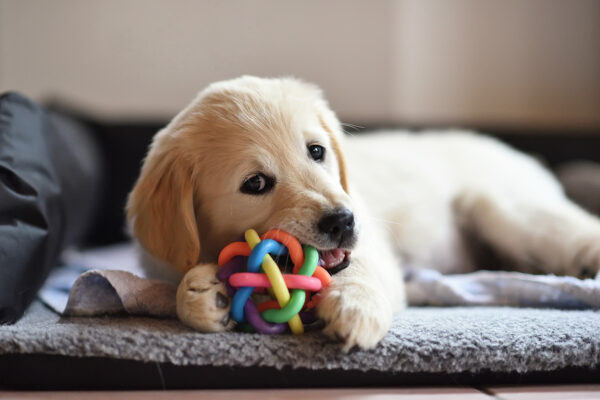 Remain Calm & Confident
Try saying goodbye with lots of petting and praise as much as 10 to 20 minutes before you leave. Then, when the time comes to go, you won't feel bad. If you have to depart suddenly, give them a treat as you walk out to create a positive association with you leaving.
Remember, It's OK
If the past year has taught us anything, it's how resilient we are in dealing with the unexpected. Our pets are resilient, too. You don't need to feel guilty if you have to leave them at home now. They'll be ok with a few simple adjustments to their daily routine. Then at the end of the day, you will appreciate your time together even more.