Quarterback Tom Brady may have walked off the field of U.S. Bank Stadium dejected after his New England Patriots lost Super Bowl LII to the Philadelphia Eagles 41-33, but Tomcat Brady and Rob Gronk-catski were still relishing in the moment after dominating the competition at Hallmark Channel's Kitten Bowl Live in Minneapolis, Minnesota.
As part of the Super Bowl Live festivities at Nicollet Mall in downtown Minneapolis, Hallmark Channel installed a live attraction of Kitten Bowl V to give fans a live look into its hit television show, which aired on Super Bowl Sunday. A wide array of Animal League America's adorable, adoptable "cat-letes" put on quite the show for the endless droves of wide eyed fans who made their way through the lively exhibit, which ran for 10 days leading up to the kickoff of the Super Bowl.
"The Kitten Bowl & North Shore Animal League America were the MVP's of Super Bowl week in Minnesota," said Bill Abbott, President and CEO of Crown Media Family Networks. "Fans throughout the week were engaged and thrilled by the kittens and rescue mission of Animal League America and Hallmark Channel!"
Animal League America Senior Vice President of Operations, Joanne Yohannan, said not only has Kitten Bowl provided viewers with endless entertainment over the last five years, but has continued to raise awareness for plight of homeless pets around the world.
"As a result of Hallmark Channel's Kitten Bowl, more than 10,000 animals have found responsible, loving homes," she said. "The Kitten Bowl Live activation in Minneapolis was such a fun event that reached hundreds of thousands of people who were in town enjoying all of the festivities surrounding the Super Bowl. The continuous lines of people supporting the activation was a testament to their continued support."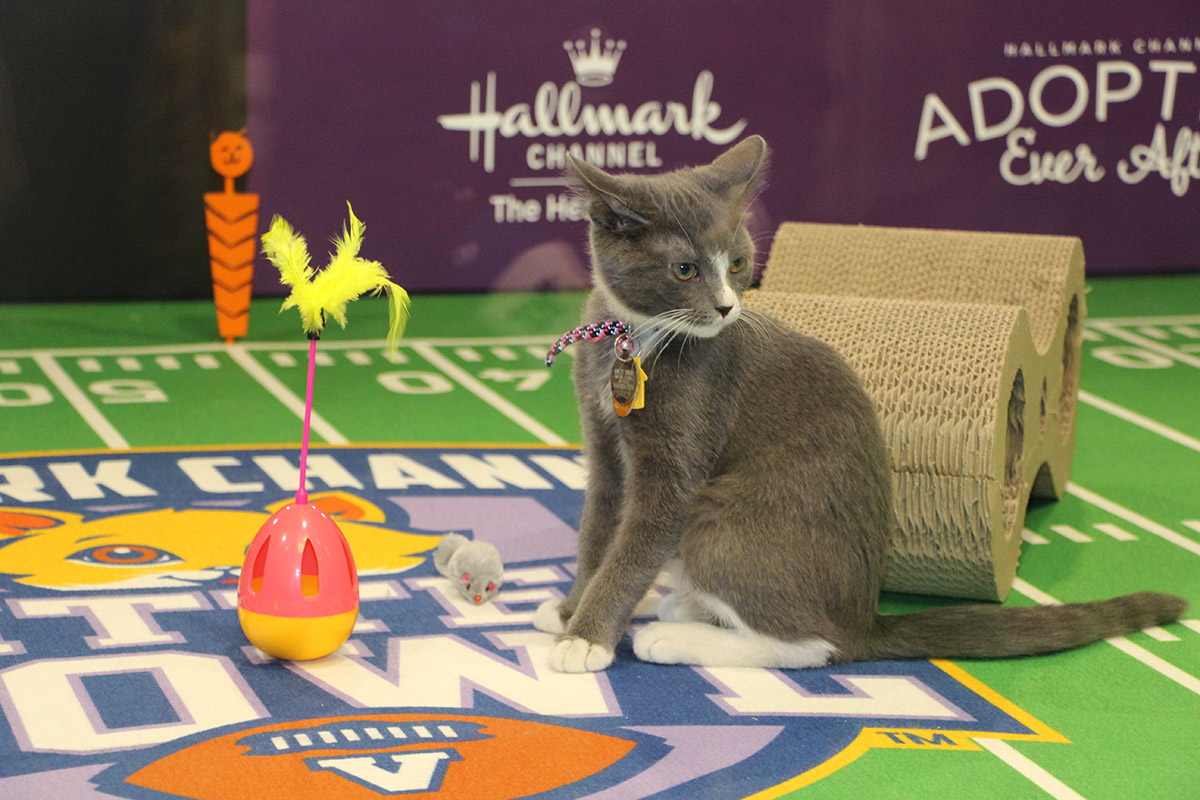 The sprawling set, constructed by Minnesota based marketing agency, Clamor, included colorful museum-like glass enclosures that gave fans and up-close look at all of the feline football action. The green turf field emblazoned with the Kitten Bowl logo was the main attraction, as kittens of all sizes and colors took turns running, jumping, and tackling each other while playing with miniature footballs and cat toys. Goal posts wrapped in yarn and a colorful mesh tube also provided endless fun for all of the cat competitors while they battled it out on the gridiron. The voice of former NFL quarterback and this year's host of Kitten Bowl V, Rodney Peete, echoed through the venue as he raved about the performances of former MVK's (Most Valuable Kitten), and made sure everyone in attendance was aware that all of the "paw stars" on site were looking for responsible, loving homes.
"I've been in stadiums filled with people, been to Super Bowls before, but I've never seen anything like Kitten Bowl! To be able to call Kitten Bowl V with some of these amazing cat-letes, it's a dream come true for me," he said. "My wife Holly and I already have one rescue pet, which gives us three pets in our house, but it's very likely you'll see a Peete rescue story with one of this amazing kittens. I don't think we're going to be able to resist."
The stadium "purr-king" lot, complete with a mini version of the actual stadium where the big game was played, a replica of the Stone Arch Bridge, and a scaled version of the Minnesota skyline, was staged with everything you'd find at a tailgate – toy cars, campers, a team bus, mini grills, tables, chairs, and a billboard promoting Kitten Bowl V, ensured all of the kittens had plenty to keep them occupied while entertaining star-struck visitors with their feline hijinks.
A small cat shaped door connected the lot to the locker room where the teams prepared for the games by talking "cat-egy" and drawing up winning plays like the "Tail Mary" on the chalk board. The lockers and shiny gold helmets of Kitten Bowl legends from year's past like Joe Montuna, Mew Brees, Brett Furve, and Feline Manning remained in-tact, proudly displaying a five-year history of star studded "purr-formances." If our current competitors couldn't prepare for the biggest game of their lives here, then they couldn't do it anywhere.
After making their way through each section of Kitten Bowl Live experience, fans got the once-in-a-lifetime-opportunity to take a free photo with the coveted "Hissman Trophy." Symbolic of the great accomplishments by cat-letes both past and present, the metallic gold trophy was created in the form of a dabbing cat standing on a golden pedestal. After picking up their free printed photo, fans then moved on to the adoption area, which featured six super cute and highly adoptable cats from  Minneapolis Animal Care & Control. As they exited the exhibit, fans were gifted with a pack of Kitten Bowl V trading cards featuring all of their favorite cat-letes. By close of the activation on Sunday afternoon, Hallmark Channel had distributed more than 130,000 packs of free cards!