Thousands of animals will find loving homes as North Shore Animal League America kicks off 29th annual Global Pet Adoptathon® – in partnership with Rachael Ray® Nutrish®
More Than 2,000 Animal Shelters & Rescue Groups, Nationally and Internationally, Participating To Save Homeless Animals' Lives
FOR IMMEDIATE RELEASE:
Monday, May 1, 2023 (Port Washington, N.Y.) – s
North Shore Animal League America is enlisting more than 2,000 shelter and rescue partners, with thousands of available dogs, cats, puppies, and kittens – of all ages, breeds, and sizes – as they kick off their 29th annual Global Pet Adoptathon®– in partnership with Rachael Ray® Nutrish®.
This yearly, month-long initiative focuses on finding loving, responsible homes for animals rescued locally, nationally, and internationally. It also celebrates the devoted worldwide community that facilitates and supports animal rescue and adoption.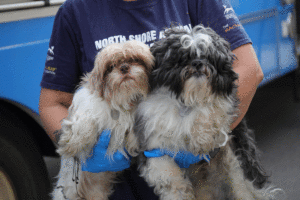 Animal League America works with local and foster-based rescue groups and shelters of all sizes and locations, as well as city and county-wide municipal animal care and control agencies to promote animal adoption as the best approach to finding a pet.
Participating shelter partners are based in major cities (New Orleans, Houston, Los Angeles) and smaller towns (Anderson, SC; Fayetteville, NC; Prineville, OR.) Each group will be celebrating Global Pet Adoptathon with their own events, adoption specials, and local promotions. Animal League America collaborates with each to help solicit local media to broadcast the shared message of choosing animal adoption. Together, everyone is working with one common goal: finding responsible, loving homes for thousands of homeless animals.
For more information about Global Pet Adoptathon and to find a participating shelter, visit www.animalleague.org/PetAdopathon.
Media Contact:
Kathleen Lynn
Senior Director of Communications
(516) 528-7878
[email protected]
About North Shore Animal League America
Animal League America has saved more than 1.1 million lives. As the world's largest no-kill rescue and adoption organization, we understand that a rescue isn't complete until each animal is placed into a loving home. Our innovative programs provide education to reduce animal cruelty and advance standards in animal welfare. We reach across the country to rescue animals from overcrowded shelters, unwanted litters, puppy mills, natural disasters and other emergencies and find them permanent, loving homes. www.animalleague.org #GetYourRescueOn
About Rachael Ray® Nutrish®
Rachael Ray® Nutrish® is a premium pet food and snacks brand committed to nourishing dogs and cats. Nutrish offers dog and cat food and snacks featuring delicious, high-quality ingredients for a variety of pet diets. In addition to offering premium pet food and snacks, Nutrish supports animal welfare broadly by partnering with a number of organizations promoting animal wellness. Every bowl of Nutrish® you feed your dog or cat has helped us donate over $7 million a year to The Rachael Ray FoundationTM. These donations are used for care, medical supplies, treatments and more to help animals in need. To learn more about Rachael Ray Nutrish, visit nutrish.com.