UPDATE 10/1/2018: Rescue Efforts Continue with a Stop in Fayetteville, North Carolina
Our Emergency Rescue Team continues to assist our shelter partners in the Carolinas and the surrounding areas as they rebound from the devastation caused by Hurricane Florence.
Late last week, the team drove three hours from Charlotte, North Carolina, where they were assisting with the live activation of NASCAR on NBC's PUP SERIES near Charlotte Motor Speedway, to provide relief to the people and animals at Fayetteville Animal Protection Society. Equipped with one of our Mobile Rescue Units, our team arrived at the area's only licensed no-kill animal shelter with food, water, litter, and other essential shelter supplies that were slowly dwindling since the hurricane made landfall. After the unit was completely emptied and their shelter was re-stocked there was only one thing left to do; save more lives.
Six dogs of varying ages, including a three-legged Pittie named Scooter, and six kittens were carefully loaded onto the climate-controlled mobile unit in preparation for the long drive back to our New York campus. All of these animals will receive the very best of everything Animal League America has to offer – from top-notch veterinary care inside our Pet Health Centers, nurturing human companionship from our shelter associates and Pet Behavior Team, and the opportunity to one day find responsible, loving homes with the perfect adopters.
"I cannot thank you enough or express how much this means to our small but mighty shelter. It's tough being the only no-kill shelter in the area serving Fayetteville, Cumberland County, and Fort Bragg," said Jackie Stickley, Executive Director of Fayetteville Animal Protection Society. "However, these donations will go such a long way in helping us save more animals in the area. We are so grateful! Because of you, we will be able to pull more animals that have been abandoned/displaced by Hurricane Florence."
As the rebuilding continues in the Carolinas and beyond, so will our efforts to assist in any way that we can. Whether it's replenishing supplies or taking in homeless animals, we will be ready to act at a moment's notice thanks to your continued support.
For more on our emergency rescue efforts in the wake of Hurricane Florence, tune in to The Rachael Ray Show on Wednesday, October 10th. Check local listings for time and station.
Please support our no-kill mission and our rescue relief efforts with a donation today.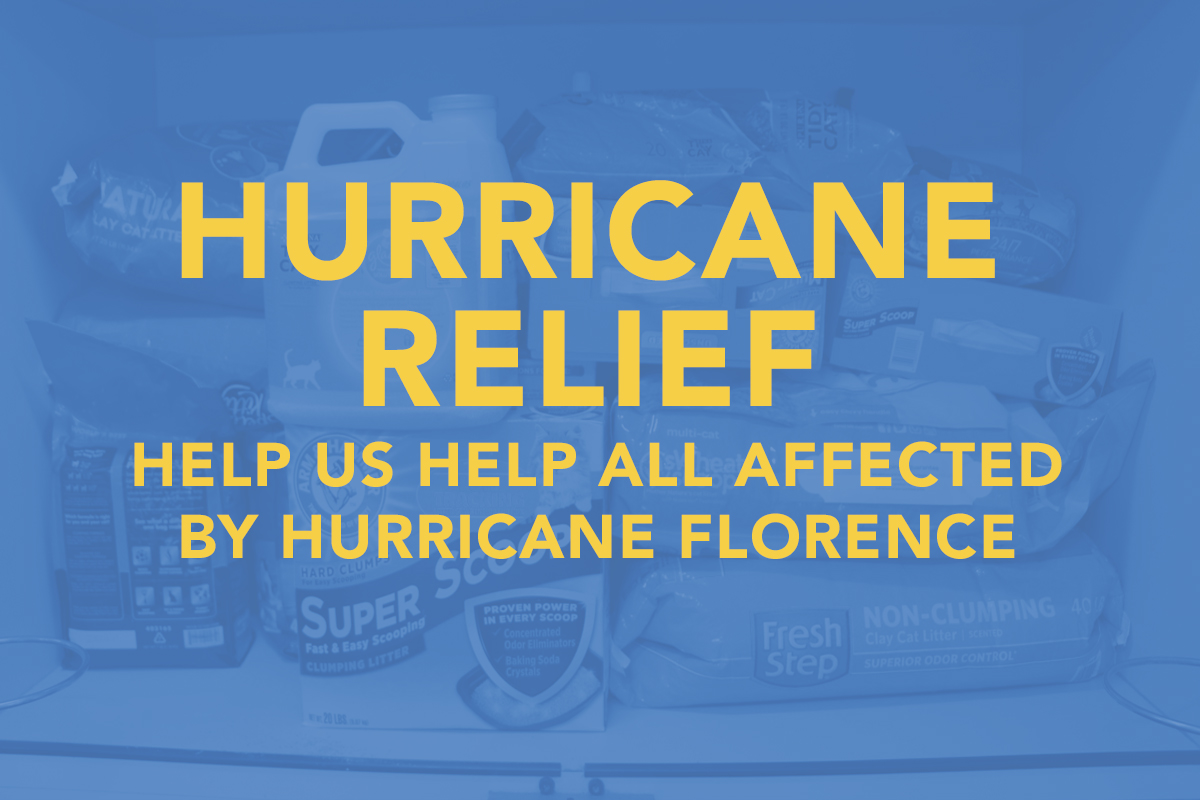 Many of our partner shelters have been dealing with the aftermath caused by Hurricane Florence, including rescuing and taking in animals that found themselves displaced from their loved ones. Learn how you can help them them recover.