Unkempt and emaciated, Charlie, a handsome 12-year-old Domestic Longhair was struggling to stay alive before being rescued by Animal League America. Living in a local flower shop with little to no food and water, medical attention, or human interaction, Charlie wouldn't have lasted much longer if it wasn't for Volunteer, Foster Parent, and National Spokesperson Beth Stern, who reached out to our Rescue Team when she learned about his unfortunate situation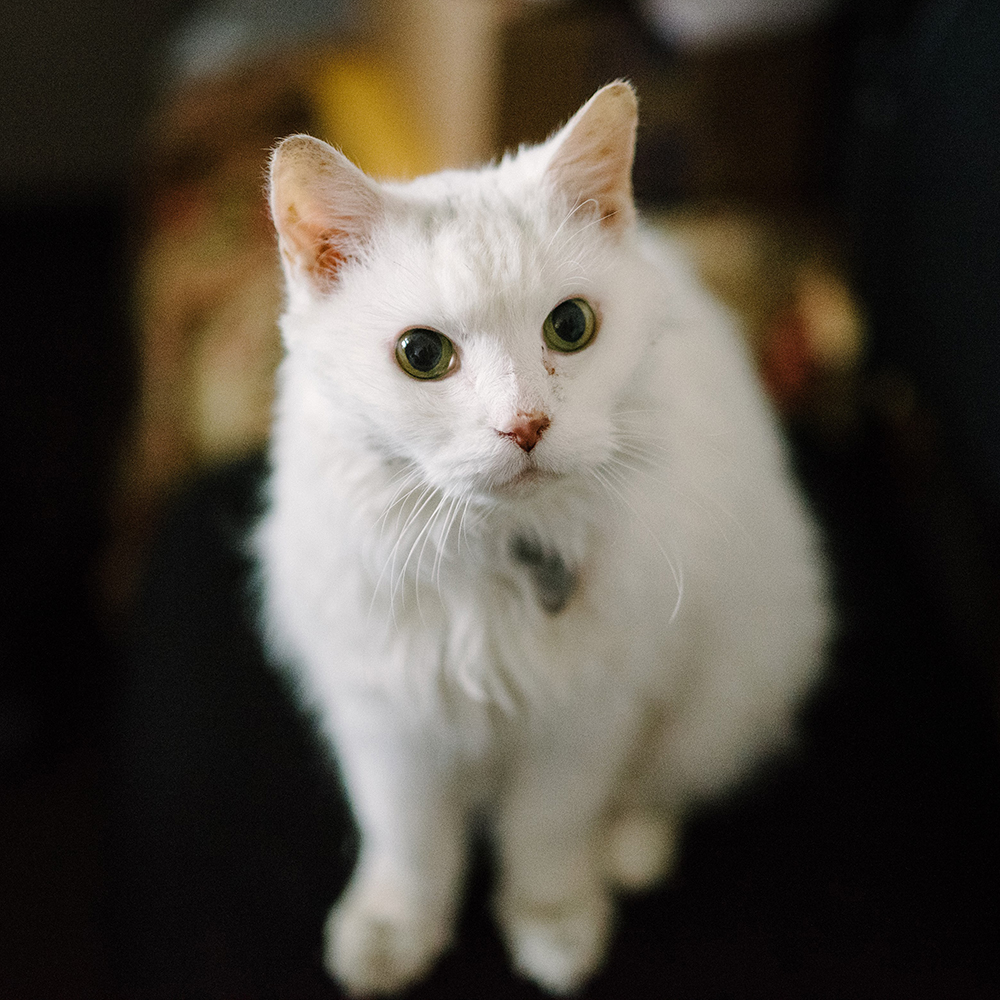 "I remember him being covered in dirt and leaves, and being skin and bones when he came in. It was pretty obvious he wasn't being fed much or getting regular medical checkups. He also had a mass on his stomach, but since he was 12 years old and very fragile, our medical team didn't think it was beneficial to operate at the time," said Dorit Shani, Animal League America Feline Enrichment Manager. "He was diagnosed with Inflammatory Bowel Disease, renal disease, and a heart condition, so we immediate began treating him to alleviate his symptoms. We honestly didn't think he had much time left."
Because of the apparent bleak diagnosis, Dorit and her team set up Charlie as a hospice case in our Foster Care Program to ensure he would have the chance to live out whatever time he had left in the care of our compassionate staff. He was set up with a comfortable bed in the managerial offices of our Adoption Center, where he would spend his days resting and recuperating, while still having the freedom to roam the halls to interact with his favorite humans. Charlie certainly took advantage of his status as a beloved office pet, but nobody expected for his condition to drastically improve the way that it did.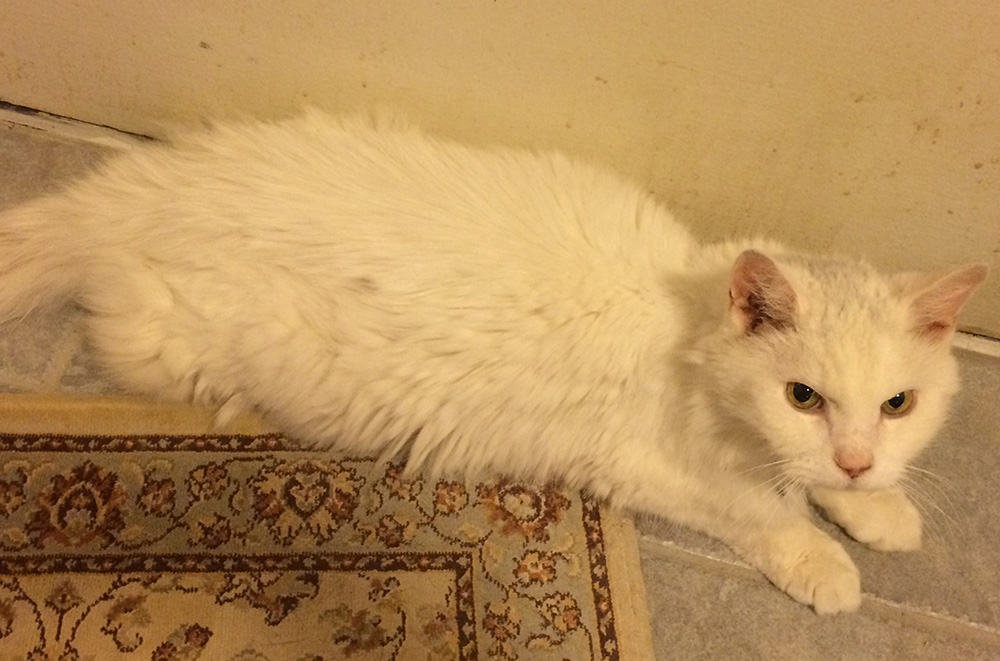 "Here was a then 12-year-old cat, who only needed proper medical attention and some TLC to become a vibrant senior with a lot of life left in him," said Dorit. "It's a testament to our no-kill mission and the work we try to do every day here inside our Alex Lewyt Veterinary Medical Center and in all of the other areas of the organization."
Just one year after arriving at our campus a filthy, sick, and extremely malnourished cat with nowhere else to turn, Charlie's resilient story was capped with a fairytale ending when he was discovered by Ruth Katz. An avid rescuer and a repeat adopter looking to provide a loving home for a senior animal with special needs, Ruth said she came across Charlie's adoption profile on our website and was immediately intrigued. After a lengthy phone conversation with Dorit, she soon found herself in the back offices of our shelter meeting the many loyal members of Charlie's Animal League America fan club before making the adoption official.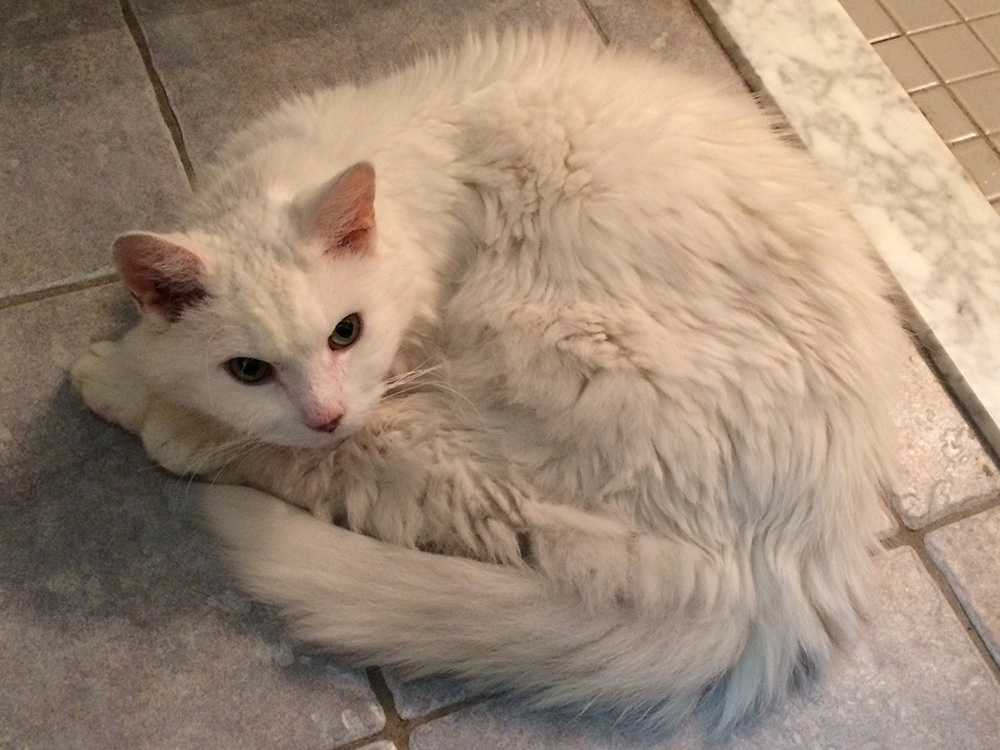 "The day I met Charlie was the same day he came home with me. I had looked at his picture on your website so many times that I had already fallen in love with him before I really knew him," said Ruth, who estimates she has rescued more than a dozen special needs cats during her lifetime, including a 16 year old and a 10 year old who now share an apartment with Charlie. "What's funny about Charlie is how he has really taken a liking to the area around my desk and my computer. Apparently this was one of his favorite pastimes while he was living in the offices at Animal League America, so I'm glad to see he's already feeling at home.
Charlie is one of more than 30 senior cats who have already been placed into responsible, loving homes by the shelter staff and volunteers here at Animal League America in 2017. Regardless of age, medical condition, or disposition, our organization prides itself on providing our Mutt-i-grees with every chance at living a happy, healthy life with people who cherish them. Often these special pets wind up turning the tables on their human counterparts, providing a sense of emotional fulfillment that they didn't know was possible until they adopted.
"I may be the one who gave him a home for his golden years, but I'm certainly the beneficiary," said Ruth. "Being able to care for them and give them the opportunity to truly enjoy their lives brings me a lot of joy. My heart gets bigger with every cat I adopt. They are such sweet creatures."