North Shore Animal League America is excited to celebrate the first anniversary of the opening of Bianca's Furry Friends Feline Adoption Center, or BFF, as we affectionately call it. During this memorable year, filled with some sad and difficult moments due to COVID-19, we are so thankful that we were able to continue our no-kill mission to Rescue, Nurture, Adopt, and Educate. And BFF was one of the reasons why we could! It's been a bright light guiding us towards a future without a coronavirus pandemic.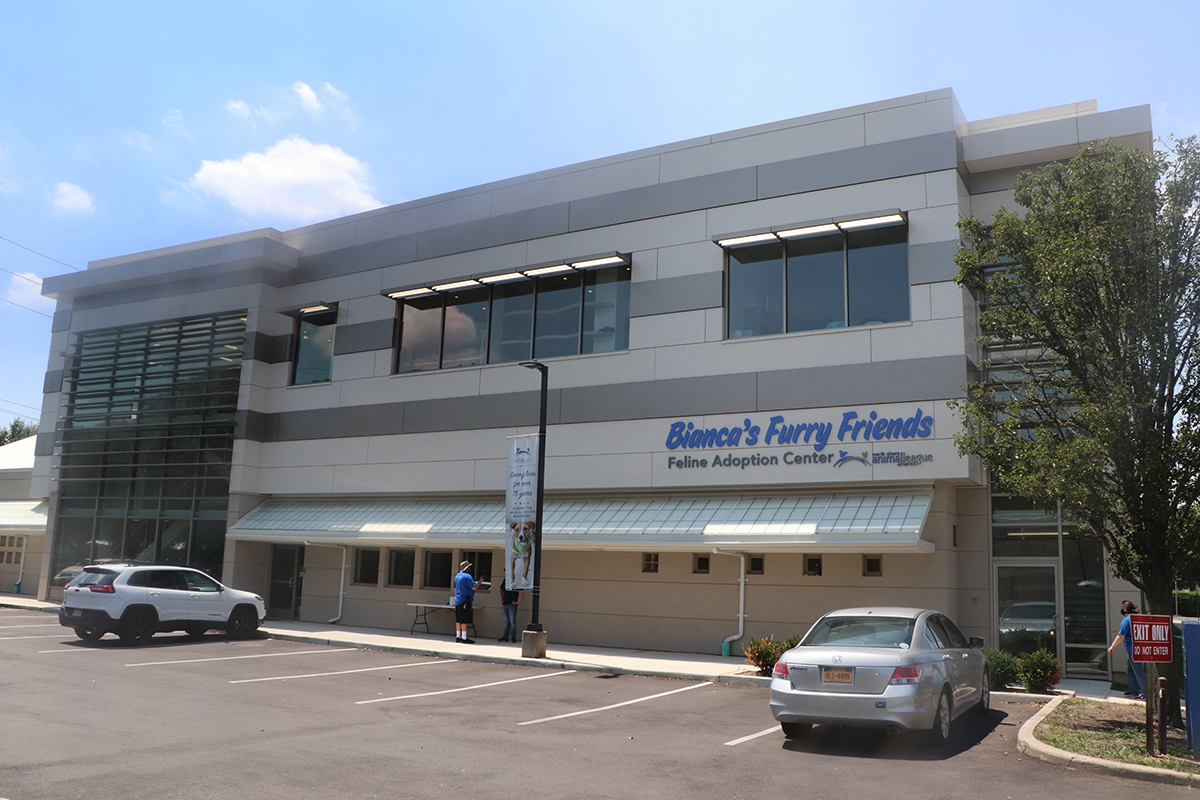 Our rescued cats and kittens found themselves enjoying life in its free-roaming rooms under the care of Animal League America's dedicated essential staff and volunteers. For these homeless felines, BFF was so much more than a building, it was a sanctuary — a safe place amid a pandemic that was affecting the entire world.
"Even though the pandemic has really altered so many aspects of our lives, BFF has been a godsend. It's provided a natural cage-free space that our cats and kittens are thriving in," said Joanne Yohannan, Senior Vice President of Operations. "As a result of this great atmosphere, so many adult and special needs cats have gone home. In fact, we've had 300 more adoptions this year than during the same period last year."
Just like no one could have predicted this pandemic, no one had predicted the numbers of people wishing to adopt during this trying time. More and more individuals and families began looking for a new furry family member and, to the staff's delight, they were adopting older cats or those with special needs who really shined in BFF's open environment. It seemed as if the pandemic had provided people with the time to acclimate these deserving animals to their homes.
In April, BFF had its very first triple adoption! Buddy Guy and Sonny Boy (a double adoption) and Mickey Rooney were all adult residents in one room that was devoted to cats with feline lower urinary tract disease. There were a number of cats with this medical issue and our veterinarians decided that, as long as they were all on the same special diet, they could be in a cage-free room. In particular, Buddy Guy, struggling with other medical issues as well, was feeling a lot of stress while living in a cage. Once the three cats moved into the room, they were able to enjoy a more comfortable and carefree life. That's where a staff member introduced Buddy Guy and Sonny Boy to their adopters. When the couple saw that Mickey Rooney would be left alone in the room, they opened up their hearts and said they wanted to adopt him too! These cats went to a happy home with very caring and compassionate people.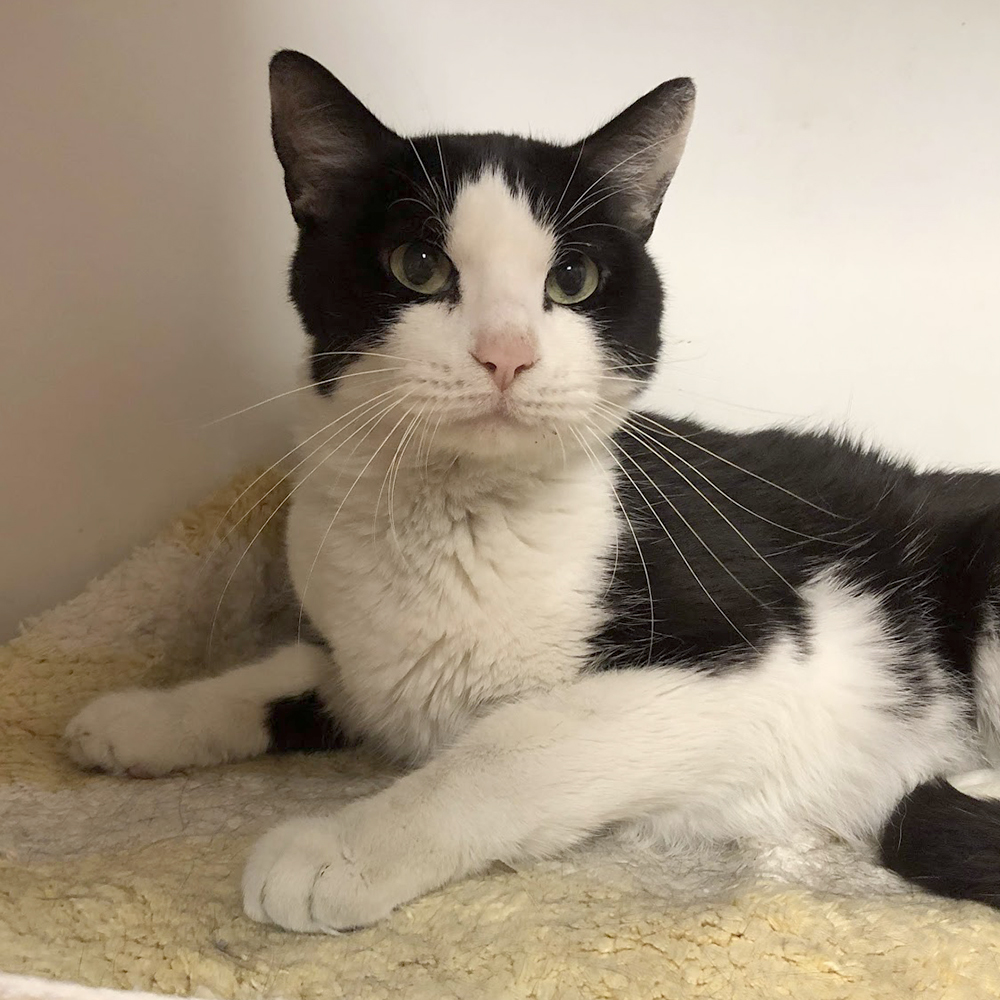 Buddy Guy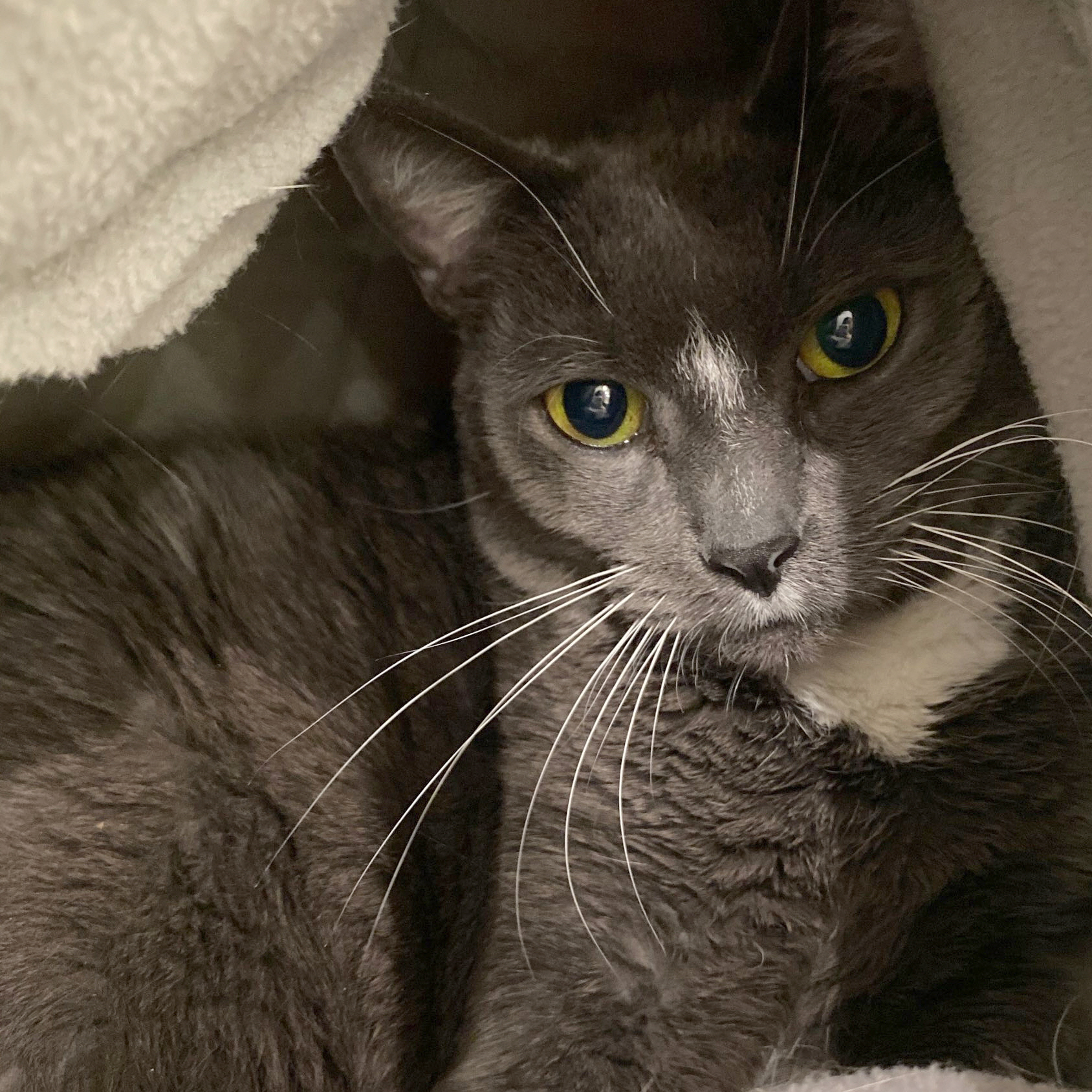 Sonny Boy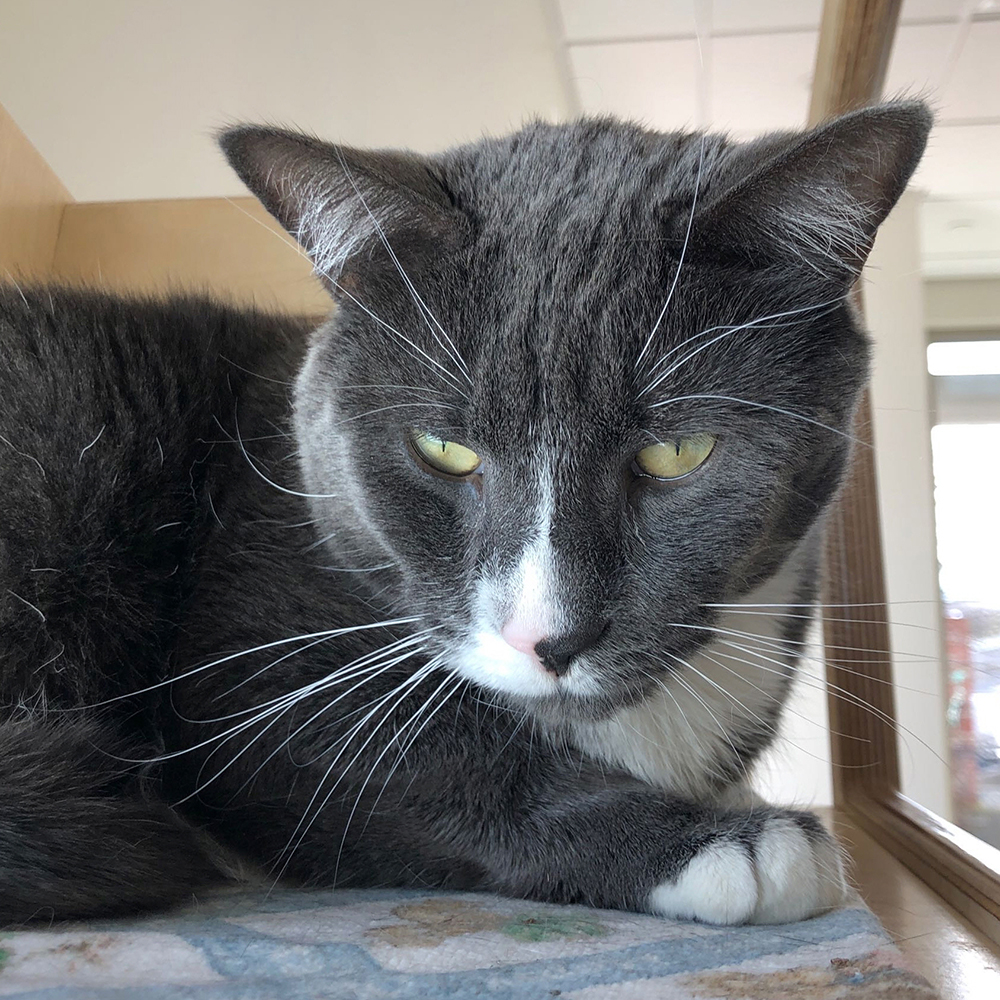 Mickey Rooney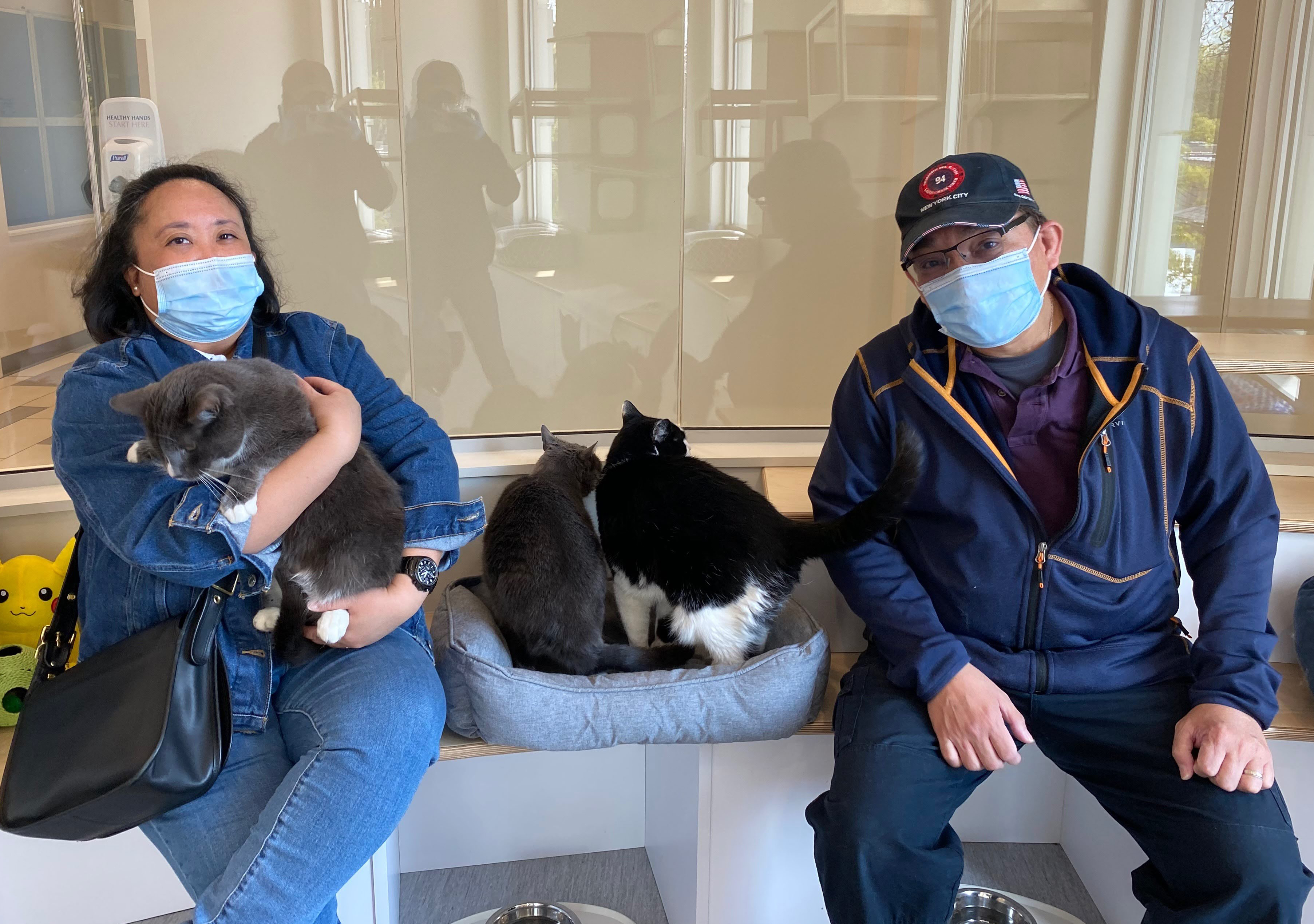 The New Happy Family
Rose's move to BFF literally transformed her. She'd been unhappy in a cage and didn't want anyone to touch her. She was very treat motivated though and the staff decided to try getting her a cage-free room of her own in BFF. Here both the staff and volunteers were able to work with her and she became a new cat! Rose began to enjoy petting and ear rubs. A wonderful couple expressed interest in her and she's living a blissful life in their loving home. She plays with toys all the time, loves looking out the windows at the birds, and jumps in and out of the laundry baskets.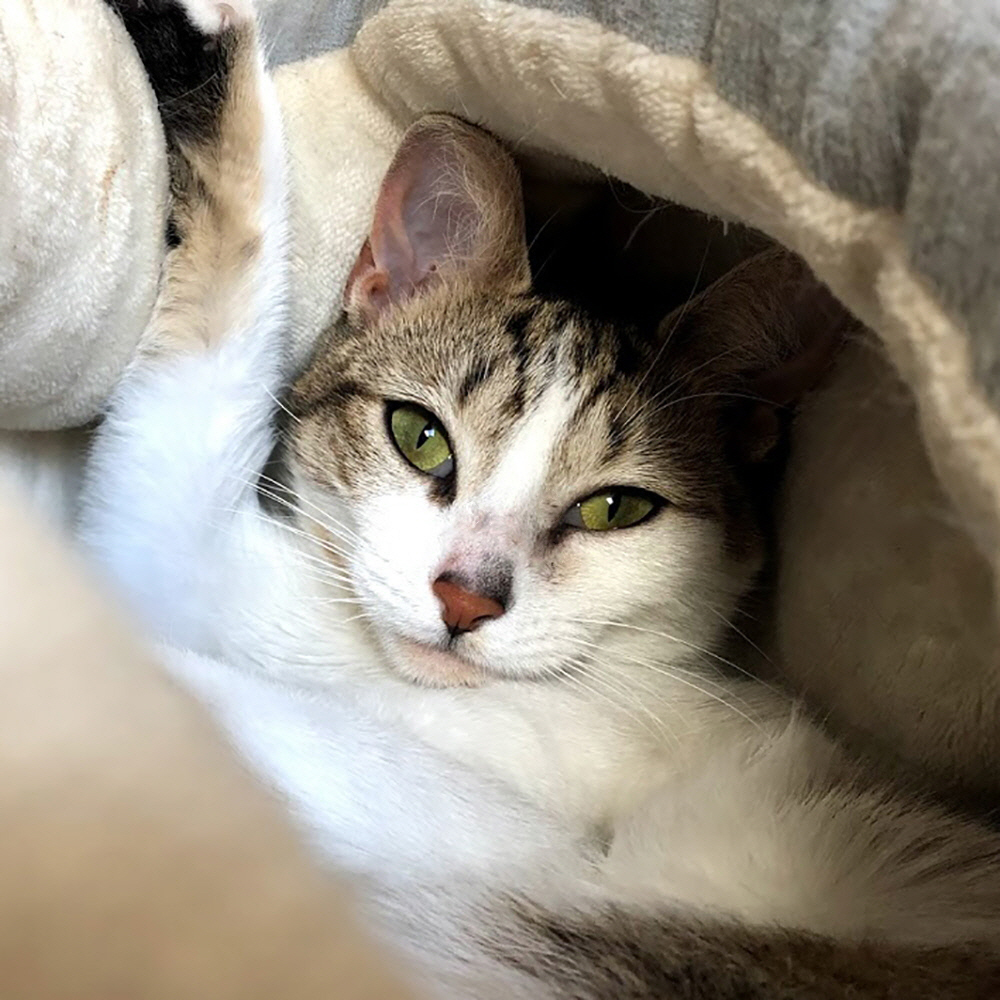 Rose
Moonpie is another special cat whose story has a happy ending. He was found between two buildings in Brooklyn, N.Y. by a Good Samaritan. Unfortunately, he did not get along with one of her cats and she brought him to Animal League America. Moonpie was diagnosed with a mild heart murmur and dental disease. He was also overweight. He just didn't do well in a cage at all. He was integrated into a room in BFF instead and his personality started to really show. He did have a tendency to get overstimulated so petting sessions were kept short. He adored playing with wand toys and this activity helped him get more exercise. Moonpie really enjoyed attention from people so it was decided he would do best in a single cat household.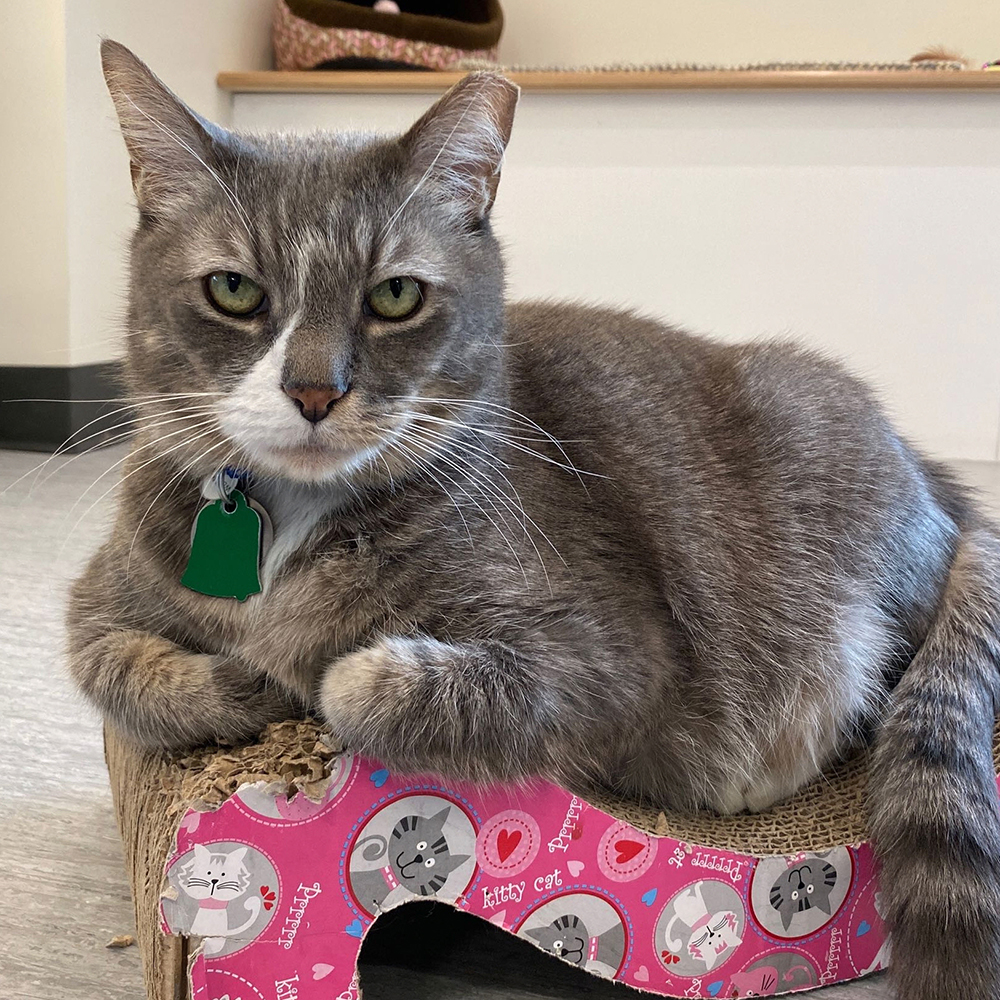 Moonpie
He was matched with Erika and they clicked right away. The first evening that Moonpie was in her home, his new mom sent a note to us that read: "Moonpie has completely made himself at home and is already making biscuits, or kneading his blanket with his paws, and then dragging it around! He has jumped on my bed and the couch and found a perfect spot to watch birds. I am so in love… great choice for us. I cannot thank everyone enough."
And the stories of happy cats with new doting owners just keep pouring in. Whether they're cats rescued from euthanasia in overcrowded municipal shelters or cats who unfortunately were relinquished from homes, they're all acclimating better and more quickly in BFF's natural free-roaming environment. It's a win-win situation that gives every cat — young ones, seniors, those with medical conditions, or other special needs — a real chance to be appreciated for who they are. In many ways, they're making the connection with adopters on their own and finding their loving, responsible homes.