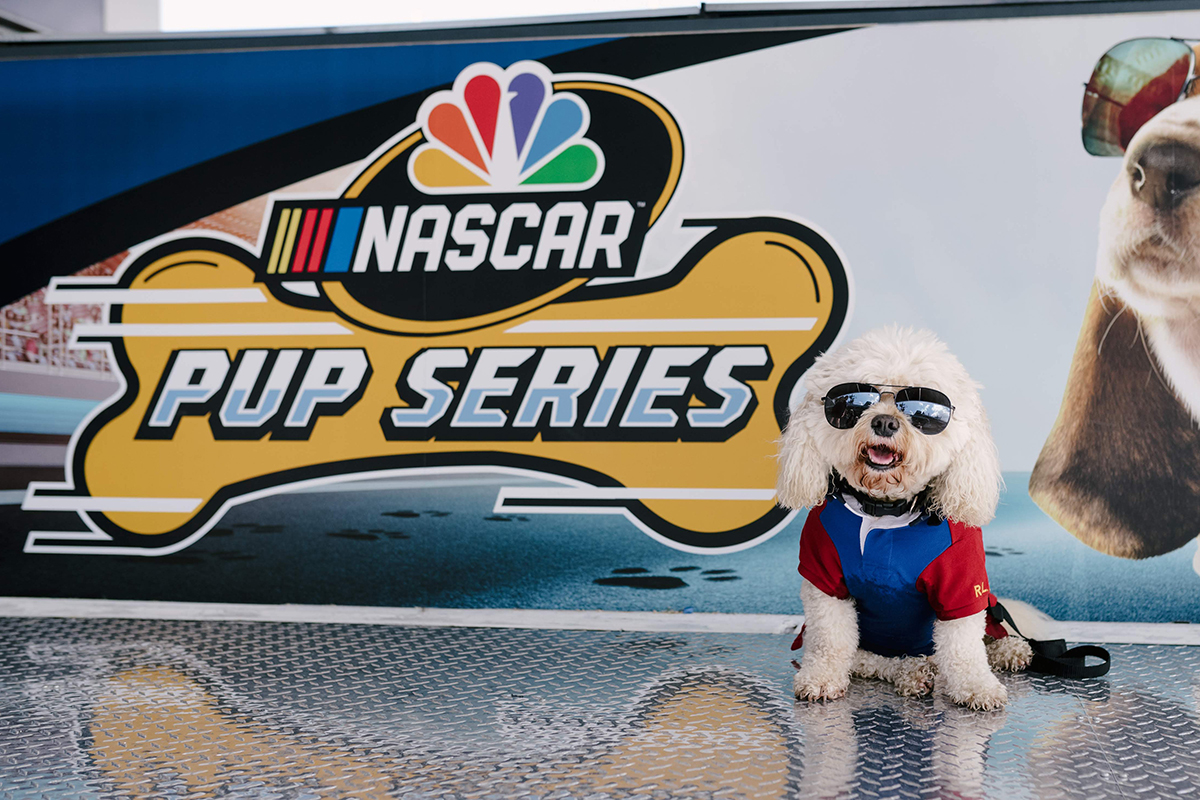 Ladies and Gentleman, start your engines! The world's largest no-kill rescue and adoption organization is partnering with NASCAR and NBC Sports to present the first-ever NASCAR on NBC "Pup Series." The collaborative series aims to bring awareness to the plight of homeless animals and spread the word about the importance of pet adoption by mixing the cuteness of puppies with the speed and exhilaration of stock car racing. With that winning combination, how can you go wrong?
The second leg of this one-of-a-kind adoption tour raced into New York City on August 3, 4, and 5, making a pit stop at The Intrepid Air, Space & Sea Museum in Manhattan's Hell's Kitchen neighborhood. In conjunction with Monster Energy NASCAR Cup Series Race at the Glen at Watkins Glen International Speedway, which took place that weekend, the mobile adoption event featured a custom-built model NASCAR speedway constructed by Minnesota based marketing agency, Clamor, and of course plenty of adoptable puppies, from North Shore Animal League America, sporting bandanas of favorite NASCAR drivers. All of the adorable pups at these events sport driver inspired names – think Brad Bowowski, Paw-stin Dillion, Chase "Your Tail" Elliot, and Joey Dogano, just to name a few.
Ande Lund, CEO and Founder of the strategic marketing and experiential agency, who was also behind the design of the Kitten Bowl Live Activation in Minneapolis during the week of Super Bowl LII, said when it came to finding an animal rescue and adoption organization to pair with for this project, there was no other choice but North Shore Animal League America.
"The folks at Animal League [America] have been such fantastic partners for us – working with them at Kitten Bowl Live this past February – we developed such a respect for the work they do. When we developed this program there was no question about who we wanted to work with, and thankfully it worked out," he said. "The integrity of the organization and the care that's put into animal welfare there is unmatched. Also, the fact they have relationships with shelters and rescue organizations all over the country allowed us to put on responsible adoption events like this."
These family friendly events will be taking place in various cities around the country throughout the NASCAR season, including upcoming stops in Las Vegas, Charlotte, Talladega (activation in Atlanta), all in conjunction with NASCAR races broadcasted on NBC Sports Network.
"We were tossing some ideas around prior to the start of the 2018 NASCAR season that would help us market the brand and build excitement for upcoming races, while also spread the word about animal adoption and the importance of finding wonderful homes for dogs and puppies. Since North Shore Animal League America has such a stellar reputation in the industry and has enjoyed such a wonderful relationship with Clamor and their work at Kitten Bowl activation, we thought what better organization to pair with?" said Alaina Williams, Manager of Consumer Engagement at NBC Sports Group. "Everybody loves puppies, and NASCAR is such an exciting sport, so having the opportunity to bring the two together for a good cause was a no-brainer."
One dog that everybody loves, "Tinkerbelle the Dog," made a guest appearance at the New York City event on Friday afternoon. The puppy mill survivor, who rose to social media stardom after being discovered on a walk with her human mom, Sam Carrell, was there to meet some of her doggy pals and spread the word about this lifesaving event on her immensely popular social media accounts. She was also promoting Animal League America's Walk & Wag, a nationwide fundraising event that support's the organization's no-kill mission to help save the lives of homeless dogs, cats, puppies, and kittens.
"We're super excited to be there at North Hempstead Beach Park in September. We'll bring along Tinkerbelle's little "pawtograph" book so she can sign autographs and take photos with everyone," Carrell said. "We're so happy that we were able to make it out here today. Any time I get the chance to encourage people to adopt, I take it because it's so important. We are here today in support of all the puppies and dogs who need homes."